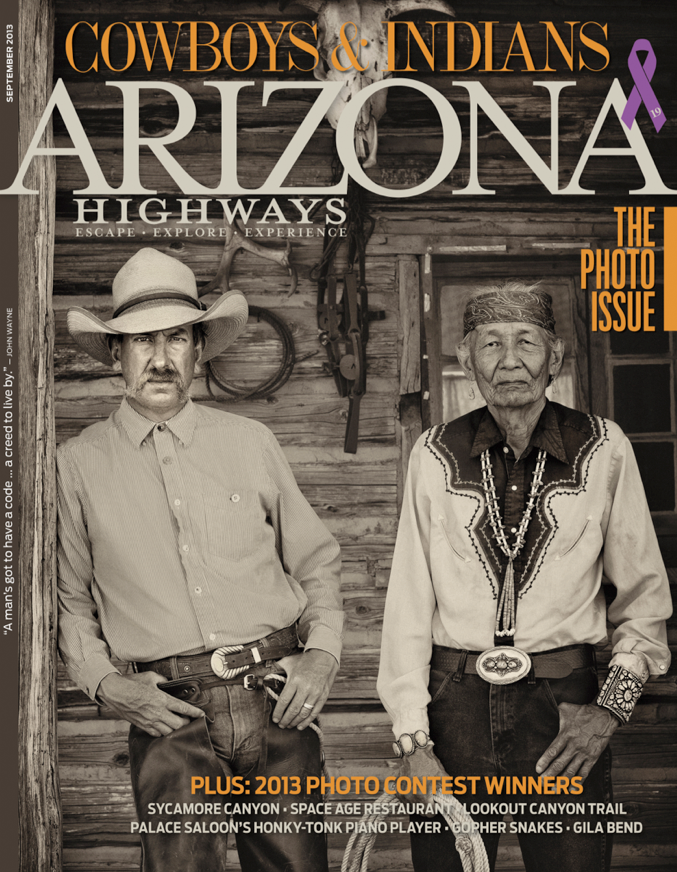 Arizona Highways has won 11 awards from the International Regional Magazine Association (IRMA), with our September 2013 Cowboys & Indians issue taking four of the prizes.
Cowboys & Indians, a portfolio by Scott Baxter and Joel Grimes, won Gold in the categories of Photo Series and Art Direction of a Single Story. The issue's cover (pictured), which features a Baxter photo of Casey Murph and Jones Benally, won Gold in the Cover category, and the entire issue received an Award of Merit.
The other Gold winner, in the Essay category, was The Power of Life in a Very Hot Place, the late Charles Bowden's piece on Organ Pipe Cactus National Monument. It ran in our April 2013 issue.
To Hellsgate and Back, Annette McGivney's February 2013 story on the Hellsgate Wilderness, and The Journal, our monthly look at people, places and things around Arizona, received Silver awards in the categories of Travel Feature and Department, respectively.
Bronze awards went to Terry Greene Sterling's Grandfather Figure (General Feature, July 2013); Kelly Vaughn Kramer's Wherever the Spirit Moves Her (Profile, March 2013); Chuck Brown's photo of a Sonoran coachwhip (Single Photo, September 2013); and the Arizona Highways website (which has since been redesigned).
The awards were announced at IRMA's annual conference in New Hampshire last night. Arizona Highways has hosted the conference four times, most recently in 2012.
Congratulations to all our winners!