November 6, 2018 at 5:20 am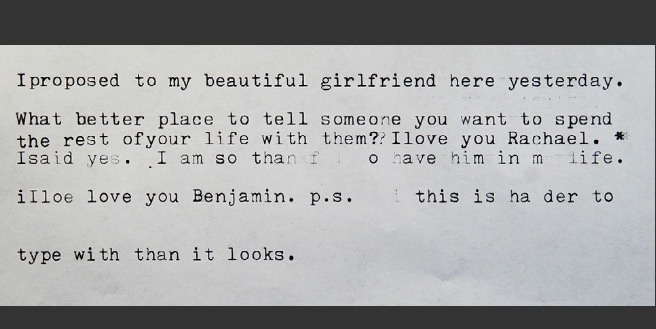 One of the 76 entries left on a typewriter at the Grand Canyon's Plateau Point during the "Towers & Type" project.
A ranger at Grand Canyon National Park has been selected to receive a prestigious award for an innovative project at one of the park's remote viewpoints.
Elyssa Shalla is being honored with the Intermountain Region 2018 Freeman Tilden Award, the park announced in a news release last month. (Readers of Arizona Highways might remember Shalla from Now Performing, a profile by Nikki Buchanan in our February 2015 issue.)
The award honors a project Shalla created at Plateau Point, a vista accessed via a 6-mile hike from the Canyon's South Rim (via Indian Garden). For the project, "Towers & Type," Shalla set up a typewriter at Plateau Point and invited hikers to share their thoughts over a three-day period. As she explains on the project's website:
I was seventeen years old when I acquired this typewriter from the Iowa City Goodwill store. Its mustard accents, the crisp reflexes of its keys, and its sturdy traveling case were worth the five dollar price tag. Neglected in my parents' basement, I rediscovered it a decade later, stashed it in the trunk of my car and drove it west to Grand Canyon National Park. A couple of years after that, it was packed down the Bright Angel Trail in the pannier of a mule named Cookie. In the final 48 hours of 2017 a new ribbon was installed and it was carried in a backpack from Indian Garden to the edge of the Tonto platform. ...

During three days of unseasonably warm weather, the typewriter was placed at Plateau Point with an invitation for visitors to reflect on their experience and type a note on the analog machine. A total of 76 entries were left behind.
Shalla now will represent the Park Service's Intermountain Region in the national Tilden Award competition. The national winner will be announced later this month.
At the time she was profiled by Arizona Highways, Shalla was a park ranger at Indian Garden. She now works for the Park Service's Division of Interpretation as a seasonal supervisor in the North Rim and Canyon District.