Digital Magazine FAQs
Frequently Asked Questions about <em>Arizona Highways</em> digital subscriptions.
>> Follow this link to subscribe to Arizona Highways digital edition.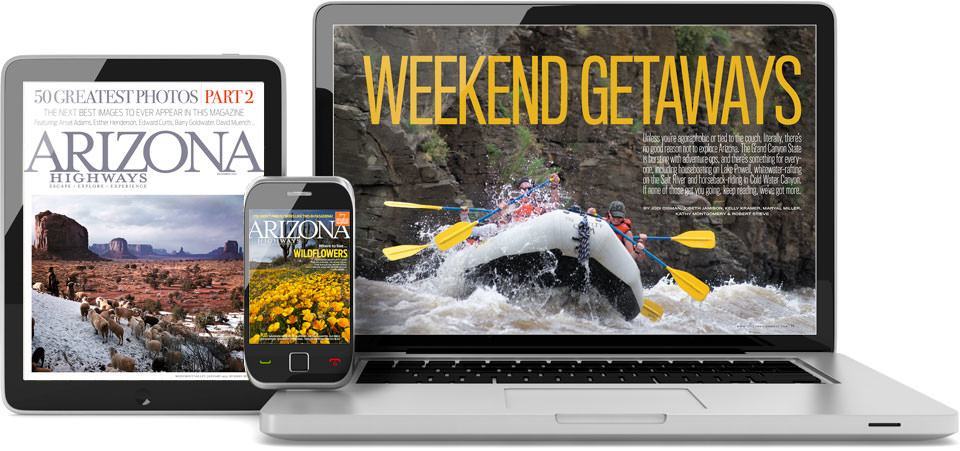 What is included in the Arizona Highways magazine digital archive?
All Arizona Highways magazines starting with the January 2005 issue are available in the digital archive and with your subscription to the digital edition.
What is a Digital Magazine?
What is the digital format, and how is it different from the print format?
Arizona Highways has partnered with a company called Zinio to provide our magazine in a powerful, new digital form with the same layout and text as the print version. The digital format offers a paper-like reading experience, but with many advantages possible only in digital format, including:
Automatic delivery of every issue directly to your computer via the Internet as soon as it hits the newsstand, often before you would receive it through the regular mail.
The ability to read your magazines anytime, anywhere—even when you're offline.
A hyperlinked Table of Contents takes you directly to the articles, features, and sections of most interest to you.
Quick links to additional Web content.
Keyword search that helps you find a topic or name in seconds.
The ability to highlight text and add "Post-it"-like notes on a magazine's pages.
A "Send to Friend" feature that allows you to send free digital copies of your magazines to colleagues, complete with your notes.
Paperless archiving. Keep back issues on your computer for fast reference and easy storage.
Does the digital format contain everything in the print format?
Yes, the digital format offers you the same great content, and the same great design as our print magazine. You won't miss a single article or photo.
How Does it Work?
What application will I use to read my digital magazine?
Zinio has developed free reader software, called the Zinio Reader. When your first digital issue is available, you'll receive an email notification from Zinio. As you download the first magazine, you'll also be guided to register with Zinio and download the free Zinio Reader software.
Will the free Zinio Reader work on my computer?
The online (web browser) version of the Zinio Reader is compatible on systems with Adobe Flash 9 or higher installed. Linux users can use this version. The offline version of the Reader, which you can use whether or not you're connected to the internet, is currently compatible with Windows (2000/XP/Vista) and Mac OS (10.3 or higher). An initial release of the Zinio Reader for Apple iPhone and iTouch is now available and can be downloaded from the iPhone App Store. The Zinio Reader is not compatible with Windows Mobile, Blackberry (or other PDA's) or reading devices such as the Kindle, Nook, or Sony Reader.
How do I get my digital issues?
When you install the Zinio Reader, you will also create an account with Zinio. Zinio will notify you by email as each new issue becomes available. The Zinio Reader also has a "Delivery Manager" feature that will download your issues automatically. You can retrieve them manually if you prefer.
Do I need to be connected to the Internet to read my magazines?
No, you only need to be connected when you download your issues. After that you can take your computer anywhere and read your magazines offline. Of course, certain features such as hyperlinks in articles and advertisements, or "Send to Friend," require an Internet connection.
How much disk space does a typical issue take up?
Each issue is about 10-20MB. The Zinio Reader software is about 10MB.
Digital Magazine Features
Can I read my digital magazines at work and at home?
Of course! You can install the Zinio Reader on two (or more) computers, and then download your digital issues to your desktop at work and at home, for convenient access anywhere.
If the magazine is in digital format, does that mean I can do a keyword search for a topic?
Yes, you can. You can search for a word or set of words that appear in the text of a magazine, making it easier to find that article you remember reading last month.
Can I mark up my digital magazines the way I do with the paper version?
The Zinio Reader has highlight and note features that mimic the way we use paper magazines. Highlight key passages that you want to return to, or jot yourself a reminder about a product of interest that you want to research, or an event you want to attend.
Can I share my digital magazines with a friend or colleague, as I can with the print format?
Absolutely. The Zinio Reader has a "Send to Friend" feature that lets you invite friends or colleagues to download their own free copy of your magazines. You can even send your notes and highlights.
Can I print from the Zinio Reader?
Yes, two pages at a time.
Will back issue archives be available? Is there a charge to access them?
Each issue you receive is stored on your hard drive in a "Digital Magazines" folder for your own easy access and archiving. If you ever accidentally delete your magazines, you can download each one up to three times at no additional charge from Zinio's Web site, where there may also be additional back issues for sale. Issues beyond what you find there are not currently available in digital format.
Subscription Questions
What is the cost of a digital subscription compared to print?
A digital subscription costs exactly the same as a subscription to the print edition. If you are an international subscriber, you will probably save money with the digital format, since you will get the US subscription price!
I'm already a print subscriber. Can I convert my subscription to the digital format? Or can I get both
To convert your print subscription to digital, contact the Customer Service department at Arizona Highways. To obtain both a print and digital subscription, each must be purchased separately.
Why do you need my email address?
Zinio will notify you by email when each issue of your subscription becomes available. Both Zinio and Arizona Highways are committed to strictly maintaining your privacy.
>> Zinio's Privacy Policy
>> Arizona Highways Privacy Policy
Are single copies and back issues available?
You can buy our latest issue at Zinio's Web site. There may also be additional back issues for sale.
Who can I contact with additional subscription-related questions?
Email our Webmaster or Customer Service department or call us toll-free at 1-800-543-5432. Please include the name and address at which you subscribe.