Shamrock Farms
What began as a small farm with 20 cows and a Model T for making deliveries has grown into one of the largest family owned dairies in the United States. This month, Shamrock Farms celebrates 90 years of making milk.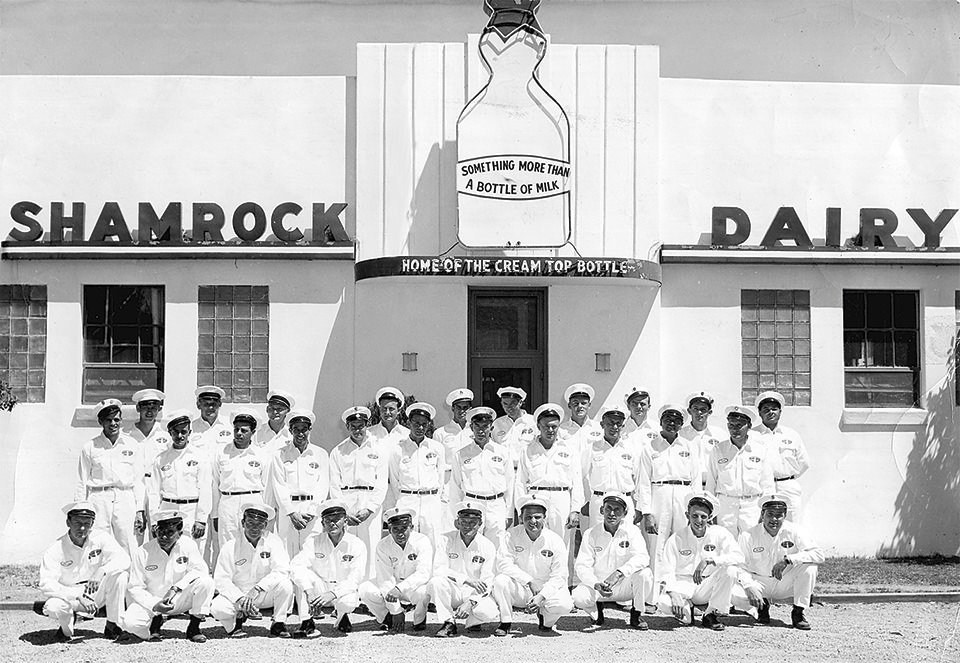 By Kelly Vaughn Kramer / Photo Courtesy of Shamrock Farms
When W.T. McClelland left the rolling green landscape of Ireland to chase his own version of the American dream in Tucson, he had one thing on the brain: cows.
In 1922, he and his wife, Winifred, bought 20 Guernseys, a plot of land and a Model T delivery truck, and began a dairy farm.
Now, 90 years later, Shamrock Farms is well known as one of the largest family owned-and-operated dairies in the United States, and the McClellands' son, Norman, who fondly remembers "growing up on a little dairy farm on the banks of the Rillito River," serves as the company's CEO.
"As Irish immigrants, my parents were proud to be Americans and proud of their business," says Norman McClelland. "They'd certainly be proud of the family business today."
By 1941, the dairy began pasteurizing its products. It had also incorporated milking machines and added a processing plant. The company boasted 35 employees and 15 delivery trucks.

The dairy experienced much of its growth in the decade immediately following World War II. Norman joined the family business in 1949, and, decades later, his son and daughter came on board, as well. Today, Shamrock Farms' Guernseys number more than 10,000.
"In reflecting on 90 years in business, I am most proud of our commitment to treat employees as family and customers as friends," McClelland says. "Being an Arizona-based business has served Shamrock well. Arizona has had dynamic growth since World War II, and Shamrock has enjoyed success as a dairy and food-­service leader."
Some of Shamrock Farms' original employees gather outside the Tucson plant in the early 1940s.