White Stallion Ranch
Dude ranches are common in Arizona, but only the White Stallion, which has been welcoming guests since 1940, served as the set for Arizona, Winchester 73 and How the West Was Won. The "beer and Cheetos" rides are a little different, too.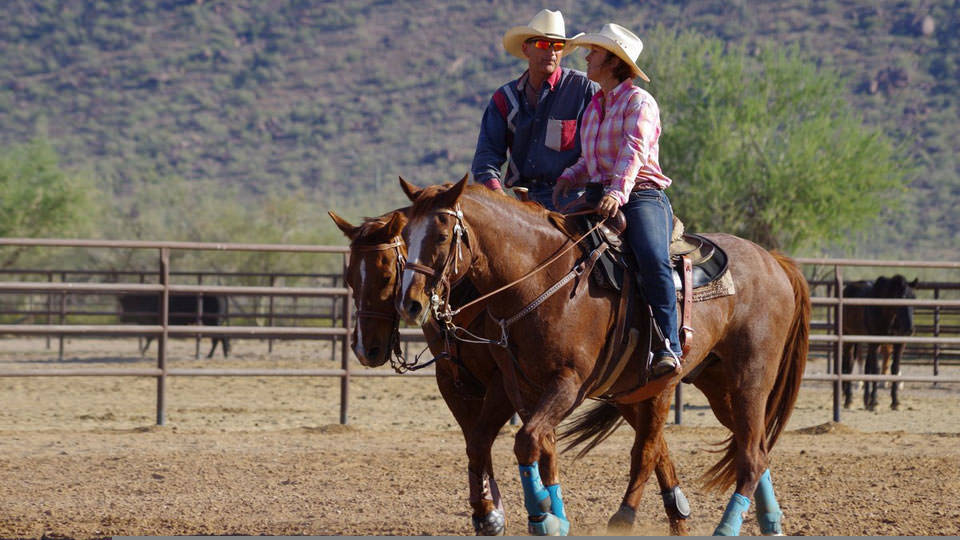 Sponsored Content
Riding across the desert at White Stallion Ranch felt like riding into my childhood. The craggy peaks of the saguaro-studded Tucson Mountains looked like cutouts against a still, perfect sky. A red-tail hawk launched itself overhead. Longhorn cattle crossed my path.
In this setting my husband and I played out our Western fantasies. We took daily rides, watched a rodeo and competed in team penning. At night, we retired to the bar (with saddle seats, naturally) to nosh on appetizers before a generous, ranch-style meal. Nightly entertainment included a "critter show" featuring snakes, spiders and scorpions, a cowboy magician, and a cowboy poet who performed by the light of a campfire.
The White Stallion has welcomed guests since 1940, and the True family has owned and operated it for nearly 50 of those years. They've worked hard to preserve the traditional dude ranch experience, with lots of daily horseback riding options from short, slow meanders through the surrounding desert to all-day rides into adjacent Saguaro National Park. Riders craving the drama of a Western can get their fix on a fast ride. In cooler months, those with a taste for something more contemporary can opt for a wine and cheese ride. The popular beer and Cheetos option is available most anytime. Private and group riding lessons are also available for an extra charge.
If the mere thought of that much time on horseback makes you saddle sore, you should know that a massage therapist gives new meaning to the term "ranch hands." And there are plenty of non-equestrian activities, including a fitness center, sports courts, heated pool and, of course, a movie theater. Videos and DVDs are available on the honor system, but the staff keeps a tighter rein on those filmed at the ranch.
White Stallion Ranch is located at 9251W. Twin Peaks Road, Tucson, AZ 85743. For more information, call 520.297.0252 or toll-free, 888.977.2624 or visit www.whitestallion.com