Christine Bailey's love affair with Arizona goes back to her childhood, and now that she's a resident of the Grand Canyon State, she's passionate about sharing its wonders with others. Her new book, 100 Things to Do in Phoenix Before You Die, offers a "bucket list" of activities in and around Arizona's largest city. We asked Bailey a few questions about the process of writing the book and the can't-miss items she'd recommend.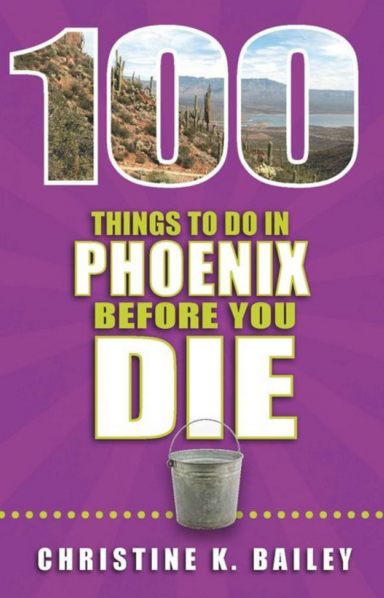 What's your history with Arizona?
In a nutshell: I'm originally from Chicago, but my dad was born in Tucson. I like to joke that he spent my entire childhood trying to get back. In fact, I remember he received an annual subscription to Arizona Highways and would page through the magazine each month. The pictures were so strange to look at after the lush, green landscapes of the Midwest. But he used to tell us stories about visiting his grandmother and finding snakes and spiders and scorpions, about the saguaro cactus that was almost his undoing after he fell on it somewhere in the Catalinas, and the dusty roads and sandy washes he explored. He showed us pictures and told us of his adventures, and somewhere along the way, it became this exciting place where anything could happen. So, in 1998, with both my sister and me out of the house and enough money in the bank, my parents finally set off for Tucson. And I went with them. It was the same year I graduated from college, and I thought, This is my chance for my own adventure. I'm going, too.
They moved out in early August, and I followed a week later. My dad and I went hiking in the Santa Catalina Mountains that first weekend. I thought I was dying, or terribly out of shape. I couldn't figure out why I was so out of breath. Living at or near sea level my entire life, I was wholly unprepared for the change in elevation. I think that bothered me more than the heat! And it was hot. But I was hooked. We went hiking, explored the washes near their new house, biked the back roads. I loved it all — the way the desert smelled of creosote after the rain, the caliche crunching beneath my feet, that hot, dry air, and the very fact that my Dad and I started a hike into the Catalinas one winter day in our shorts and T-shirts and ended up having a snowball fight higher up among the pines. Where else in the world can you find such a beautiful amalgamation of so many different ecosystems and landscapes, and all within a day's hike?
What inspired you to write a book around this topic?
I've written several books, travel apps and articles about Phoenix, Sedona and the surrounding areas, and when I was approached in early 2015 to write a "bucket list"-style book, I jumped at the chance. After writing a travel guide at the height of the smartphone explosion, I knew that traditional travel guides with maps and directions and directory-style entries were not quite as popular — not when people could pull up better and more up-to-date directions or even access a list of resorts and make a reservation all from their smartphones. But the "100 Things" format shares short little snippets about what you should see and do without all of the extras. By focusing on the highlights, the book gives readers a much broader overview of the area and calls out the top spots they can explore on their own. Plus, it's a lot lighter and easier to carry with you when you travel.
What research went into the book? Did you go and do each of the things on the "bucket list," or did you research some other way?
A lot of research went into the book. I wanted the little details that would help paint a picture in 125 words or less, and that required just as much research as a larger piece. Most of the 100 things were written from my own experiences — like canyoneering in Salome Canyon (one of my absolute favorites) and riding the light rail into downtown Phoenix. Others, like the ghost tour in Prescott and Big Surf Water Park in Tempe, are still on my bucket list (my boys have been begging me to go to the water park, but, apparently, I'd much rather rappel down a 25-foot waterfall than be seen in a bathing suit in public). But even those activities based on personal experience required additional research to double-check facts and confirm that places were still open. For those I haven't yet experienced firsthand, I spoke with others — friends, family, fellow travel writers, owners and contacts — who have "been there and done that" to ensure that it's as exciting and worthwhile as I anticipated.
What challenges or surprises did you encounter while writing the book?
I was surprised at how hard it was to choose only 100 things. My original list had about 150 entries, and I had to whittle it down to 100. I was looking for items that embodied what Phoenix was all about: the often-magnificent weather, the beautiful desert landscape, our unique mix of urban and agriculture, of history and growth, and what I've been calling a "pioneering spirit." I wanted the book to be something both a tourist and a local could use to discover something new. But I didn't want the book to be only the big must-dos that tourists should include; I wanted also to share those simple activities that add depth and texture to our everyday lives as Phoenicians — like biking along the canals on an afternoon in the middle of February, or listening to live jazz on the outdoor patio of a local coffee shop while the sun sets some October evening.
If a person is planning a weekend in the Phoenix area and can only do a handful of the items on the list, what would be a good two-day itinerary?
Oh, that's a tough question. It depends on what you like. But for a full overview of what Phoenix is all about, I would say try to get in some of the following:
Barrio Café at 16th Street in Phoenix for some of the best Mexican food in town; this is not like anything you'll find back home (unless you're from Sonora, Mexico, of course).
Matt's Big Breakfast at corner of Garfield and First Street in downtown Phoenix for the very best buttermilk pancakes (and a side of bacon) in town; I've been trying all of them, and no one else has come close.
The Heard Museum on Central Avenue in downtown Phoenix for a beautiful representation of our Native American culture.
The Rusty Spur in Old Town Scottsdale for a rowdy evening of outlaw country with the Psychobilly Rodeo Band.
Hike Piestewa Peak if you want a short, but intense hike with 360-degree views of the Valley, or hike or bike South Mountain Park for a quieter and less intense trip through the desert landscape. Or, if you're up for a more rigorous, full-day adventure, I recommend booking a canyoneering trip with 360 Adventures.
Take a Green Zebra Tour through the McDowell Mountains — while less heart-pounding than canyoneering, this trip can create a few white-knuckle moments as you rev your way up steep terrain and across the Sonoran Desert in a military-grade all-terrain vehicle also known as a Tomcar.
Depending on where you're staying, chances are the view is beautiful and the weather is perfect, so find a lounge chair beside the hotel pool (even if it's the middle of winter), grab a cocktail or a coffee and soak up the sun. You'll walk away relaxed and refreshed.
Where can people get the book?
The book should be available everywhere books are sold — such as Changing Hands, Barnes & Noble, Costco and Hudson News (at the airport). If your local bookstore is out of stock, let them know and they can order it for you. You can also buy it online at Amazon.com and barnesandnoble.com.
Every time I go through the book, I think of items I missed, like high tea at The Phoenician, breakfast at La Grande Orange after hiking Camelback Mountain, or enjoying a nitro float at Peixoto Coffee in downtown Chandler. So, if anyone has old favorites I missed or new favorites to share (our city is constantly evolving), please let me know.