The state of Arizona gave us our own license plate,
and we'd like you to take us for a ride.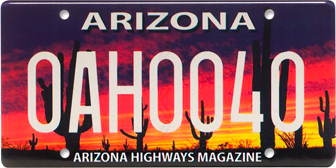 To order an official Arizona Highways license plate, follow this link to www.servicearizona.com.
 
If you do, $17 from every $25 plate fee directly benefits the magazine and helps support our mission of promoting tourism in Arizona.
In fact, according to the most recent economic impact study, Arizona Highways contributes $42 million in direct revenue to the state of Arizona. Every year.
"We take great pride in supporting the rural communities around the state," says Kelly Mero, publisher of Arizona Highways. "Most of these areas have limited funding when it comes to promoting travel and tourism, so our role becomes even more important. In fact, the publicity we provide can mean the difference between a place that thrives and one that goes unnoticed. We hear repeatedly from restaurants and B&Bs that have been featured in the magazine or on our website, and the testimonials make it clear that we're meeting our mission, which is to promote travel to and through Arizona."
So, escape, explore, experience. Hit the road and take us with you.