Where Is This?
How to enter our monthly contest. Plus, see last month's winner.
May 2017 Contest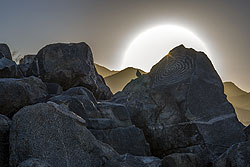 A Place in the Sun
By Noah Austin | Photo by Archie Tucker
This spiral is one of dozens of petroglyphs at a site in Arizona's Sonoran Desert. It's been federally protected since the 1960s, but the petroglyphs have been there for hundreds of years. If you visit, make plenty of photos, but don't touch — oils from your hands can damage the rock art.
Win a collection of our most popular books!
To enter, correctly identify the location pictured at left and email your answer to [email protected] — type "Where Is This?" in the subject line. Entries can also be sent to 2039 W. Lewis Avenue, Phoenix, AZ 85009 (write "Where Is This?" on the envelope). Please include your name, address and phone number. One winner will be chosen in a random drawing of qualified entries. Entries must be postmarked by May 15, 2016. Only the winner will be notified. The correct answer will be posted in our July 2017 issue and online beginning June 15, 2016.
March 2017 Answer & Winner
South Mountain Park, Phoenix. Congratulations to our winner, Cort Fornero of Tinley Park, Illinois.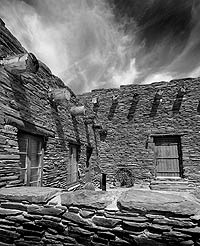 Built to Last
By Noah Austin | Photo by Mike Smith
Arizona is known for its national and state parks, but it's also home to some of the largest municipal parks in the world. This structure is located at one of them, and if you've visited to check out its thousands of Hohokam petroglyphs, hike its 70 miles of trails or enjoy a panoramic city view, you've probably passed by.