Where Is This?
How to enter our monthly contest. Plus, see last month's winner.
September 2018 Contest
Cross Your Fingers
By Noah Austin | Photo by A.O. Tucker
Formerly a mission for Native Americans, this Arizona building now celebrates its town's history, which includes a massive copper mine that can be viewed from a nearby overlook. Among the other nearby attractions are a Spanish Colonial plaza and an emerging community of artists.
Win a collection of our most popular books!
To enter, correctly identify the location pictured at left and email your answer to [email protected] — type "Where Is This?" in the subject line. Entries can also be sent to 2039 W. Lewis Avenue, Phoenix, AZ 85009 (write "Where Is This?" on the envelope). Please include your name, address and phone number. One winner will be chosen in a random drawing of qualified entries. Entries must be postmarked by September 15, 2018. Only the winner will be notified. The correct answer will be posted in our November 2018 issue and online beginning October 15, 2018.
July 2018 Answer & Winner
Picket Post Mansion, Boyce Thompson Arboretum. Congratulations to our winner, Constance Clark of Trempealeau, Wisconsin.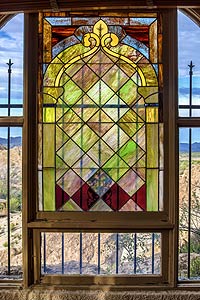 Great Panes
By Noah Austin | Photo by Bruce Boyce
This Arizona building, which dates to the 1920s, has a history as colorful as the stained-glass pieces displayed there. Its builder donated it to the facility he founded, and it later was sold and operated as a B&B. It's since been repurchased by the facility, which is the state's oldest and largest of its kind.