Where Is This?
How to enter our monthly contest. Plus, see last month's winner.
March 2018 Contest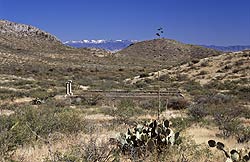 School's Out
By Noah Austin | Photo by Pat Gorraiz
Most students get a week or two off for spring break this month, but at this Southeastern Arizona institution, school has been out for more than three-quarters of a century. It's located in a copper boomtown, now a ghost town, that's named for an Irish miner who staked a claim there.
Win a collection of our most popular books!
To enter, correctly identify the location pictured at left and email your answer to [email protected] — type "Where Is This?" in the subject line. Entries can also be sent to 2039 W. Lewis Avenue, Phoenix, AZ 85009 (write "Where Is This?" on the envelope). Please include your name, address and phone number. One winner will be chosen in a random drawing of qualified entries. Entries must be postmarked by March 15, 2018. Only the winner will be notified. The correct answer will be posted in our May 2018 issue and online beginning April 15, 2018.
January 2018 Answer & Winner
Red Hills Visitor Center, Saguaro National Park. Congratulations to our winner, Susie Schleppenbach of Paso Robles, California.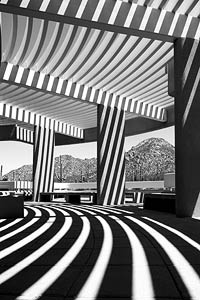 Long Shadows
By Noah Austin | Photo by Jessica Morgan
Bands of shadow provide welcome relief from the desert heat at this structure, located in a section of public land that celebrates some of Arizona's most recognizable inhabitants. The structure itself is named for a nearby topographical feature whose color contrasts with the surrounding landscape. We'd show you, but we can't. This is a black and white photo.