Facebook
Twitter
Instagram
Instagram
November 2021 Contest
Rut-Roh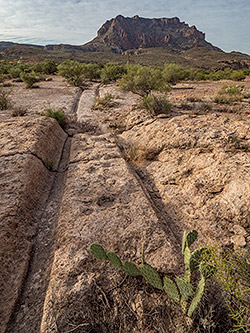 Recognizing the peak in the distance will help you identify the location of these ancient wagon tracks, which lead from the site of a once-lucrative mining venture. We're looking for the name of the mine, which produced tens of millions of dollars in ore in the late 1800s.
Win a collection of our most popular books!
To enter, correctly identify the location pictured at left and email your answer to [email protected] — type "Where Is This?" in the subject line. Entries can also be sent to 2039 W. Lewis Avenue, Phoenix, AZ 85009 (write "Where Is This?" on the envelope). Please include your name, address and phone number. One winner will be chosen in a random drawing of qualified entries. Entries must be postmarked by November 15, 2021. Only the winner will be notified. The correct answer will be posted in our January 2022 issue and online in mid December, 2021.
September 2021 Contest Answer & Winner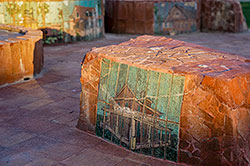 Roosevelt Mini Park, Phoenix.
Congratulations to our winner, John Rialson of Hollister, California.
Only House on the Block
This small piece of art is a feature of a tiny park in Arizona's largest city. It's named for a nearby street, which is named for an influential president who was key to the creation of a much, much bigger park in Arizona.