Where Is This?
How to enter our monthly contest. Plus, see last month's winner.
May 2018 Contest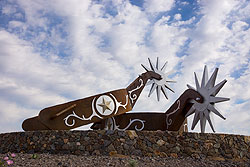 Let's Get to the Points
By Noah Austin | Photo by Pat Gorraiz
Many travelers pass through this Central Arizona town when they're on their way to somewhere else — and that's where they'll see these oversize spurs, a nod to the town's Western heritage. Like many places in Arizona, this one is named for an early prospector. Will that clue spur a correct guess?
Win a collection of our most popular books!
To enter, correctly identify the location pictured at left and email your answer to [email protected] — type "Where Is This?" in the subject line. Entries can also be sent to 2039 W. Lewis Avenue, Phoenix, AZ 85009 (write "Where Is This?" on the envelope). Please include your name, address and phone number. One winner will be chosen in a random drawing of qualified entries. Entries must be postmarked by May 15, 2018. Only the winner will be notified. The correct answer will be posted in our July 2018 issue and online beginning June 15, 2018.
March 2018 Answer & Winner
Gleeson. Congratulations to our winner, Shirley Davis of Payson, Arizona.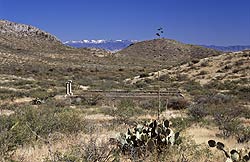 School's Out
By Noah Austin | Photo by Pat Gorraiz
Most students get a week or two off for spring break this month, but at this Southeastern Arizona institution, school has been out for more than three-quarters of a century. It's located in a copper boomtown, now a ghost town, that's named for an Irish miner who staked a claim there.
February 2018 Answer & Winner
Antares. Congratulations to our winner, Kevin Skehan of Columbus, Ohio.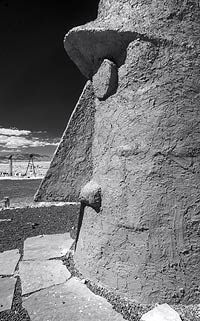 Who Nose?
By Noah Austin | Photo by Kerrick James
No, this large-nosed sculpture isn't on Easter Island — it's in a small town along the Arizona stretch of a famous highway. The town shares its name with a bright star and a Eurodance band from the 1990s. And if you've got a nose for details, the mountain range in the distance might help you identify it.