Facebook
Twitter
November 2023 Contest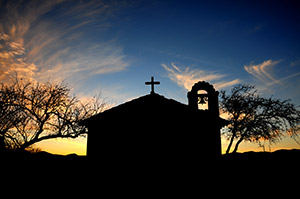 Cross-Examine
The church silhouetted here at sunset is located in a small town in Southern Arizona. The name of the town — which is the answer we're looking for here — is derived from a Tohono O'odham word, and the community is also home to a storied guest ranch that dates to the late 19th century.

Win a collection of our most popular books!
To enter, correctly identify the location pictured at left and email your answer to [email protected] — type "Where Is This?" in the subject line. Entries can also be sent to 2039 W. Lewis Avenue, Phoenix, AZ 85009 (write "Where Is This?" on the envelope). Please include your name, address and phone number. One winner will be chosen in a random drawing of qualified entries. Entries must be postmarked by November 15, 2023. Only the winner will be notified. The correct answer will be posted in our January 2023 issue and online beginning mid-December.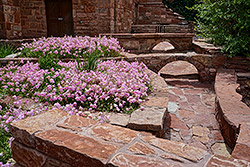 September 2023 Contest
Answer & Winner
Cameron.
Congratulations to our winner, Jerry Cashman of Loveland, Ohio.
Someplace Quiet
Designed and planted in the 1930s, these floral gardens are in a small town that many people see on their way to the Grand Canyon. If you're one of those people, you'll also see a historic suspension bridge built in the 1910s, along with the still-thriving business that sprang up near the bridge shortly thereafter.