Facebook
Twitter
Instagram
Instagram
October 2022 Contest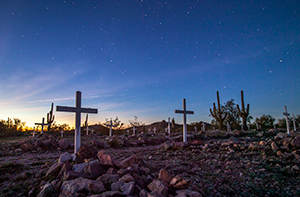 Cross Examination
This cemetery is at the site of one of the richest mines in Arizona's history — by some estimates, as much as $200 million in gold and silver was mined there. Today, an extensive restoration has made the nearby ghost town, named for a bird found throughout Arizona, a tourist attraction.

Win a collection of our most popular books!
To enter, correctly identify the location pictured at left and email your answer to [email protected] — type "Where Is This?" in the subject line. Entries can also be sent to 2039 W. Lewis Avenue, Phoenix, AZ 85009 (write "Where Is This?" on the envelope). Please include your name, address and phone number. One winner will be chosen in a random drawing of qualified entries. Entries must be postmarked by October 15, 2022. Only the winner will be notified. The correct answer will be posted in our January 2023 issue and online in mid December.
August 2022 Contest Answer & Winner
Castle Dome City
Congratulations to our winner, Yvonne Zanzucci of Delray Beach, Florida.
The Shaft
There are plenty of old mines in Arizona, but this one in the western part of the state is something special. It's now open for guided tours that take visitors 100 feet underground, and the highlight is a wall of minerals that glow red, blue and green under ultraviolet light. We're looking for the name of the surrounding ghost town, which is named for a nearby peak.