Where Is This?
How to enter our monthly contest. Plus, see last month's winner.
November 2017 Contest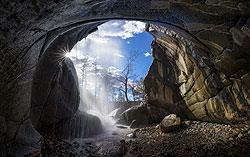 When It Rains
By Noah Austin | Photo by Michael Wilson
The city near this waterfall is well known for its role in Arizona's early history. But the waterfall itself is a little-known gem accessible via a short hike. It's along a creek named for an animal rarely seen in the state these days, and water is rarely seen here: The creek is dry unless it's fed by rain or snowmelt..
Win a collection of our most popular books!
To enter, correctly identify the location pictured at left and email your answer to [email protected] — type "Where Is This?" in the subject line. Entries can also be sent to 2039 W. Lewis Avenue, Phoenix, AZ 85009 (write "Where Is This?" on the envelope). Please include your name, address and phone number. One winner will be chosen in a random drawing of qualified entries. Entries must be postmarked by November 15, 2017. Only the winner will be notified. The correct answer will be posted in our January 2018 issue and online beginning December 15, 2017.
September 2017 Answer & Winner
Lava River Cave, near Flagstaff. Congratulations to our winner, Allan Benchman of Sedona, Arizona.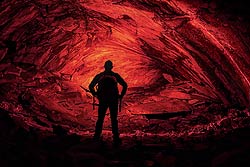 Where He Stands
By Noah Austin | Photo by Renzo Cataldo
No, this isn't the Eye of Sauron — it's a geological oddity that's located in Northern Arizona and recently was featured in Arizona Highways. It was awfully warm when it formed more than half a million years ago, but now it's a cool place to visit with some friends. Or with a fellowship, even.