For more than a decade, Arizona Highways' annual photo contest has celebrated the work of amateur photographers from across the country as they explore Arizona's diverse landscapes, wildlife and more. So, if you've been to our website or if you follow us on social media, this won't come as any surprise. If you haven't, or you don't, the long wait is over. After looking at thousands of entries in this year's photo contest, we have a winner. His name is Jay O'Brien of Rio Grande, New Jersey, for his beautiful shot of the Grand Canyon. As you'll see, the runners-up are pretty impressive, too.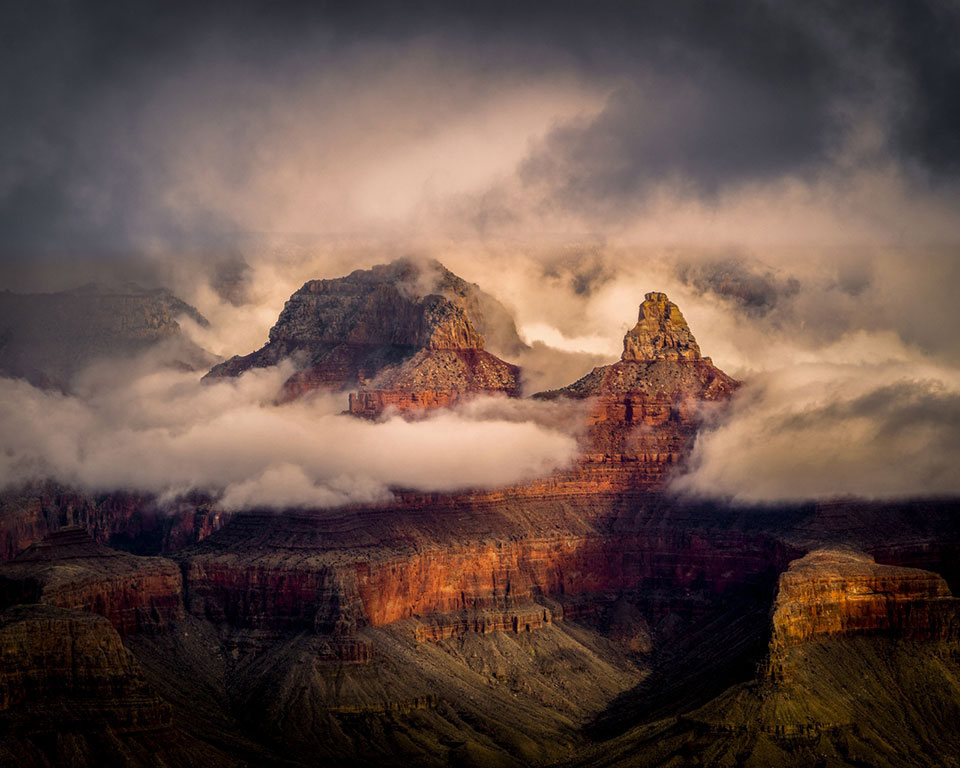 GRAND PRIZE WINNER
Jay O'Brien
Wispy clouds clear from the Grand Canyon's Brahma and Zoroaster temples in a midmorning view from the South Rim. "The Canyon is always changing, but in any of our lifetimes, the only things that will change up there are the seasons and the weather," Photo Editor Jeff Kida says. "When everyone else is ducking for cover during inclement weather, scenic photographers go out in it, and that's when they get their best stuff. Jay was fortunate to capture this amazing photo, but he still had to be ready and wait for the right moment. I love the contrast of the hard buttes with the soft clouds, and there's also a color contrast between warm and cool tones. You can make some amazing images at the leading and trailing edges of storms."
NIKON D500, 1/160 SEC, F/16, ISO 100, 86 MM LENS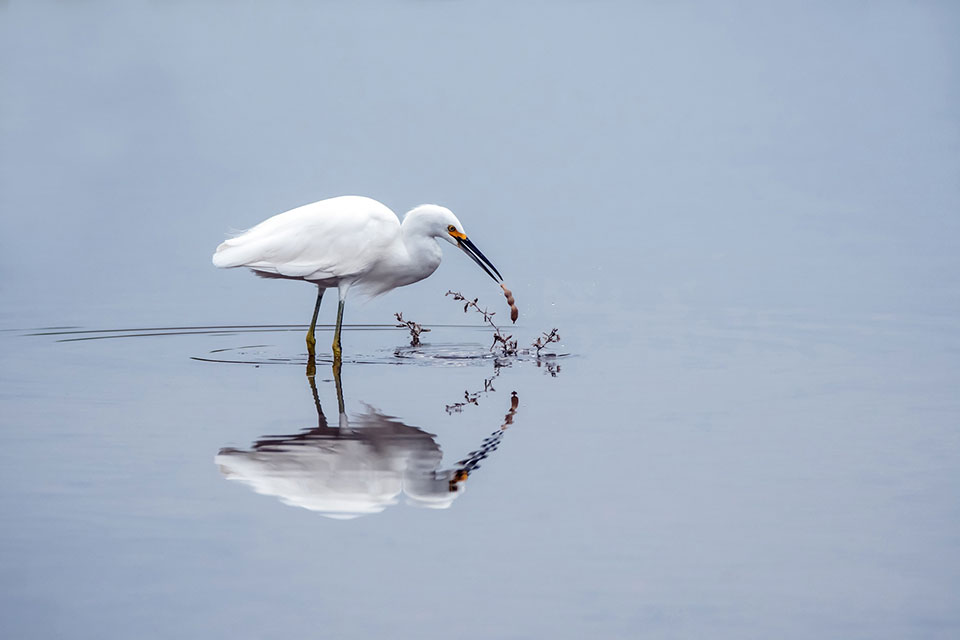 SECOND PLACE
Tam Ryan
A snowy egret plucks a seedpod from a plant at Gilbert's Riparian Preserve at Water Ranch. "When you look closely, you see that there's a separation between the pod and the bird's beak," Kida says. "That creates an anticipatory feeling that adds to this quiet, contemplative moment. I like the monochromatic quality of this photo, the perfect reflection and the fact that the bird is slightly left of center. And because it isn't tightly cropped, it feels like it's in its natural environment, rather than in a captive setting."
NIKON D500, 1/1250 SEC, F/6, ISO 1600, 400 MM LENS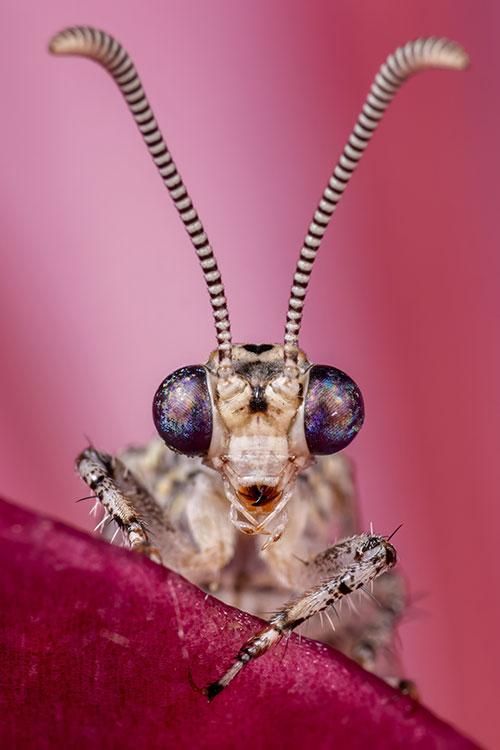 THIRD PLACE
Jonathan Cline
An adult antlion stares down its photographer. "Insects are natural fits for macro photography, but this shot stands out to me," Kida says. "I like that this thing is shot against pinks and magentas — it just pops out of there. Everything that needs to be in focus is rendered sharply, and the two big eyes draw you in. The diagonal form in the foreground adds an interesting dynamic and becomes an initial visual anchor, while the light stripe coming through the head and body almost emphasizes a natural vignette." (Another of Cline's photos earned an honorable mention and is pictured below.)
CANON EOS 90D, 1/160 SEC, F/16, ISO 200, 100 MM LENS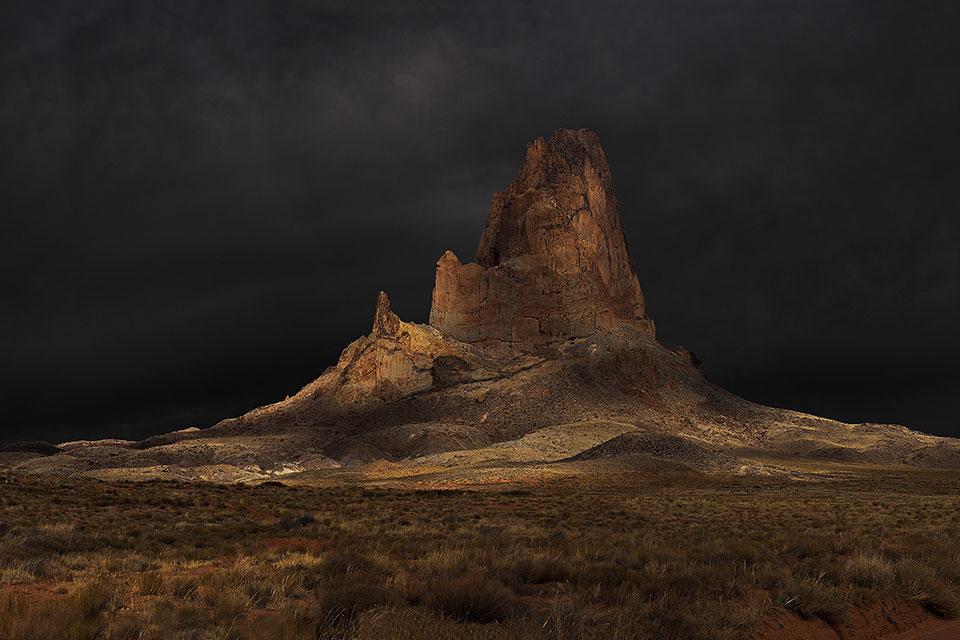 HONORABLE MENTION
Dennis Tromburg
Light dappled by storm clouds strikes Agathla Peak, a Navajo Nation landmark south of Monument Valley. The photographer made this image from a 10-shot panorama that was stitched and cropped. "In that part of the state, the weather moves through very quickly," Kida says, "so the light and shadows had to be moving constantly on that peak. Dennis had to time this perfectly, and the feeling this image gives you is that things are changing quickly."
CANON EOS 5D MARK IV, 1 SEC, F/8, ISO 100, 85 MM LENS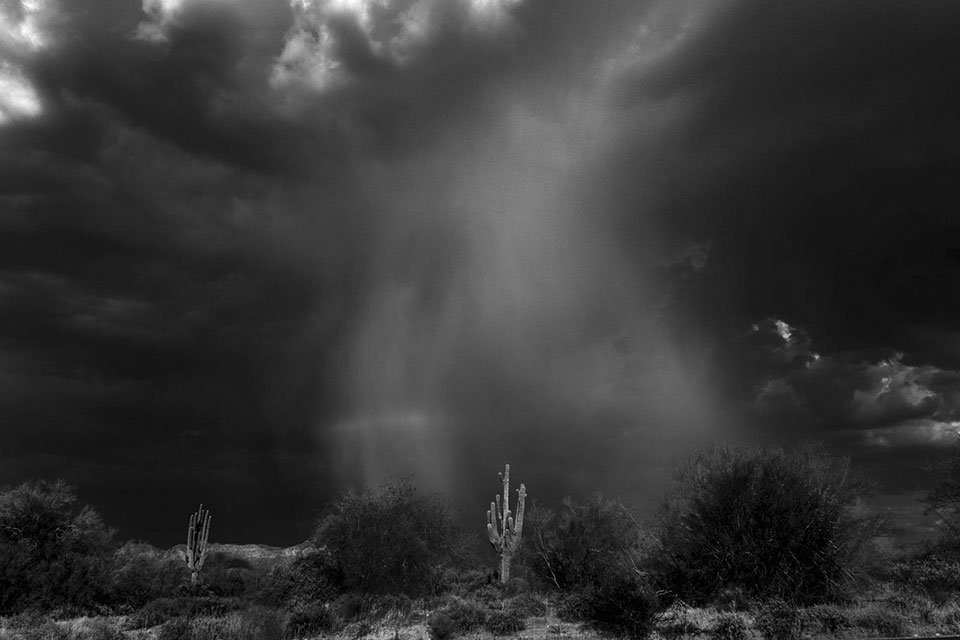 HONORABLE MENTION 
Boyd Robinson
"This image is about form, but also about a moment," Kida says of this shot of rain falling on a mature saguaro at Usery Mountain Regional Park, northeast of Phoenix. "The downburst is hitting that saguaro, which is also being illuminated. It draws your attention immediately, and the saguaro is an instant focal point. The storm action surrounding it really sets everything off."
FUJIFILM X-T2, 1/1000 SEC, F/8, ISO 400, 16.5 MM LENS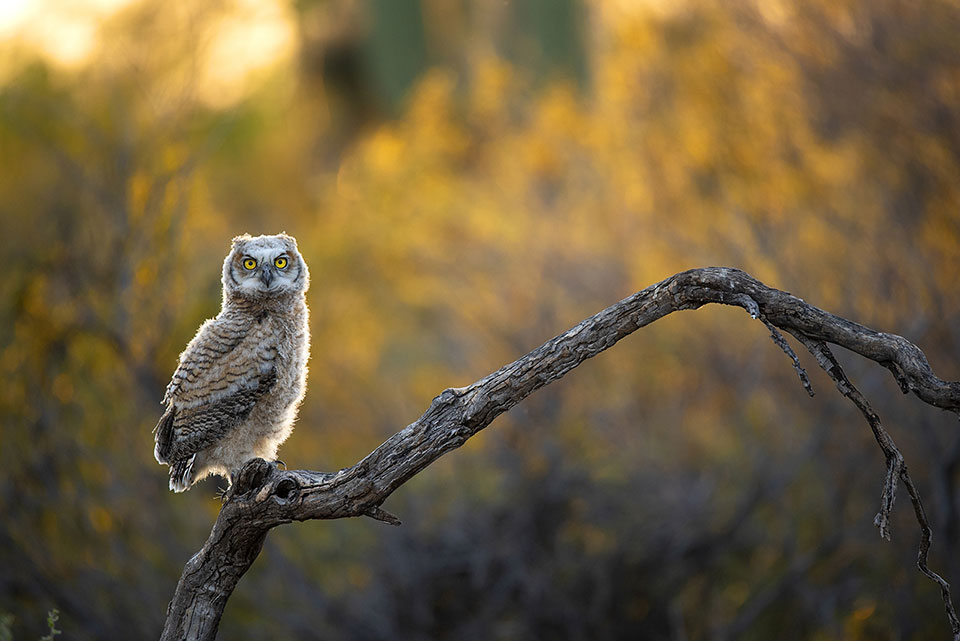 HONORABLE MENTION
Tina Wright
A young great horned owl eyes its photographer from a tree branch in Scottsdale. "Tina's choice of composition is wonderful here," Photo Editor Jeff Kida says. "The branch draws you into this scene, and a narrow depth of field, along with some wonderful backlight, makes the owl stand out. Additionally, the colors in the background match the owl's eyes, which creates a dynamic between the two."
NIKON D750, 1/160 SEC, F/6.3, ISO 800, 600 MM LENS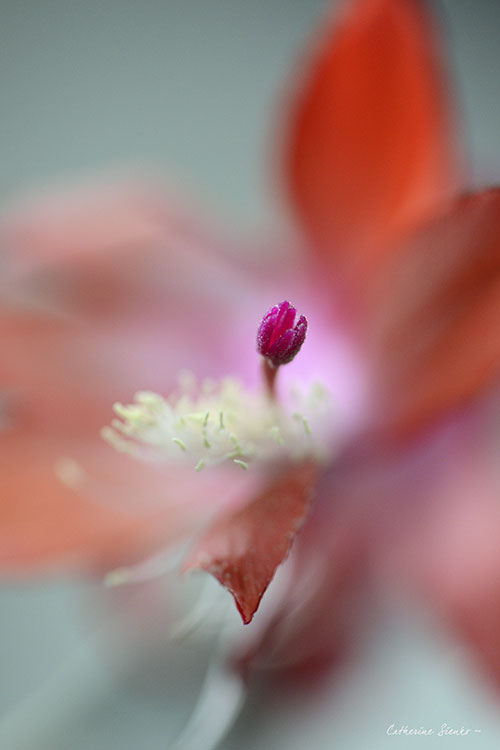 HONORABLE MENTION
Catherine Sienko
A macro photograph displays the delicate components of the bloom of a Christmas cactus (genus Schlumbergera) at Diamond Bell Ranch, southwest of Tucson. "Catherine does a wonderful job of macro photography," Photo Editor Jeff Kida says. "We've seen her work over the years, but this one really speaks to me. The deep red pistil is in focus, and your eye instantly goes to that, but you're drawn in by the soft pastel forms of everything else. It's a very engaging image."
NIKON D800, 1/1000 SEC, F/8, ISO 1400, 105 MM LENS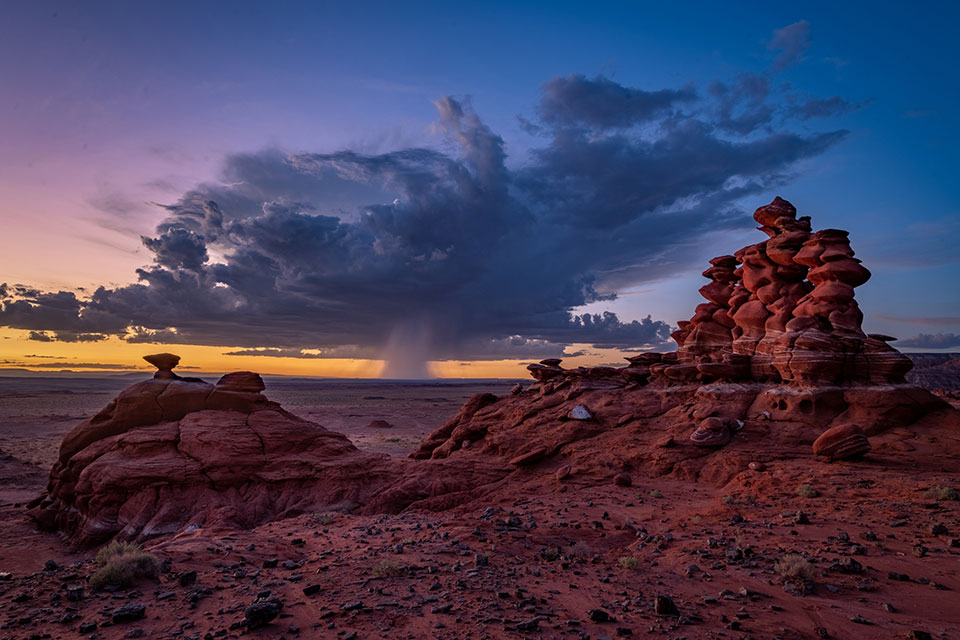 HONORABLE MENTION
John Gafford
A storm approaches the hoodoos of the Adeii Eichii Cliffs, east of Cameron on the Navajo Nation. "Without that shaft of rain coming down, this wouldn't be nearly the shot it is," Kida says. "Your eye enters from the bottom and moves through the hoodoos, then hits the rain in the background. It's a wonderful combination of contrasts and timing."
NIKON D850, 0.6 SEC, F/11, ISO 100, 20 MM LENS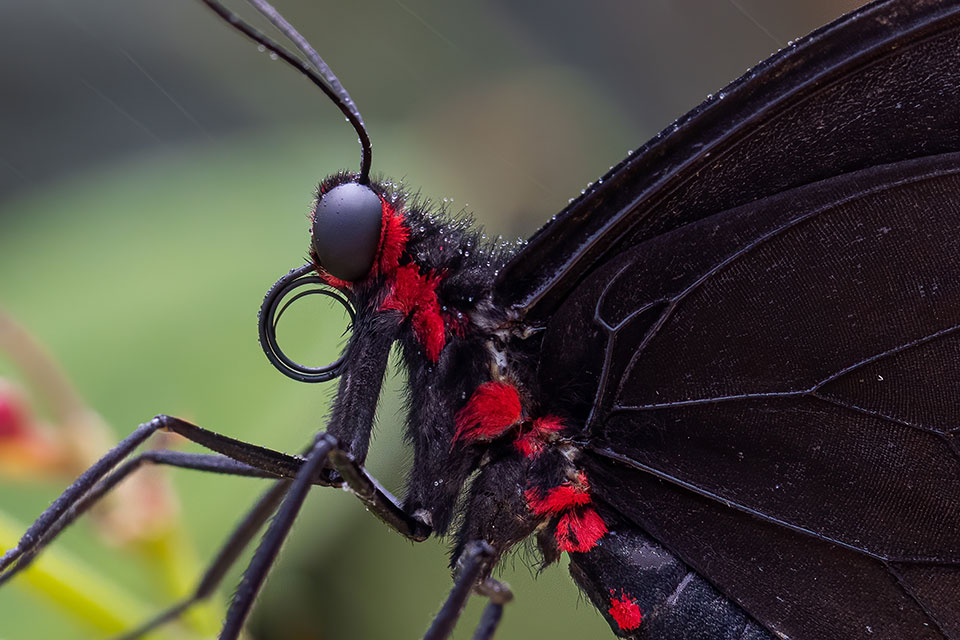 HONORABLE MENTION
Jonathan Cline
Pink cattle-heart butterfly enjoying some mist.
CANON EOS 90D, 1/160 SEC, F/16, ISO 200, 100 MM LENS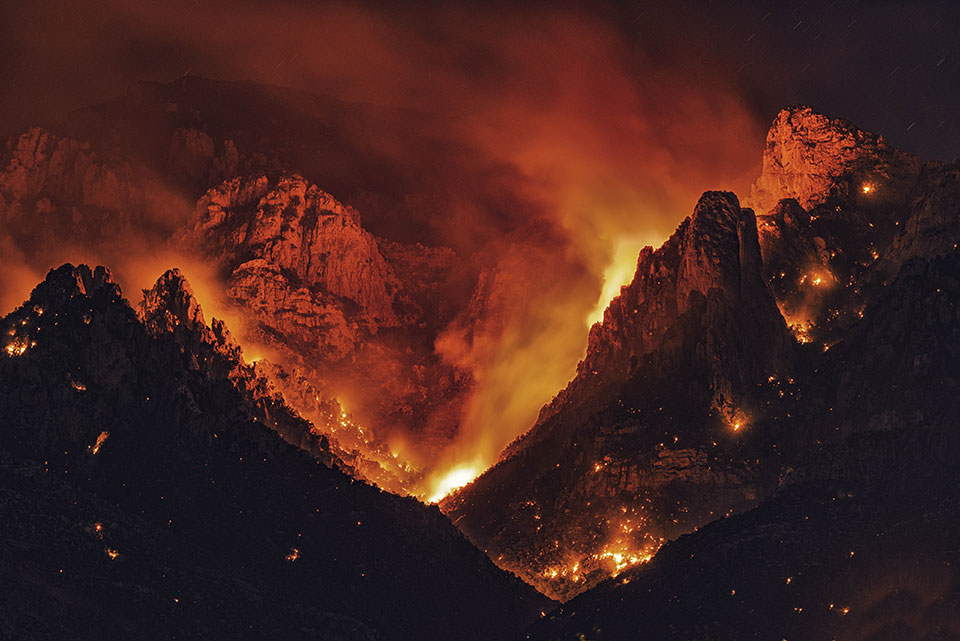 Adventures In Nature Student Photo Contest Winner
Chenyu Li
The Bighorn Fire burns in the Tucson area's Santa Catalina Mountains in 2020. This image took the top prize in this year's student contest, sponsored by Arizona Highways, The Nature Conservancy and Cox Communications. "The composition is wonderful," Kida says. "That 'V' opens up to the bigger fire, but you also have detail in the foreground. It's a tragic image, but it's also newsworthy and tells an incredible story."
NIKON D810, 30 SEC, F/8, ISO 1000, 70-200 MM LENS