As a little girl, Ramona Button followed her father, Francisco, as he planted and harvested traditional crops on their family's 10-acre allotment near Sacaton, on the Gila River Indian Community. The family grew corn, chiles, beans,
Pima wheat, melons, sugar cane and a variety of squashes. Everything was mostly drought-tolerant. And all of it was nutritious. The family ate purely, organically, cleanly. 
"My mother was an herbalist and traditional healer," says Ramona, who is of the Akimel O'odham people. "Together, she and my dad taught me the value of our traditional foods to our daily nutrition and way of life."
The Akimel O'odhams are known as the "River People" and are sometimes referred to as Pimas. In Arizona, there are two Akimel O'odham bands: the Kel Akimel O'odham (Ramona's mother's people), on the Gila River Indian Community, and the On'k Akimel O'odham, on the Salt River Pima-Maricopa Indian Community. They are closely related to members of the Ak-Chin Indian Community and to the Tohono O'odhams (Ramona's father's people) to the south.
Ramona wants to feed them all.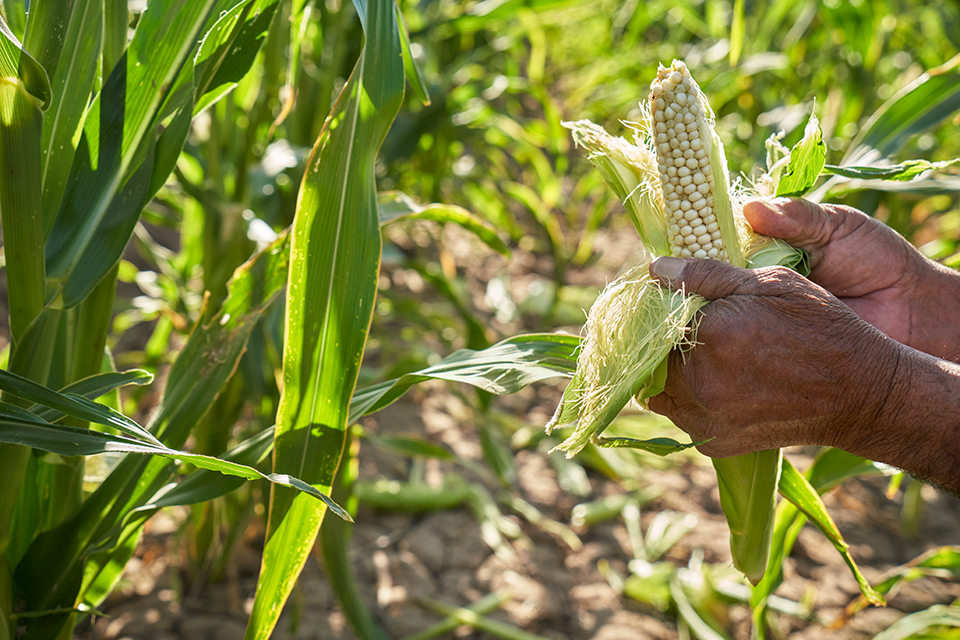 According to Native Seeds/SEARCH, the Tucson-based seed conservation organization, the "Three Sisters" crops — corn, beans and squash — represent the three most important food sources in many Indigenous cultures. Known as companion vegetables, the plants thrive when grown together, with corn providing a trellis of sorts for the beans to climb. The beans push nitrogen into the soil, which in turn nourishes the squash, whose leaves shade the ground and help to keep it moist. 
The growing technique is presumed to have originated among Mesoamerican tribes before spreading up river valleys over generations. Some tribes, including the Hopi-Tewa, incorporate a fourth "sister," Rocky Mountain beeplant, to attract pollinators for the squash and beans.
In the Gila River Valley, Ramona and her family grow a variety of drought-tolerant crops. In 1974, she and her husband, Terry, began farming on the same allotment she had tended as a child. Terry is a plant scientist and engineer at heart. As farm manager, he studies planting cycles, germination times, weather, soil and more growing factors with the diligence of a scholar and the passion of someone who's found his calling. 
When the Buttons expanded the farm in the late 1970s by purchasing and leasing additional allotments from family and community members, they were approached by family elders to begin growing bavi, or tepary beans. The beans are high in protein, low on the glycemic index and high in fiber. "There's a lot of diabetes among our population," Ramona says. "But eating tepary beans helps keep the glycemic rate down, and so, my family elders and I wanted to reintroduce our heritage crops to the people, because they're just healthier for us."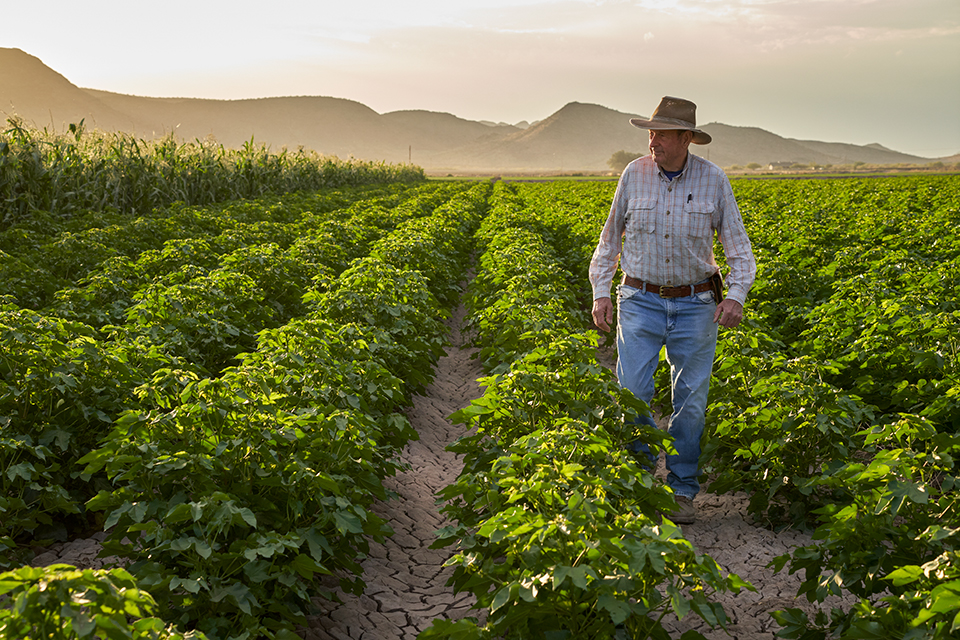 The science backs that up. A single half-cup serving of brown tepary beans packs 23 grams of protein and 56 grams of fiber, along with 1,220 milligrams of potassium, 70 percent of a person's daily recommended value of calcium, and 150 percent of a person's daily recommended iron dose. 
According to a 2018 article published by the Centers for Disease Control and Prevention, American Indians have a higher likelihood of developing diabetes than any other racial group in the United States, and diabetes can lead to kidney failure and several other medical complications. Development of diabetes can be linked to a poor diet, and that's exactly what the Buttons are trying to combat in their community.  
Other people started paying attention, too. "I think that chefs and cooks really started to get educated about the decline of Americans' health," Ramona says. "Then they found out about the protein and fiber and magnesium in these foods and decided to share them with their customers, too. My daughter Velvet and I did presentations in schools here, and then, pretty soon, we were asked to go out into health centers at universities and the Arizona Heart Institute. That was when other people really started paying attention."
Jonathan Buford, co-owner of Arizona Wilderness Brewing Co., met Ramona at a Taste Makers event several years ago and says he "fell in love."
"She told a story about her father taking her to a desert peak at 10 years old and waving his wisdom-filled hand across the desiccated valley below," Buford says. "He exclaimed, 'Ramona, one day you will make this valley green.' I can only imagine how confused she was. But with a bunch of perseverance, she did just that. She is a true Arizonan — as true as any and truer than most. We are blessed to serve her tepary beans to our customers, and the beans fill that valley with the green that her father foresaw."
---
On a visit in late August, the farm has been drenched with seasonal monsoon storms. It is lush and beautiful, but the rain has damaged the bean plants. They droop toward the ground like broken umbrellas. 
Ramona, who's in her 70s, finds a silver lining. "It looks like Ireland!" she exclaims. "See that hawk resting on that barn? That's a good sign. Life is slow here, but we're all very connected. Providing good food to the tribe and sharing it with people all over is what's important."
Ramona Farms currently grows the tepary beans, along with garbanzo beans; heirloom wheats, including Pima Club, White Sonora and durum; and several varieties of heritage corn. Its market also offers corn and wheat pinole, wheat berries and ga'ivsa, a traditional corn delicacy. And it's a family affair. Ramona and Terry's daughters Brandy and Maria work at the farm, along with Terry's brother Karl and sister Karen. Granddaughters Bella and Tea Brí also help out.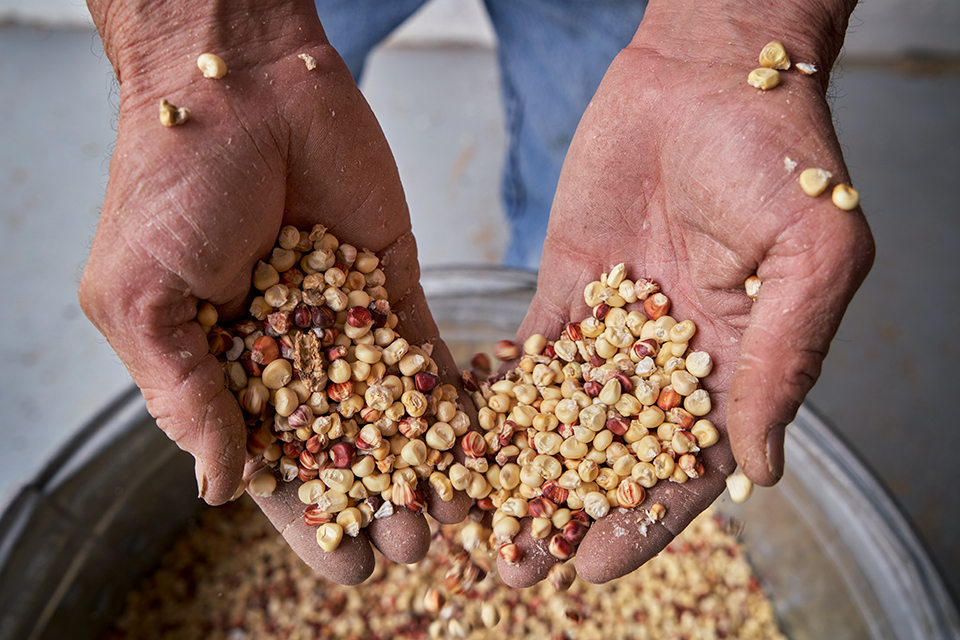 "Not many of us are successful in realizing our dreams in our lifetime," Brandy says. "My parents are dedicated and hardworking and have made their dream a reality. I am blessed to be able to assist them where I can. The legacy is in both having witnessed and participated with them in that, which has brought them such joy and purpose, as well as being part of the journey."  
The family plants the beans in April, then traditionally harvests in June. When the weather cooperates, they can sometimes do a second crop. But in years like this one, with a vicious monsoon, things become much more difficult. "Rain makes it very hard for us," Ramona says. "When there's so much moisture, I fear for a loss, because the beans drown."
Still, the family and their crops endure —
just as they have for generations, despite adversity and hardship. "The elders have always known about these crops, but the fifth generation of our Pima tribe has forgotten," Ramona says. But over the years, the family's farming efforts have prevailed, growing from the original 10 acres to 4,400 — with 400 acres of organic food crops and the rest a commercial operation. It's an expansion Ramona attributes to a good relationship with the tribe and a firm understanding of how things work in the "outside" world. 
"I lease from the tribe and from individuals here," she says. "It's a lot of work, but I'm here to set an example for the people, to show them that it's hard work. But if you work diligently on it, you can survive and manage. I believe you need to go out into the world to become educated and exposed to different ways of success, then come back and accomplish it here."
---
Ramona's Traditional Poshol

Ingredients:
2 pounds brown tepary beans, cleaned, rinsed and soaked 
1⁄3  cup whole wheat kernels
¼ cup dried roasted sweet corn or white corn
½ onion, quartered or diced
1 clove garlic
1⁄8 teaspoon cumin
2 dried red chile peppers
¼ pound bacon, fried and crumbled
Directions:
Sort and rinse beans, then add water to cover, plus 2 to 4 inches. Add other ingredients and bring to a rapid boil for 30 minutes. Rinse and change water, then reduce heat and cover. If using a slow cooker, simmer for 8 hours. If using a pressure cooker, use manual setting for 80 minutes.
---
For more information about Ramona Farms, or to place an order, visit ramonafarms.com.