Hikes
1
Arizona Trail (San Francisco Peaks Passage)
DIFFICULTY: Easy
ELEVATION: 8,928 to 9,000 feet
LENGTH: 15 miles round-trip (to Forest Road 418)
DIRECTIONS: From Flagstaff, go north on U.S. Route 180 for 7 miles to Snowbowl Road. Turn right onto Snowbowl Road and continue 5.1 miles to the Aspen Corner parking area, on the left.
TREES: Aspen
TIMING: Late September to mid-October  
CONTACT: Flagstaff Ranger District, 928-526-0866 or fs.usda.gov/coconino
FEE: None
 
2
Boyce Thompson Arboretum
DIFFICULTY: Easy 
ELEVATION: 2,400 feet 
LENGTH: 1.5-mile loop 
DIRECTIONS: From Phoenix, go east on U.S. Route 60 to Mile Marker 223, near Superior. 
TREES: Chinese pistache, combretum, sumac, walnut 
TIMING: Mid-November to early December; open daily from 8 a.m. to 5 p.m. (closed Thanksgiving and Christmas)
CONTACT: Boyce Thompson Arboretum, 520-689-2723 or btarboretum.org
FEE: $15 for adults and teenagers, $5 for children ages 5 to 12
 
3
Hamburg Trail
DIFFICULTY: Moderate 
ELEVATION: 5,579 to 6,907 feet 
LENGTH: 5 miles round-trip
DIRECTIONS: From Sierra Vista, go south on State Route 92 for 6 miles to Ramsey Canyon Road. Turn right onto Ramsey Canyon Road and continue 3.5 miles to The Nature Conservancy's Ramsey Canyon Preserve parking area and trailhead.
TREES: Sycamore, maple, ash, cottonwood, willow 
TIMING: Mid-October to early November; open from 8 a.m. to 5 p.m. through October 31, then from 9 a.m. to 4 p.m.; closed Tuesdays and Wednesdays
CONTACT: The Nature Conservancy, 520-378-2785 or nature.org/arizona 
FEE: $8 for adults and teenagers; free for children under 13
 
4
Houston Brothers Trail
DIFFICULTY: Moderate
ELEVATION: 7,732 to 7,170 feet
LENGTH: 14 miles round-trip
ACCESS: From Payson, go east on State Route 260 for 29.2 miles to the turnoff for Woods Canyon Lake. Turn left and continue on the paved road for 3.1 miles to Forest Road 300. Turn left onto FR 300 and continue 23.8 miles to a dirt parking lot on the left. The trailhead is just beyond the parking lot, on the right.
TREES: Maple, oak, aspen
TIMING: Late September to mid-October  
CONTACT: Mogollon Rim Ranger District, 928-477-2225 or fs.usda.gov/coconino
FEE: None
 
5
North Kaibab Trail
DIFFICULTY: Strenuous 
ELEVATION: 8,225 to 5,221 feet 
LENGTH: 10 miles round-trip (to Roaring Springs)
DIRECTIONS: From Grand Canyon Lodge on the North Rim, go north for 2 miles to the signed right turn for the North Kaibab Trailhead. 
TREES: Aspen, maple, oak, cottonwood, boxelder, creeping barberry 
TIMING: Early October 
CONTACT: Grand Canyon National Park, 928-638-7888 or nps.gov/grca 
FEE: National Park Service fees apply.
 
6
Pole Knoll Trail
DIFFICULTY: Easy
ELEVATION: 9,005 to 9,186 feet
LENGTH: 6.2-mile loop
DIRECTIONS: From Greer, go north on State Route 373 for 4.9 miles to State Route 260. Turn left onto SR 260 and continue 2.4 miles to Forest Road 112. Turn left onto FR 112 and continue a quarter-mile to Pole Knoll Recreation Area.
TREES: Aspen
TIMING: Late September to late October  
CONTACT: Springerville Ranger District, 928-333-6200 or fs.usda.gov/asnf
FEE: None
 
7
See Canyon Trail
DIFFICULTY: Moderate
ELEVATION: 6,183 to 7,856 feet
LENGTH: 7 miles round-trip
DIRECTIONS: From Payson, go east on State Route 260 for 20.2 miles to the Christopher Creek Loop exit. Turn left onto the loop and continue 1 mile to Forest Road 284. Turn left onto FR 284 and continue 1.5 miles to the trailhead.
TREES: Maple, oak, aspen
TIMING: Mid-October
CONTACT: Black Mesa Ranger District, 928-535-7300 or fs.usda.gov/asnf
FEE: None
 
8
Verde River Greenway Trail
DIFFICULTY: Easy 
ELEVATION: 3,300 feet 
LENGTH: 4 miles round-trip 
DIRECTIONS: From Clarkdale, take State Route 89A (Main Street) to 10th Street. Turn right onto 10th Street and continue to the Dead Horse Ranch State Park entrance. From there, take Dead Horse Ranch Road to the trailhead at the West Lagoon parking area. 
TREES: Cottonwood, willow 
TIMING: Late October to mid-November 
CONTACT: Dead Horse Ranch State Park, 928-634-5283 or azstateparks.com/dead-horse 
FEE: Arizona State Parks fees apply. 
 
9
West Baldy Trail
DIFFICULTY: Moderate 
ELEVATION: 9,287 to 11,420 feet 
LENGTH: 14 miles round-trip 
DIRECTIONS: From Eagar, go west on State Route 260 for 18.7 miles to State Route 273. Turn left onto SR 273 and continue 8.6 miles to the trailhead at Sheeps Crossing. 
TREES: Aspen
TIMING: September
CONTACT: Springerville Ranger District, 928-333-6200 or fs.usda.gov/asnf
FEE: None
 
10
West Fork Oak Creek Trail
DIFFICULTY: Easy 
ELEVATION: 5,316 to 5,565 feet 
LENGTH: 6.75 miles round-trip 
DIRECTIONS: From Sedona, go north on State Route 89A for 9.5 miles to the Call of the Canyon Picnic Site. 
TREES: Apple, boxelder, ash, canyon grape, maple, dogwood, willow, Virginia creeper 
TIMING: Mid-October
CONTACT: Red Rock Ranger District, 928-282-4119 or fs.usda.gov/coconino
FEE: $11 per vehicle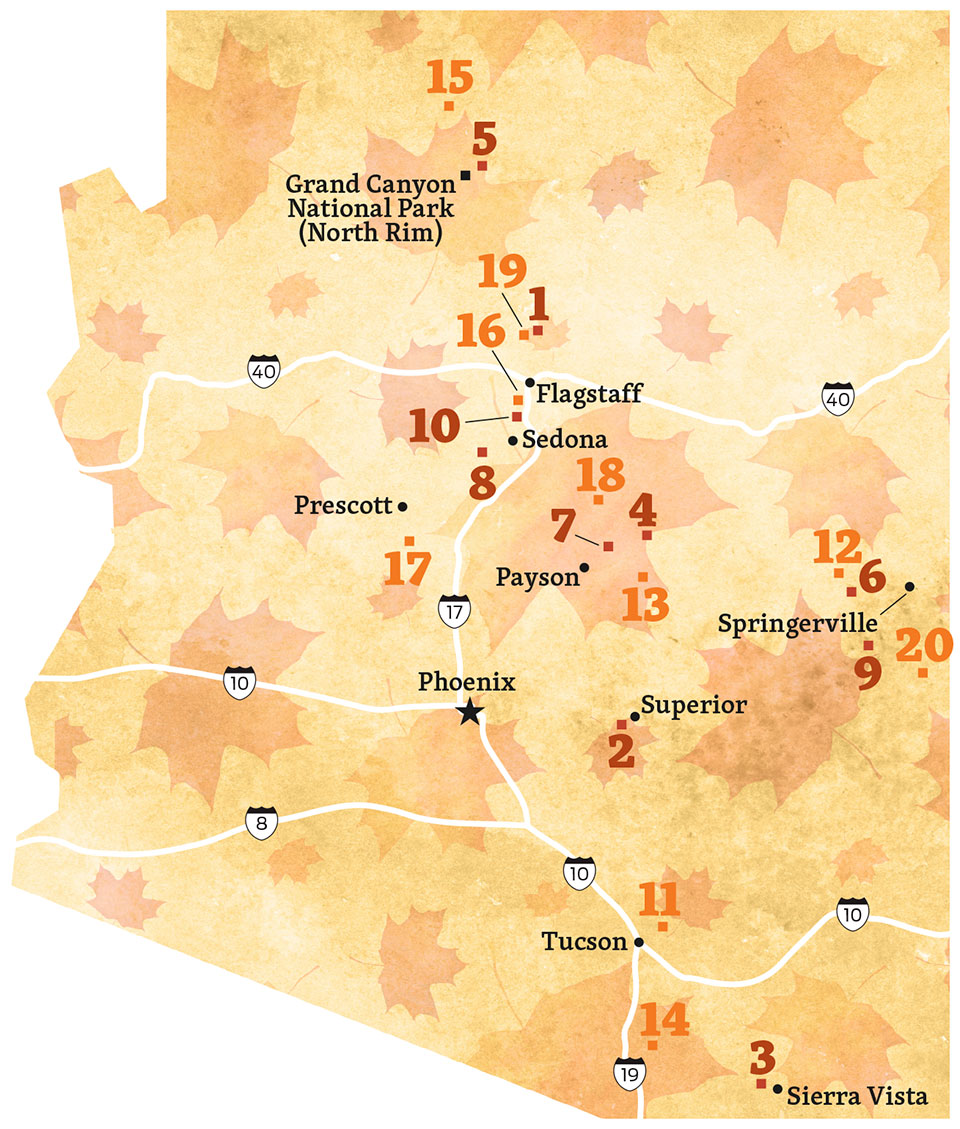 Drives
11
Catalina Highway
CONDITION: Paved
LENGTH: 30 miles one way
DIRECTIONS: From the intersection of Tanque Verde Road and Catalina Highway (also known as General Hitchcock Highway or Sky Island Scenic Byway) in Tucson, go north on Catalina Highway for 30 miles to Summerhaven.
TREES: Oak, walnut, maple, aspen
TIMING: Mid-October to late November
CONTACT: Santa Catalina Ranger District, 520-749-8700 or fs.usda.gov/coconino
 
12
Greens Peak
CONDITION: Unpaved but suitable for most vehicles in good weather
LENGTH: 20 miles one way
DIRECTIONS: From State Route 260 west of Eagar, go north on Forest Road 117 for 10.5 miles to a "T" intersection. Turn right, onto Forest Road 118 (also signed as County Road 1325), and continue 9.5 miles back to SR 260.
TREES: Aspen
TIMING: Late September to late October
CONTACT: Springerville Ranger District, 928-333-4372 or fs.usda.gov/asnf
 
13
Haigler Canyon
CONDITION: Unpaved but suitable for most vehicles in good weather
LENGTH: 20 miles one way
DIRECTIONS: From State Route 260 east of Payson, go south on Colcord Road (Forest Road 291) for 4 miles to Forest Road 200. Turn right onto FR 200 and continue 16 miles to State Route 288 north of Young.
TREES: Maple, oak, cottonwood, sycamore
TIMING: October
CONTACT: Pleasant Valley Ranger District, 928-462-4300 or fs.usda.gov/tonto
 
14
Madera Canyon
CONDITION: Paved
LENGTH: 14.5 miles one way
DIRECTIONS: From the Continental Road exit (south of Green Valley) on Interstate 19, go east on Continental Road for 1 mile to Whitehouse Canyon Road. Turn right onto Whitehouse Canyon Road, which turns into Madera
Canyon Road, and continue 13.5 miles to where the road ends at the Mount Wrightson Picnic Area.
TREES: Oak, ash, maple, willow, cottonwood, sycamore
TIMING: Mid- to late October
CONTACT: Nogales Ranger District, 520-281-2296 or fs.usda.gov/coronado
 
15
North Rim Parkway (State Route 67)
CONDITION: Paved
LENGTH: 31 miles one way
DIRECTIONS: From Jacob Lake, go south on State Route 67 for 31 miles to the North Rim entrance station at Grand Canyon National Park.
TREES: Aspen
TIMING: Mid-September to mid-October (snow closes road)
CONTACT: North Kaibab Ranger District, 928-643-7395 or fs.usda.gov/kaibab
 
16
Oak Creek Canyon (State Route 89A)
CONDITION: Paved
LENGTH: 16 miles one way
DIRECTIONS: From the intersection of state routes 179 and 89A in Sedona, go north on SR 89A for 16 miles to Oak Creek Vista.
TREES: Apple, oak, cottonwood, sycamore, walnut
TIMING: Early October to early November
CONTACT: Red Rock Ranger District, 928-282-4119 or fs.usda.gov/coconino
 
17
Prescott to Crown King
CONDITION: Unpaved; high-clearance, four-wheel-drive vehicle required
LENGTH: 37 miles one way
DIRECTIONS: From the intersection of Gurley Street and Mount Vernon Avenue in Prescott, go south on Mount Vernon Avenue, which becomes Senator Highway (County Road 56), for 12.5 miles to Forest Road 52. Turn right onto
FR 52 and continue 24.5 miles to Crown King.
TREES: Maple, oak
TIMING: October
CONTACT: Bradshaw Ranger District, 928-443-8000 or fs.usda.gov/prescott
 
18
Rim Road (Forest Road 300)
CONDITION: Unpaved; high-clearance vehicle recommended
LENGTH: 43.3 miles one way
DIRECTIONS: From State Route 87 north of Payson, go east on Forest Road 300 for 43.3 miles to State Route 260.
TREES: Maple, oak, aspen
TIMING: Mid- to late October
CONTACT: Mogollon Rim Ranger District, 928-477-2255 or fs.usda.gov/coconino; Black Mesa Ranger District, 928-535-7300 or fs.usda.gov/asnf
 
19
Snowbowl Road
CONDITION: Paved
LENGTH: 7 miles one way
DIRECTIONS: From U.S. Route 180 northwest of Flagstaff, go north on Snowbowl Road for 7 miles to the Arizona Snowbowl parking area.
TREES: Aspen
TIMING: Mid-September to mid-October
CONTACT: Flagstaff RangerDistrict, 928-526-0866 or fs.usda.gov/coconino
 
20
Springerville to Alpine (U.S. Route 191)
CONDITION: Paved
LENGTH: 26 miles one way
DIRECTIONS: From Springerville, go south on U.S. Route 191 for 26 miles to Alpine.
TREES: Aspen
TIMING: Mid-September to mid-October
CONTACT: Alpine Ranger District, 928-339-5000 or fs.usda.gov/asnf