Our rental car labored through the silty, gray mud, occasionally sliding backward and spraying chunks of dirt behind us. I sat rigidly in the back seat, wide-eyed and confused. I was 8, and not only was my mother behind the wheel, but she had planned our trip to St. Lucia. I popped my head into the space between my parents and tried my best not to sound like an ungrateful brat. "Mom, why are we on this road?" I asked. I'll never forget the sparkle in her eyes when she turned and exclaimed, "Because your mom loves an adventure!" She focused her attention back on the potholes ahead, and I slowly settled back into my seat. Once I realized we were safe, I saw a whole new world beyond the rain-streaked windows. Lush vegetation, colorful birds and, oh, the views! This was my first taste of travel off the beaten path, and it was wildly different from a national park packed with tourists. From local bakeries to otherworldly landscapes, my mom has a knack for finding hidden gems and crafting epic itineraries. It only makes sense that I've inherited her wanderlust — and turned it into a career in the travel industry.
My mom and I have been on nearly two dozen trips since we made our way up that muddy road in the Caribbean three decades ago. She's booked a handful of getaways to far-flung destinations, but lately I've been in charge of planning and we've stayed closer to home. I enjoy multi-night backpacking trips and car camping in remote wilderness, and while hot showers and flush toilets are a bonus, they're not a requirement. By contrast, my mom is an indoor cat in her early 70s, so a lack of bathroom facilities is a deal-breaker. Last year it was my turn to plan our annual getaway, and I was searching for glamping options, but with a twist. After staying at half a dozen fire lookouts in Idaho over the years, I wondered if something similar existed in the Southwest, but with more appealing amenities. "Your old Mama Bear isn't going to plunk her butt down on a pit toilet," she said pointedly, looking at me over her glasses just like she did when I tested her as a kid.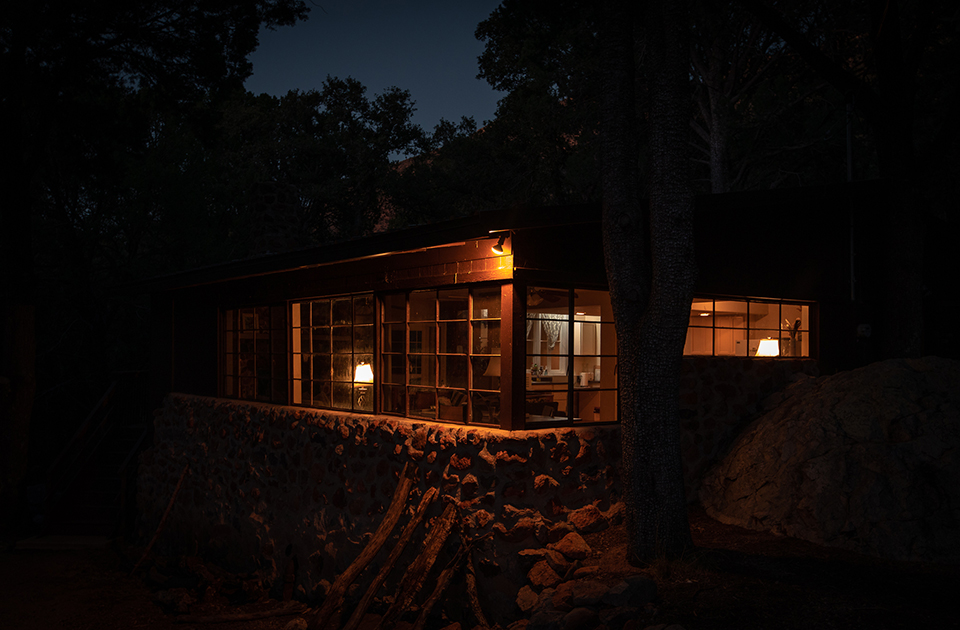 After a quick Google search for unique accommodations in Arizona, I found a U.S. Forest Service rental cabin on recreation.gov. Nineteen Forest Service cabins are reservable through the state's Rooms With a View program, and while some are rustic and small, others are modern and can accommodate larger groups. Several are listed on the National Register of Historic Places, and all of them offer peace and quiet in the woods. My mom raised an eyebrow when she heard the word "rustic," but after I showed her photos of Kent Springs Cabin (and promised two nights in a nice hotel afterward), she was on board. Located in Madera Canyon, a haven for birders, the 1,500-square-foot cabin has two bedrooms, a full bathroom, a full kitchen and an expansive back deck. Pots, pans and dishes are provided, but guests must bring bedding and towels. With hot water, electricity and a trunk full of comforts from home (you better believe I packed a 3-inch foam mattress topper and a pile of fleece blankets), she seemed excited about our autumn adventure in Southern Arizona. "We'll see how this goes," I texted a friend. "She's either never letting me plan a trip again, or she's going to love this."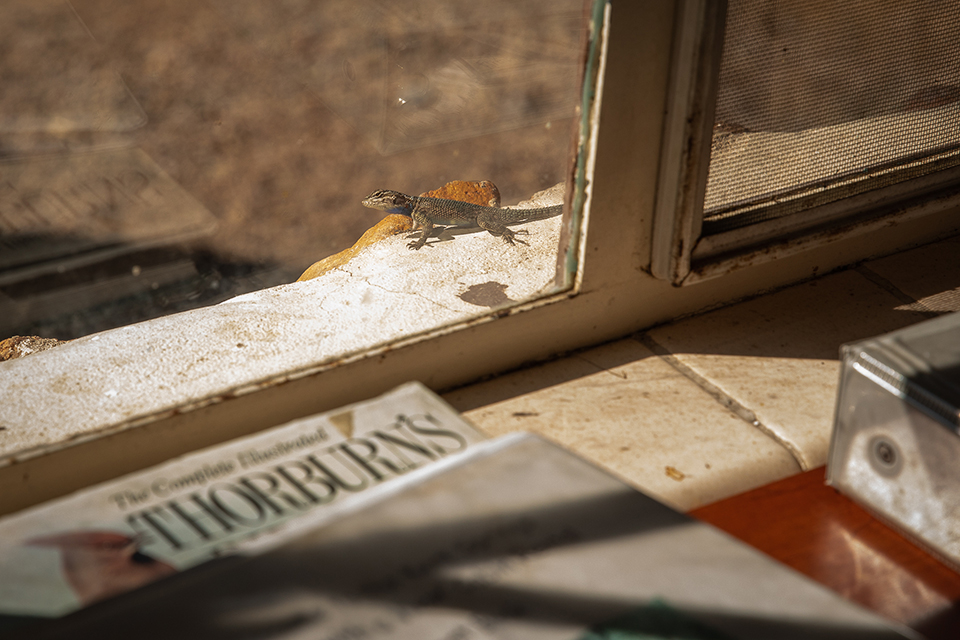 As we sped past dirt, rocks and clusters of ocotillos on Interstate 8, my mom wondered why some people liken the desert to a vast wasteland. Within a few hours, we were in a riparian woodland, and as my truck crawled up the rocky road to the cabin, we lost cell signal. We took note of signs mentioning black bear activity in the area, and recent guests taped a note to the fridge with details about their own close encounter. A bear had broken into their van just three weeks prior, and I later learned from a local ranger that the guests had left food in the vehicle — with the windows down. My mom's eyes widened, just like mine had 30 years ago on the road in St. Lucia. I told her not to worry, because as long as we were smart about food storage, we'd be fine. We'd bring a can of bear spray if we ventured outside the cabin, and if we wanted to hike in the area, we'd yell, "Hey, bear!" every other minute on the trail. We had a good laugh about that, as I often start my calls and voice messages to her with the same greeting. She was relieved she could count on me to deal with any potential run-ins with the resident food-habituated bear, but I sensed something else. She was also proud that she had raised a woman confident enough to handle hairy situations in the woods. It's experiences like these, especially in the wilderness, that help us form an even deeper bond than any conversation or common interest. Unintentional, figurative trust falls. Right away, I knew this trip would be perfect for us.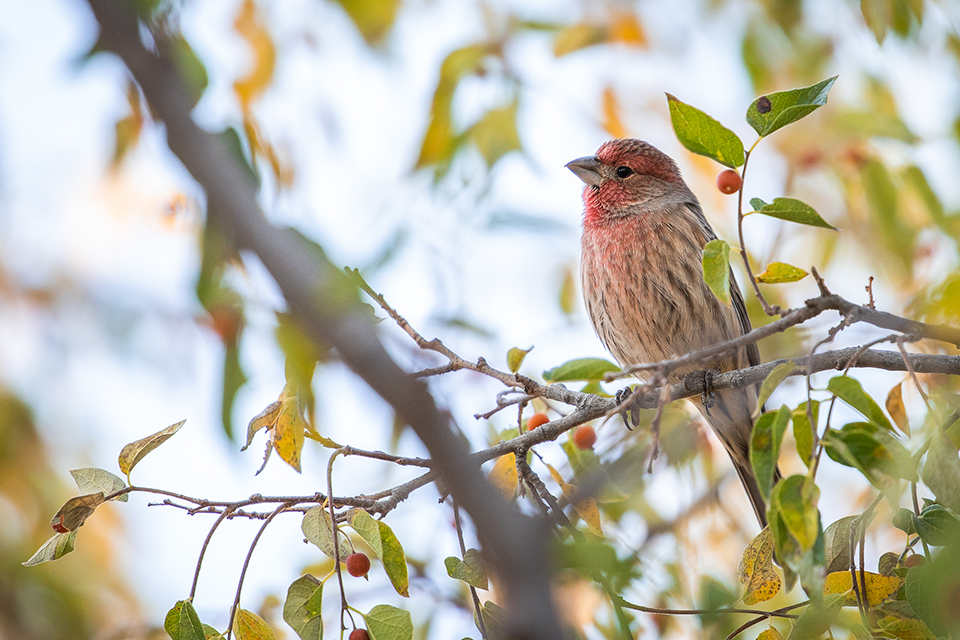 We lounged on the back deck for an hour, birding and enjoying the tranquility of the woods. We spotted a few lizards soaking up the last rays of the day, and as soon as the sun dipped behind the trees, we went inside, cranked the heat and set up our beds. The next morning we explored the Proctor Nature Trail, a flat, 1-mile loop just a few minutes from the cabin. "Perfect for a bear," my mom joked as we wandered along at a leisurely pace. We saw a handful of birds and lizards, but the highlight was watching dozens of butterflies gathered near a small creek crossing. My mom walked toward them, arms extended, as they fluttered around her. She was mesmerized by the way they moved, and I don't think I've ever seen her react to something with this level of childlike wonder. I whipped out my iPhone, but when she saw me, she grumbled and asked what I was recording. "The butterflies," I said, my smile audible in my reply. "They're all around you." My mom doesn't like being in front of the camera, but every once in a while I'll sneak a video or photo of her. The way she marveled at the butterflies is something I'd like to remember forever, and hearing the adoration in my voice brings me right back to that moment.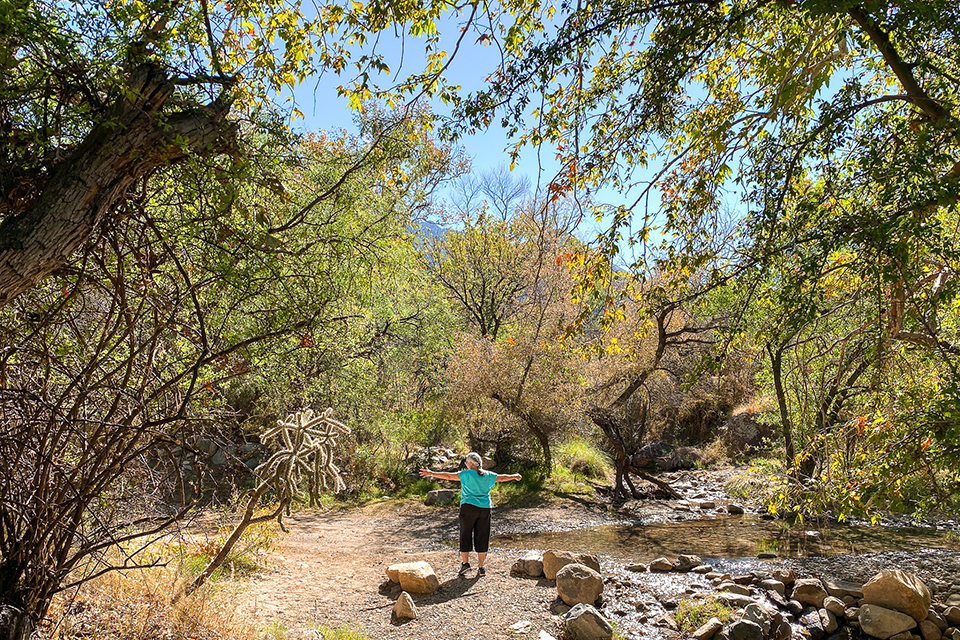 That night I made chicken veggie rice bowls (her favorite) for dinner, and as we sat across from one another at the massive dining table, I asked what she thought of the cabin. Would she stay somewhere like this again? "I don't think I'd come back here," she said, wrinkling her nose and motioning toward the fireplace. The stale, smoky smell that permeated the cabin's interior had bothered her, but that was her only complaint. "This was a new experience for this old bear, and getting to share it with you was what made it special," she added. Lately, she's been asking what I'm planning for our next stateside adventure. I know my time with her is finite, and the window of opportunities for these trips is only getting smaller. I haven't picked a place just yet, but when I do, I want it to be worthy of a chapter in a book. Writing it will be part of the fun, but flipping through the pages to revisit it is something we'll both hold onto forever.