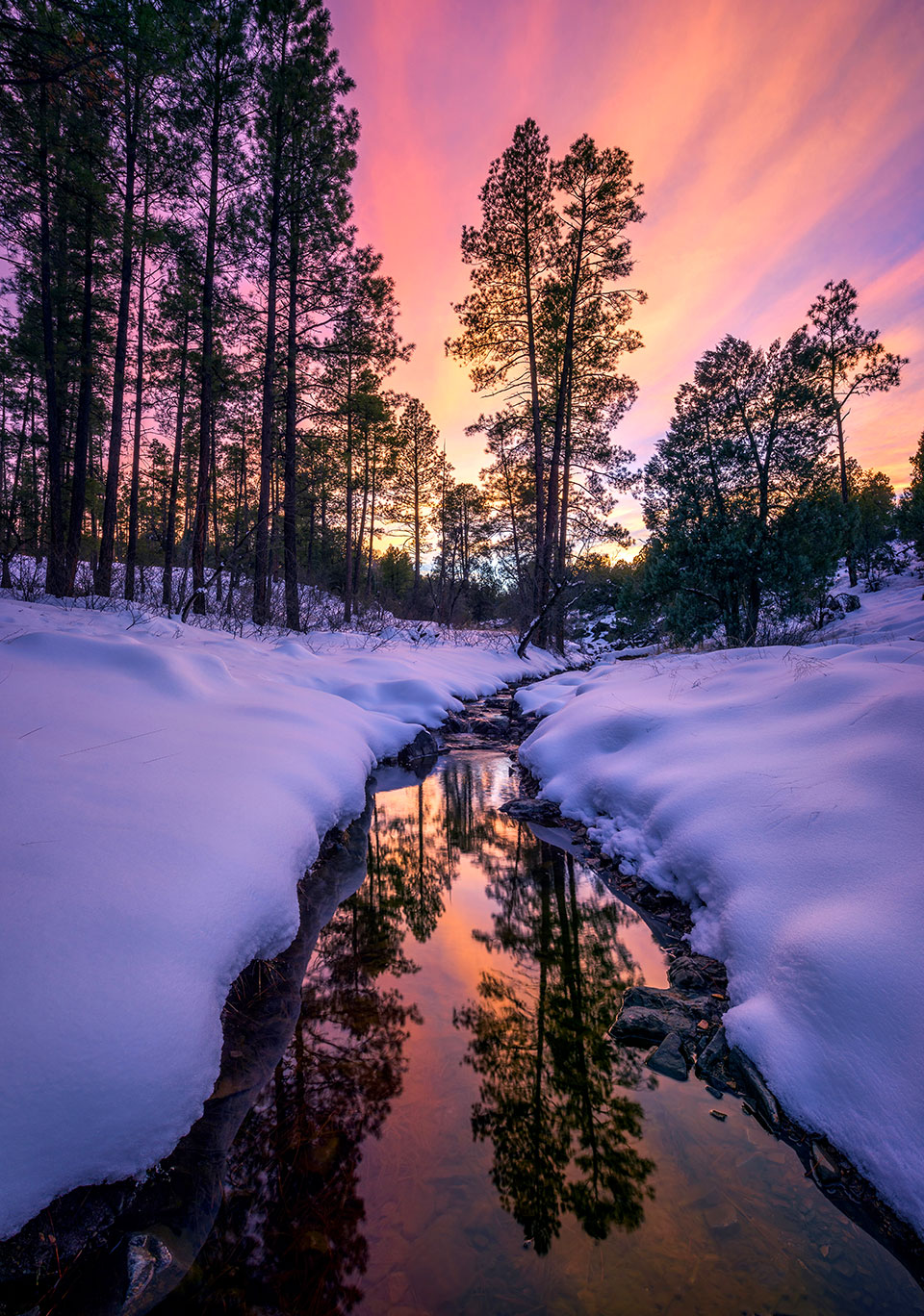 A seasonal tributary of Lynx Creek, in the Prescott National Forest, flows through a snow-blanketed landscape as it mirrors tall ponderosa pines and the colors of sunset. 
Theresa Rose Ditson
NIKON D810, 1/5 SEC, F/14, ISO 64, 16 MM LENS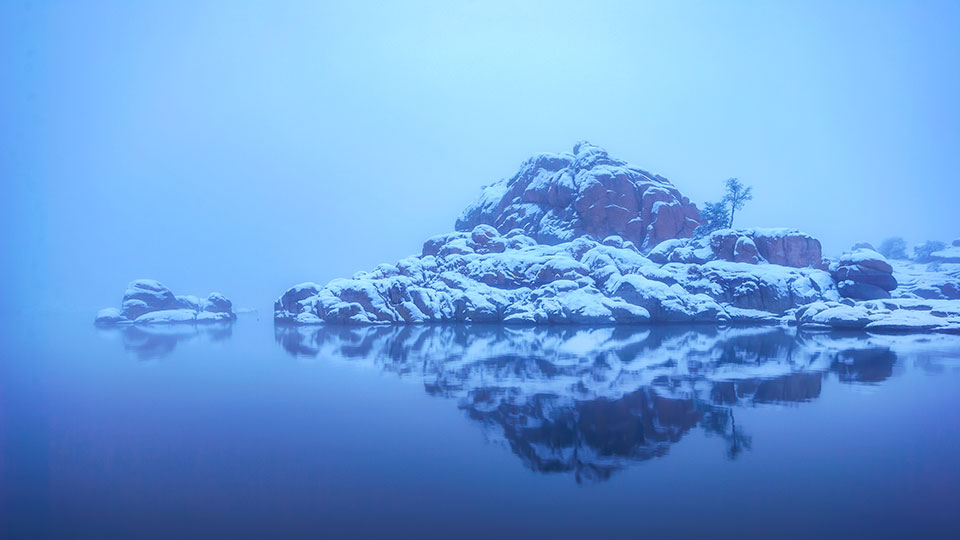 Reflections in calm water, the snowy Granite Dells and morning fog combine for an eerie scene at the Prescott area's Watson Lake. The Dells, which cradle this reservoir, are about 1.4 billion years old.
Michael Wilson
NIKON D80, 0.3 SEC, F/11, ISO 100, 16 MM LENS

The orange-brown hues of ponderosa pine trunks stand out in a winter wonderland near the South Rim of the Grand Canyon. The South Rim averages nearly 5 feet of snow per winter, while the North Rim typically sees more than twice that much. 
Adam Schallau
NIKON D800E, 1/4 SEC, F/16, ISO 100, 135 MM LENS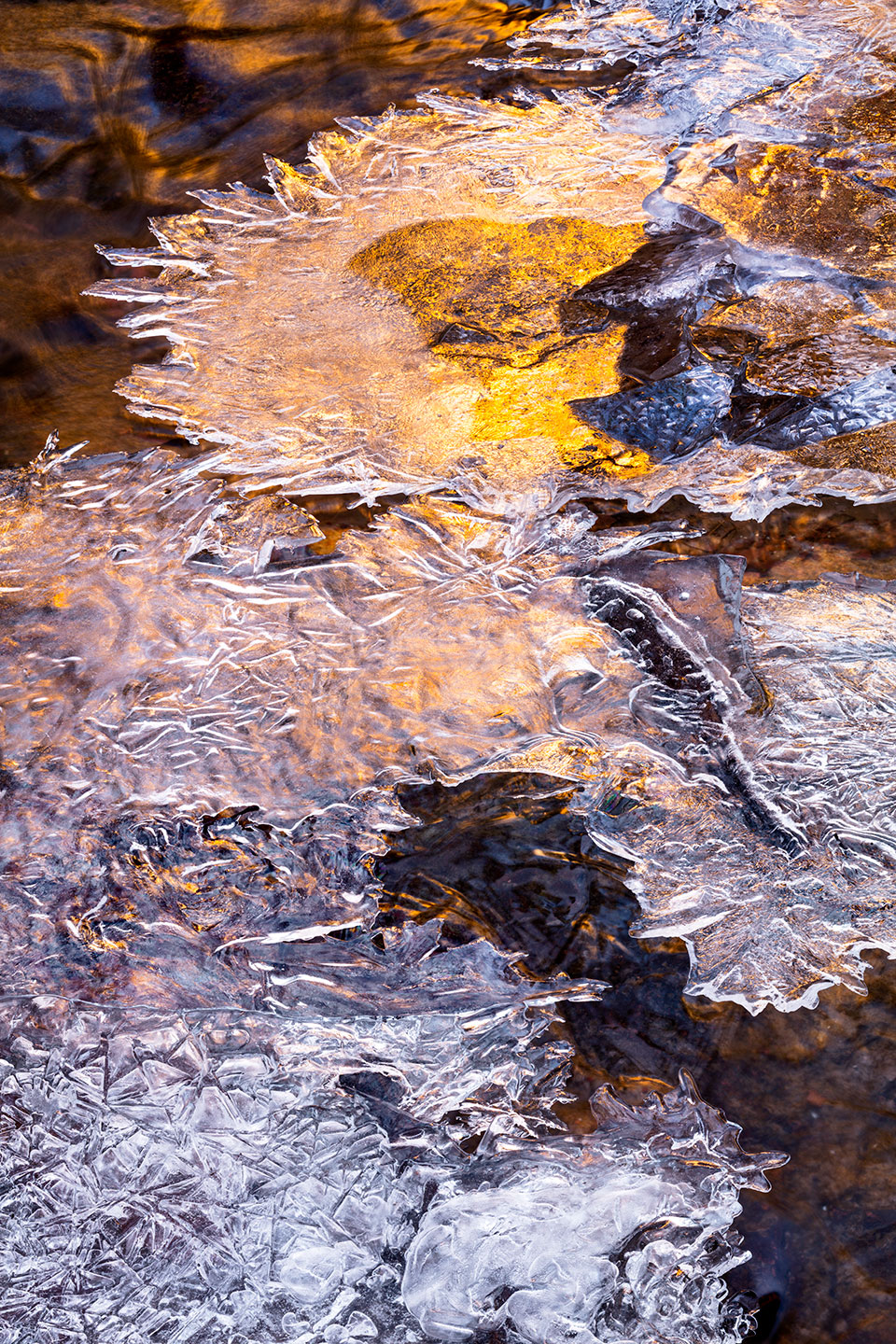 Intricate ice patterns form atop the frigid water of the West Fork of Oak Creek, near Sedona. Such wintertime displays make the trail along the West Fork popular even in December and January. 
Claire Curran
CANON EOS 5DS, 0.8 SEC, F/18, ISO 100, 90 MM LENS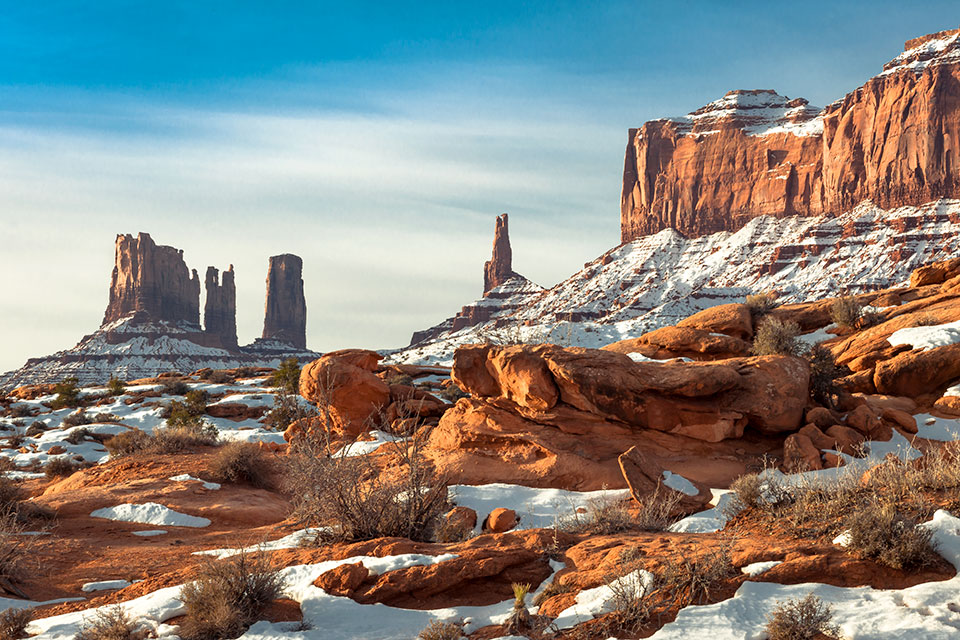 A winter drive through Monument Valley Navajo Tribal Park offers snow-accented views of sandstone landmarks. In good weather, most vehicles can navigate this unpaved loop. 
Rusty Childress
NIKON D3X, 1/40 SEC, F/22, ISO 100, 62 MM LENS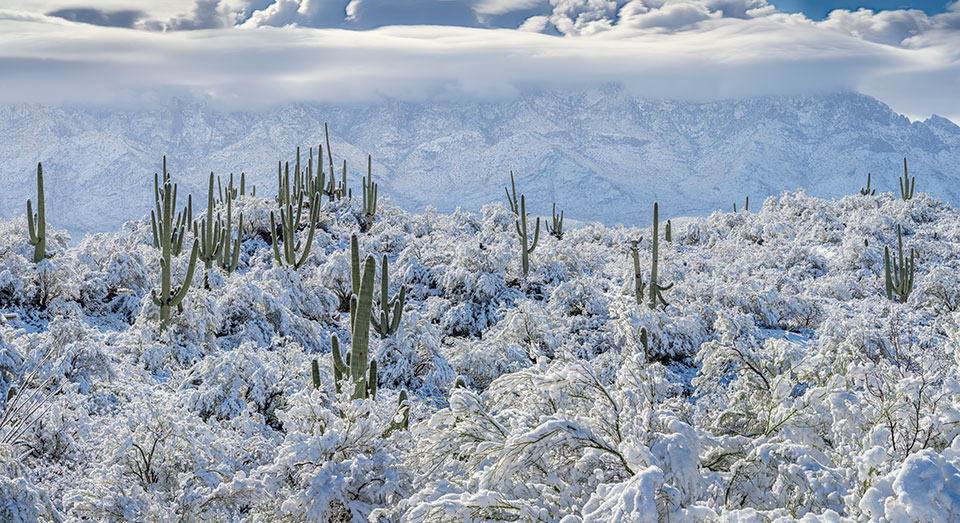 A late-winter storm leaves heavy snow on saguaro cactuses and other desert plants at Honey Bee Canyon Park, in the foothills of the Santa Catalina Mountains. The park is also home to hiking trails, petroglyphs and a historic dam. 
Jack Dykinga
FUJIFILM GFX100S, 1/200 SEC, F/11, ISO 100, 100 MM LENS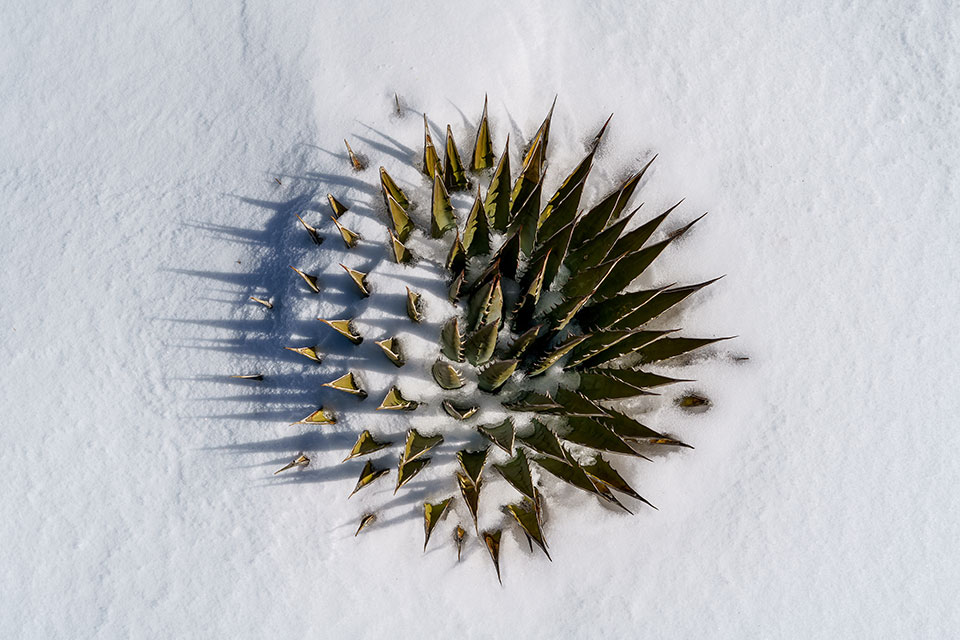 Agave leaves protrude from a layer of snow on the Grand Canyon's South Rim. Grand Canyon National Park, particularly the South Rim and areas below the rim, is home to several agave species.
A.O. Tucker
SONY ALPHA 7R III, 1/800 SEC, F/8, ISO 100, 50 MM LENS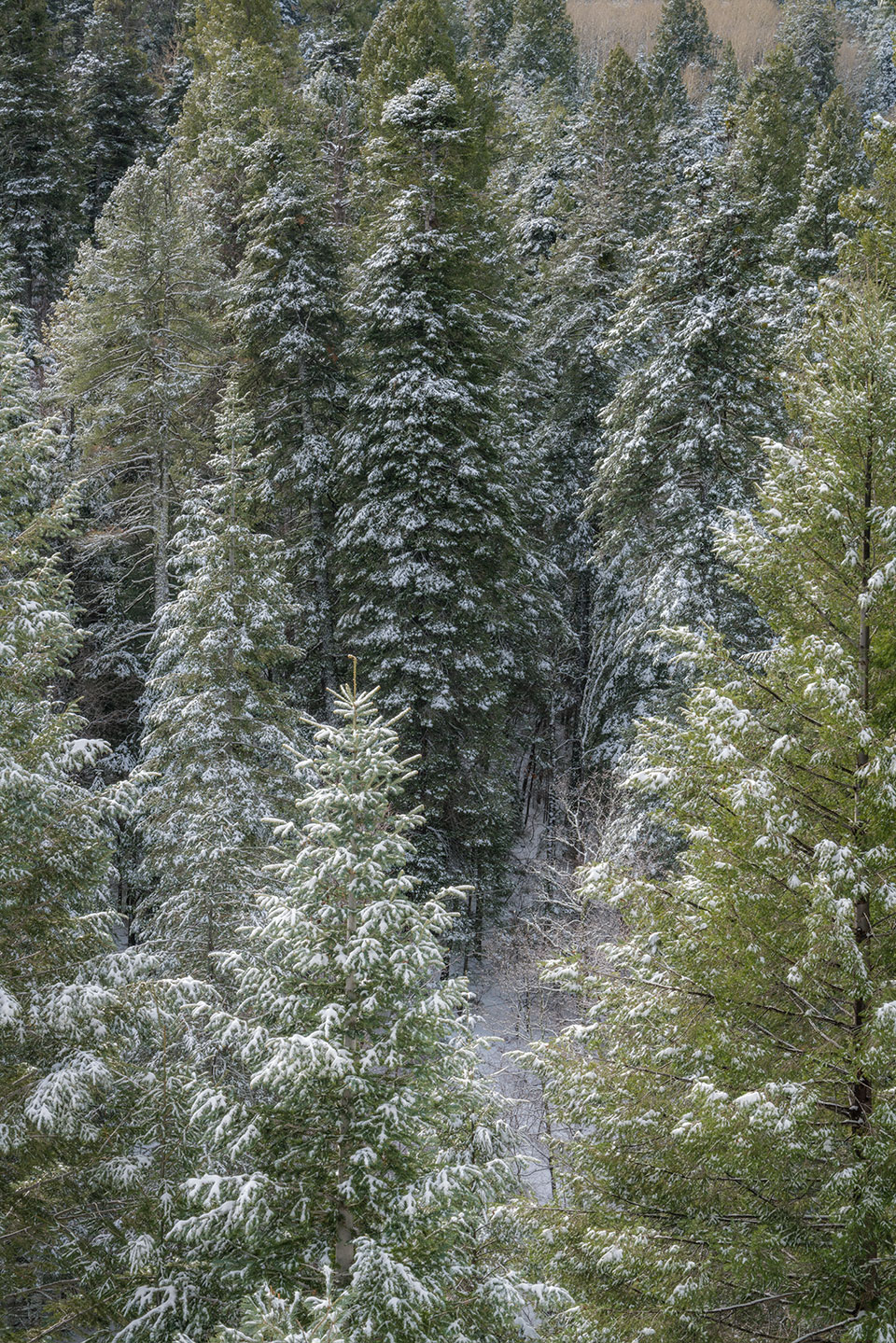 Fresh snow adorns conifers in the Mount Lemmon area of the Santa Catalina Mountains. Often, temperatures atop the Santa Catalinas are 25 to 30 degrees lower than those in Tucson, which sits at the base of the mountain range.
Laurence Parent
SONY ALPHA 7R II, 1/20 SEC, F/16, ISO 100, 70 MM LENS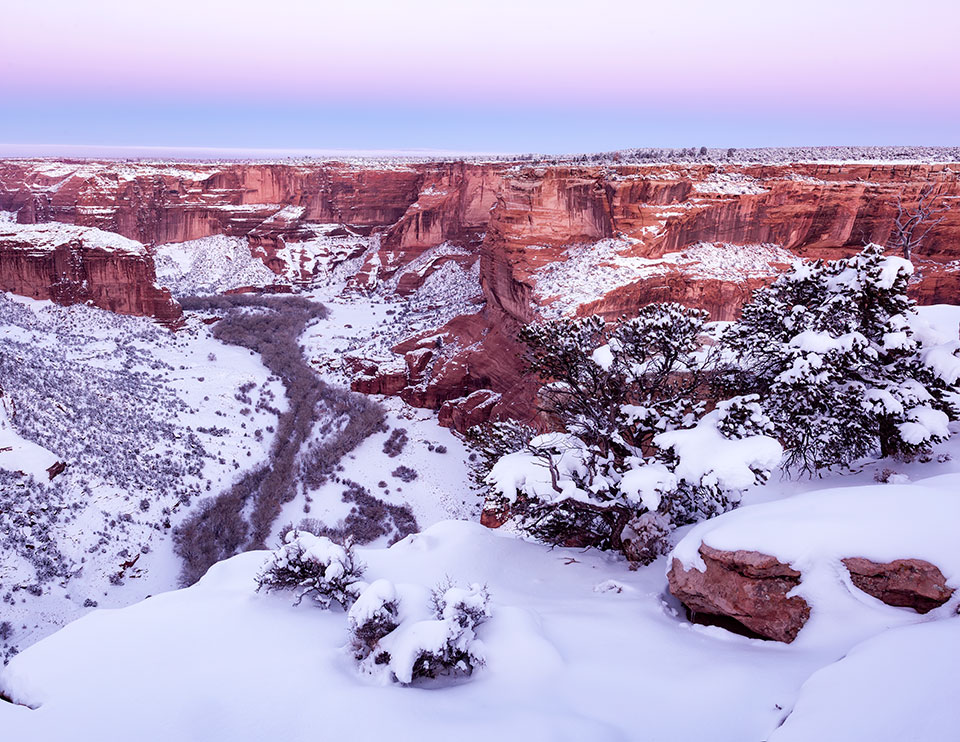 Bare cottonwoods snake through Canyon de Chelly in a winter view from Spider Rock Overlook. Numerous overlooks at Canyon de Chelly National Monument offer easy access to views of the canyon and its main tributary, Canyon del Muerto. 
Doug Koepsel
NIKON D810, 2 SEC, F/16, ISO 64, 24 MM LENS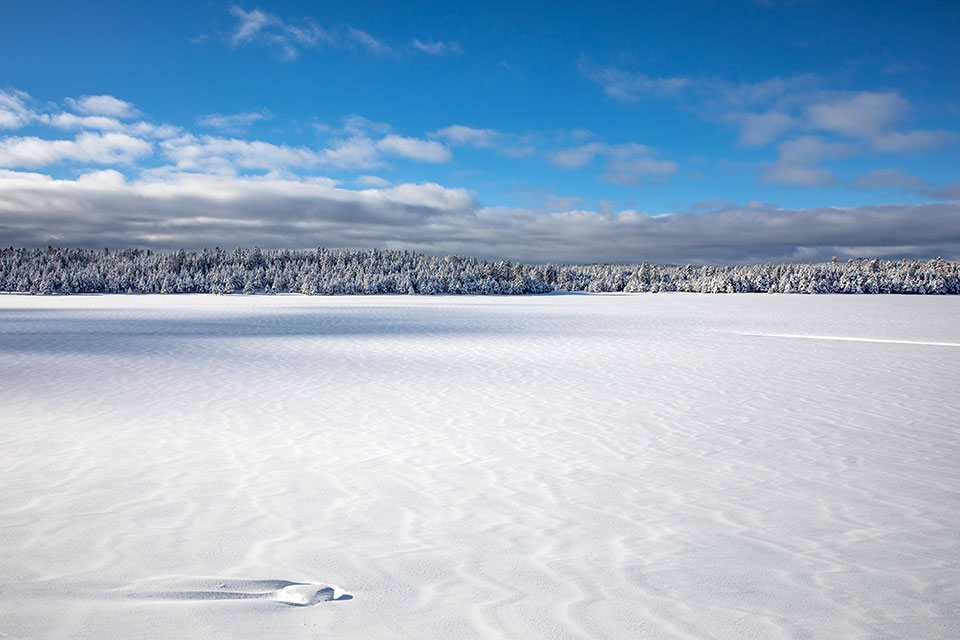 Ponderosa pines surround a snow-covered meadow at Lower Lake Mary, southeast of Flagstaff, as seen from Forest Highway 3. When it has water in it, Lower Lake Mary is popular among anglers, thanks to it being regularly stocked with trout. 
Tom Bean
CANON EOS 5D MARK IV, 1/400 SEC, F/11, ISO 200, 28 MM LENS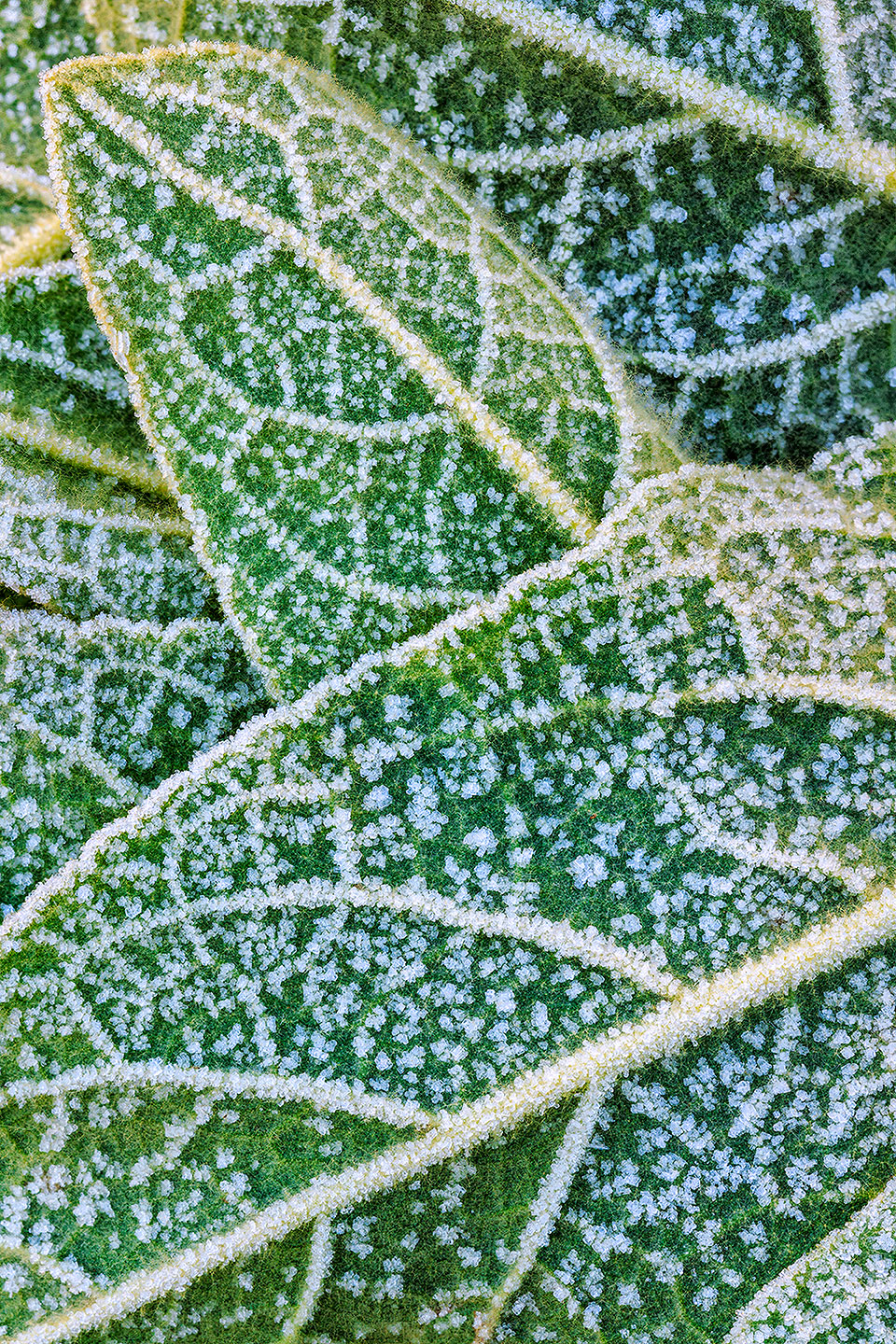 Morning light reveals frost on leaves along Forest Road 214, one of many forest roads north of the North Rim of the Grand Canyon. The Kaibab Plateau, of which the North Rim is a part, typically sees heavy snowfall and is largely inaccessible in winter.
Claire Curran
CANON EOS 5D MARK III, 0.8 SEC, F/22, ISO 100, 100 MM LENS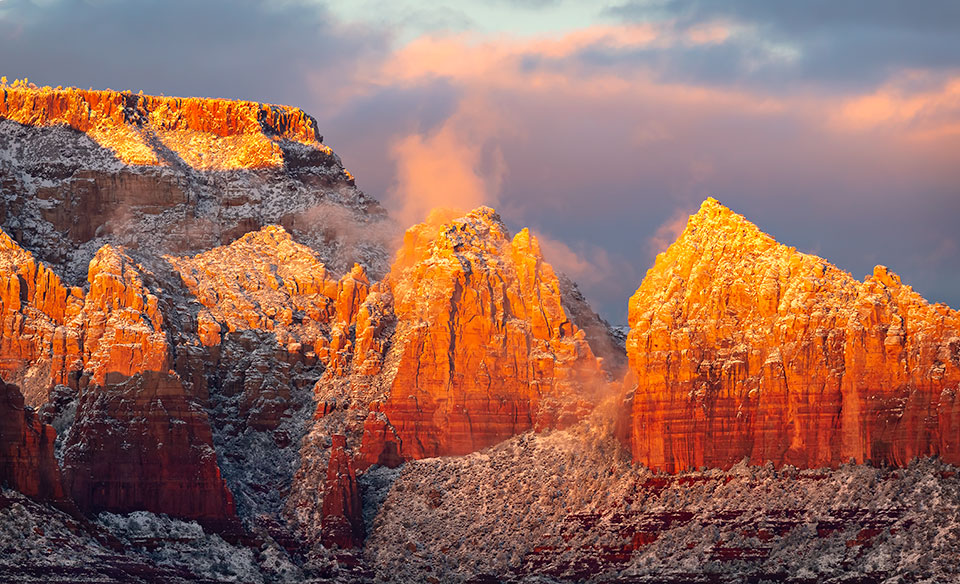 At sunset, clouds clear from the Fin (foreground) and Wilson Mountain (background) in a view from below Airport Mesa in Sedona. Dustings of snow on the buttes of Red Rock Country are common in winter, making these landmarks even more appealing for photographers. 
Derek von Briesen
CANON EOS 5DS, 1/25 SEC, F/6.3, ISO 200, 163 MM LENS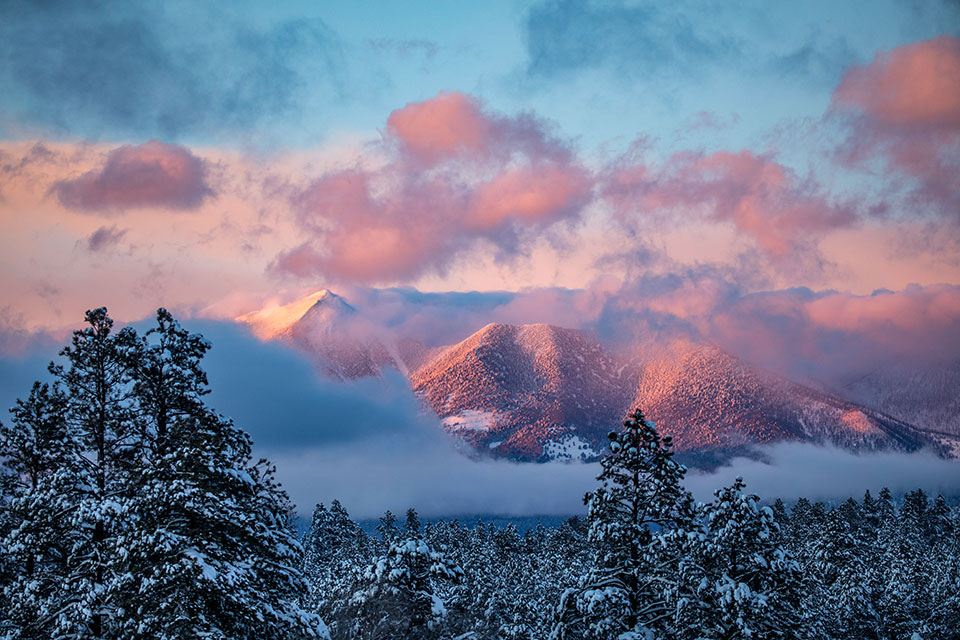 Sunset brings pink and purple hues to the cloud-shrouded San Francisco Peaks. This view of Arizona's highest mountain range is anchored by snow-flocked evergreens in Flagstaff. 
Tom Bean
CANON EOS 5D MARK IV, 1/200 SEC, F/5, ISO 400, 170 MM LENS