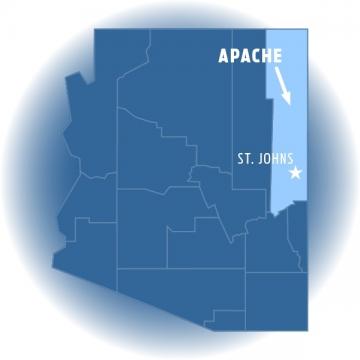 Apache
County Seat: St. Johns
Founded: 1879
Area: 11,198 square miles
Population: 71,518 (2010)
Other Major Cities: Alpine, Chinle, Ganado, Springerville, Tsaile, Window Rock
Geographic Highlights: Apache County is home to the headwaters of the two forks of the Little Colorado River. It also includes White Mountains destinations such as Big Lake, Hawley Lake and Baldy Peak, along with the Navajo Nation's Canyon de Chelly National Monument and most of Petrified Forest National Park.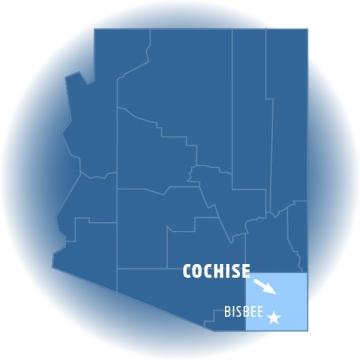 Cochise
County Seat: Bisbee
Founded: 1881
Area: 6,166 square miles
Population: 131,346 (2010)
Other Major Cities: Benson, Douglas, Sierra Vista, Willcox
Geographic Highlights: The Chiricahua Mountains are Cochise County's best-known range, but others include the Dragoons and the Whetstones. Between Sierra Vista and Bisbee, the San Pedro Riparian National Conservation Area protects part of the San Pedro River, the last major undammed, free-flowing river in the American Southwest.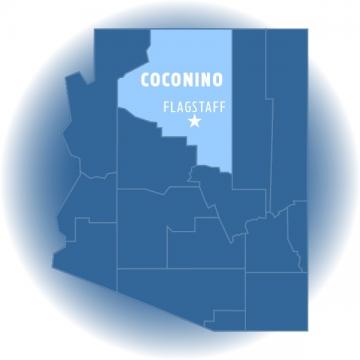 Coconino
County Seat: Flagstaff
Founded: 1891
Area: 18,619 square miles
Population: 134,421 (2010)
Other Major Cities: Page, Sedona
(partial), Tusayan, Williams
Geographic Highlights: The Grand Canyon is a pretty big one, we suppose. But Coconino County also includes wonders such as Lake Powell, Marble Canyon, Sunset Crater, the Vermilion Cliffs and the San Francisco Peaks. The latter feature 12,633-foot Humphreys Peak, Arizona's highest point.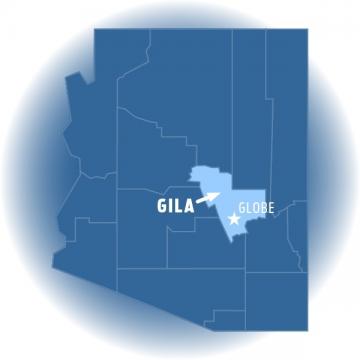 Gila
County Seat: Globe
Founded: 1881
Area: 4,758 square miles
Population: 53,597 (2010)
Other Major Cities: Miami, Payson, Pine
Geographic Highlights: Gila County's terrain ranges from the cool pines of the Apache-Sitgreaves National Forests to the saguaros of the Sonoran Desert. Attractions include Tonto National Monument, Fossil Creek, Salt River Canyon and Theodore Roosevelt Lake, the largest reservoir located entirely in Arizona.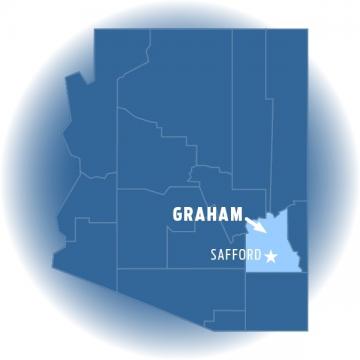 Graham
County Seat: Safford
Founded: 1881
Area: 4,623 square miles
Population: 37,220 (2010)
Other Major Cities: Pima, Thatcher
Geographic Highlights: Graham County's Pinaleño and Galiuro mountain ranges offer myriad recreation opportunities. The county also contains most of the Gila Box Riparian National Conservation Area, which protects portions of the Gila River and Bonita Creek.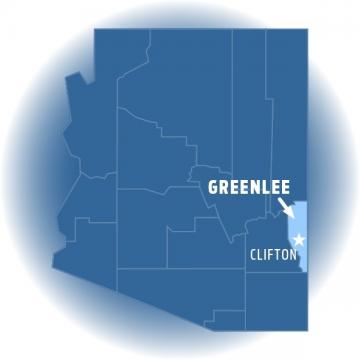 Greenlee
County Seat: Clifton
Founded: 1909
Area: 1,843 square miles
Population: 8,437 (2010)
Other Major Cities: Duncan, Morenci
Geographic Highlights: Arizona's second-smallest and least-populated county is known for Hannagan Meadow and the Blue Range Primitive Area, the last such area in the U.S. The Coronado Trail (U.S. Route 191) traverses most of the county from north to south.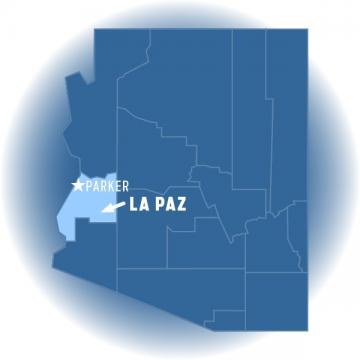 La Paz
County Seat: Parker
Founded: 1983
Area: 4,500 square miles
Population: 20,489 (2010)
Other Major City: Quartzsite
Geographic Highlights: La Paz is Arizona's youngest county and the only one formed since Arizona gained statehood in 1912. The Parker Strip section of the Colorado River is a major tourist attraction, while Quartzsite is a popular destination for winter visitors to the state.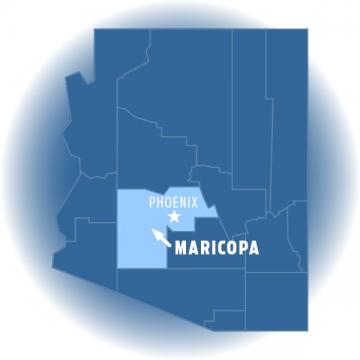 Maricopa
County Seat: Phoenix
Founded: 1871
Area: 9,200 square miles
Population: 3,817,117 (2010)
Other Major Cities: Gila Bend, Mesa, Scottsdale, Wickenburg
Geographic Highlights: Nearly 60 percent of Arizona's population calls Maricopa County home. In Phoenix, 2,680-foot Camelback Mountain is a popular and strenuous hike. Other attractions include the Four Peaks Wilderness, Bartlett Lake and South Mountain Park.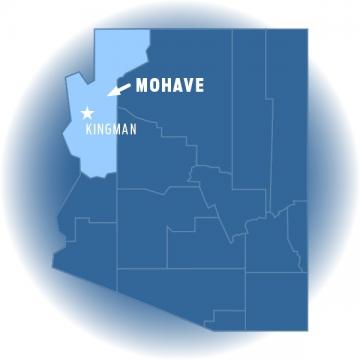 Mohave
County Seat: Kingman
Founded: 1864
Area: 13,311 square miles
Population: 200,186 (2010)
Other Major Cities: Bullhead City, Lake Havasu City
Geographic Highlights: Much of the longest remaining unbroken stretch of Historic Route 66 runs through Mohave County. There's also a section of Grand Canyon National Park, the striking landscape of Lake Mead and part of the Arizona Strip, the remote northwest corner of the state.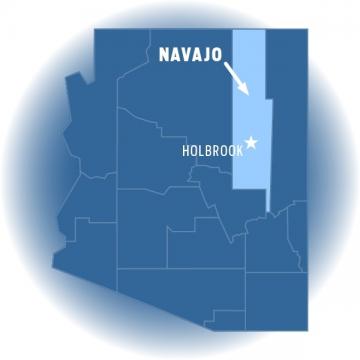 Navajo
County Seat: Holbrook
Founded: 1895
Area: 9,950 square miles
Population: 107,449 (2010)
Other Major Cities: Heber, Kayenta, Pinetop-Lakeside, Show Low, Winslow
Geographic Highlights: About two-thirds of Navajo County is Navajo, Hopi and White Mountain Apache tribal land. Attractions include Monument Valley, the Painted Desert and a section of the Mogollon Rim, which cuts across much of Arizona from east to west.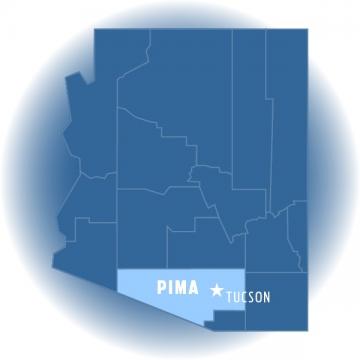 Pima
County Seat: Tucson
Founded: 1864
Area: 9,187 square miles
Population: 980,263 (2010)
Other Major Cities: Ajo, Green Valley, Marana, Oro Valley, Sahuarita
Geographic Highlights: Pima County's Santa Catalina Mountains, topped by 9,130-foot Mount Lemmon, overlook Tucson, and the two sections of Saguaro National Park bracket the city on the east and west. There's also the Tohono O'odham Nation, Buenos Aires National Wildlife Refuge and Organ Pipe Cactus National Monument.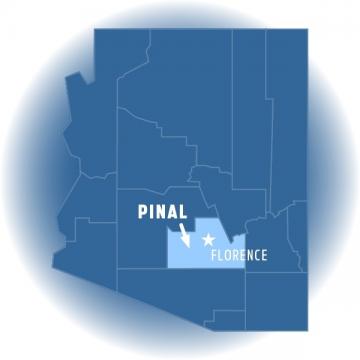 Pinal
County Seat: Florence
Founded: 1875
Area: 5,366 square miles
Population: 375,770 (2010)
Other Major Cities: Apache Junction, Casa Grande, Coolidge, Maricopa, Oracle, Superior
Geographic Highlights: The Superstition Mountains rise in northern Pinal County east of Phoenix, and the county is also home to Boyce Thompson Arboretum, Casa Grande Ruins National Monument and Picacho Peak State Park. You can explore much of the county on the Pinal Pioneer Parkway (State Route 79).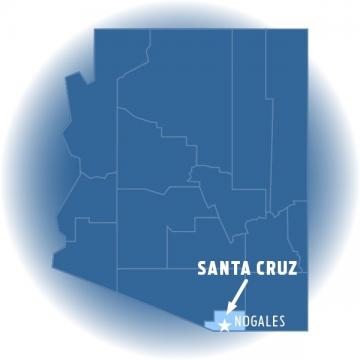 Santa Cruz
County Seat: Nogales
Founded: 1899
Area: 1,237 square miles
Population: 47,420 (2010)
Other Major Cities: Patagonia, Sonoita, Tubac, Tumacacori
Geographic Highlights: The Nogales area — including the sister city of Nogales, Sonora, across the border — is the hub of Santa Cruz County, but other attractions include the Pajarita and Mount Wrightson wilderness areas, Tumacácori National Historical Park, the Patagonia Mountains and the ghost town of Ruby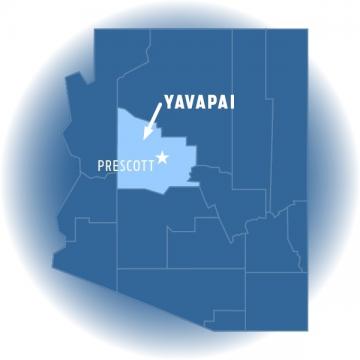 Yavapai
County Seat: Prescott
Founded: 1864
Area: 8,124 square miles
Population: 211,033 (2010)
Other Major Cities: Camp Verde, Chino Valley, Cottonwood, Jerome, Sedona (partial)
Geographic Highlights: Throw a rock in Yavapai County and you're bound to hit something spectacular: the red rocks of Sedona, the lakes of the Prescott area, Montezuma Castle
National Monument and Castle Hot Springs, to name a few. Of course, we don't endorse rock-throwing as a general practice.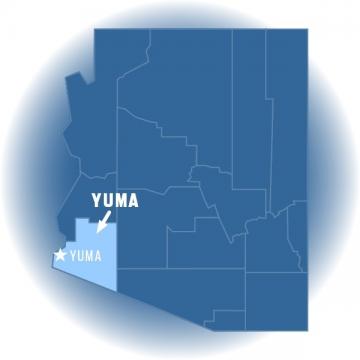 Yuma
County Seat: Yuma
Founded: 1864
Area: 5,514 square miles
Population: 195,751 (2010)
Other Major City: San Luis
Geographic Highlights: Yuma County includes the Kofa National Wildlife Refuge and part of Cabeza Prieta National Wildlife Refuge. The city of Yuma rose to prominence as an early Colorado River crossing, and the Ocean-to-Ocean Bridge, the first vehicle bridge across the river, is located there.