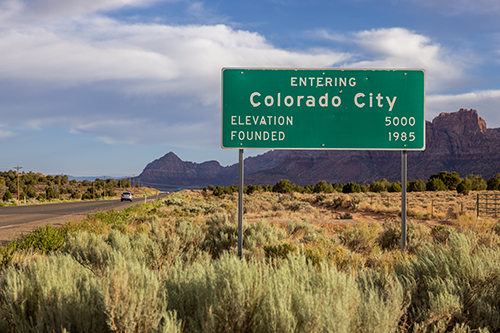 Summer on the Arizona Strip means the occasional promise of a dark, vast, gray sea. Monsoon storms brew in the atmosphere over the Vermilion Cliffs, then sweep and crash and gain steam as they roll across the landscape and batter the slot canyons and red rocks and valleys that pock and chisel this swath of far Northern Arizona. The storms can be biblical — lightning slices the sky with great, electric teeth; the thunder rolls; and the rain can create flash floods in the rivers and streams and washes that typically run dry or at the negligible.
In Colorado City, the monsoon is welcome relief from heat and drought. Water runs through Short Creek, children play with polliwogs and tadpoles, and sometimes, people take shelter at Edge of the World Brewery. 
"I know how it feels — the way it feels when the storms come — but it's hard to explain it, right?" says brewmaster and owner Raymond Hammon. "It honestly just makes this place feel like paradise. Especially when ferns pop up in our canyons that time of year and everything gets a little greener. It makes the desert seem friendlier."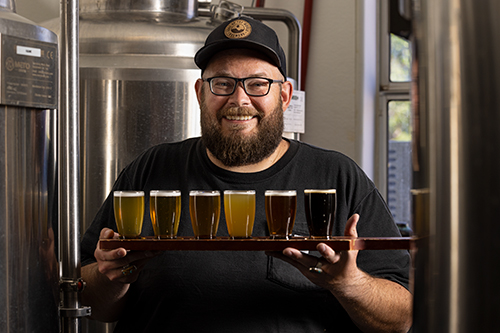 Hammon opened Edge of the World in April 2019 as a 15-barrel operation. It was the community's first drinking establishment. Over time, it grew to 22 barrels, and today, it's one of the most popular businesses in town, located right next door to Berry Knoll Pizza. For the people who live Colorado City, though, it means a lot more. It's but one example of how the once-isolated community is making a massive shift toward becoming a tourist destination for people visiting the North Rim of the Grand Canyon, Zion National Park, Lake Powell, Coral Pink Sand Dunes State Park and other destinations in Northern Arizona and Southern Utah. 
"We're sandwiched in between all of these really great places, so we catch a lot of folks traveling," Hammon says. "But we also have a lot of regional locals. A lot people that live in the towns and cities of Utah come out here as well." 
---
In the early 1870s, settler William Maxwell of the Church of Jesus Christ of Latter-day Saints homesteaded near Short Creek. Over time, a small community of ranchers developed and remained relatively isolated until Leroy S. Johnson moved to the area in the late 1920s. Johnson was baptized in the church not long after LDS leader Wilford Woodruff issued a proclamation that renounced plural marriage, or polygamy, in 1890. Johnson's father paid the proclamation no mind, and Johnson himself later found strength in the growing number of polygamists in the Short Creek community, which was composed of what's now known as Colorado City and its twin, Hildale, Utah.   
"This will someday be the head and not the tail of the church," Brigham Young is reported to have said when he visited the community. "This will be the granaries of the saints. This land will produce in abundance sufficient wheat to feed the people." 
Johnson, his wife and the majority of Short Creek's other residents were excommunicated from the LDS church in 1935. That prompted Johnson to join the Woolley Group, also known as the Council of Friends — a group that laid the foundation for what's known today as the Fundamentalist Church of Jesus Christ of Latter Day Saints, commonly known as the FLDS. Short Creek leader John Y. Barlow died in 1949, and after a turbulent few years when the community faced interference from the government — including the 1953 Short Creek raid, which was greenlit by Arizona Governor John Howard Pyle and resulted in the arrest of nearly the entire community, including 263 children — Johnson took over in 1954 and enjoyed a 32-year tenure. When he died in 1986, at the age of 98, he was succeeded by Rulon Jeffs. 
If the surname rings a bell, it should. At the time of Jeffs' death in 2002, he reportedly may have had as many as 75 wives and 65 children, although other sources claim he had only 19 or 20 wives and 60 children, including 33 sons. One of those sons was Warren Jeffs, and Warren Jeffs thrust Colorado City into the global spotlight — for all of the wrong reasons. 
---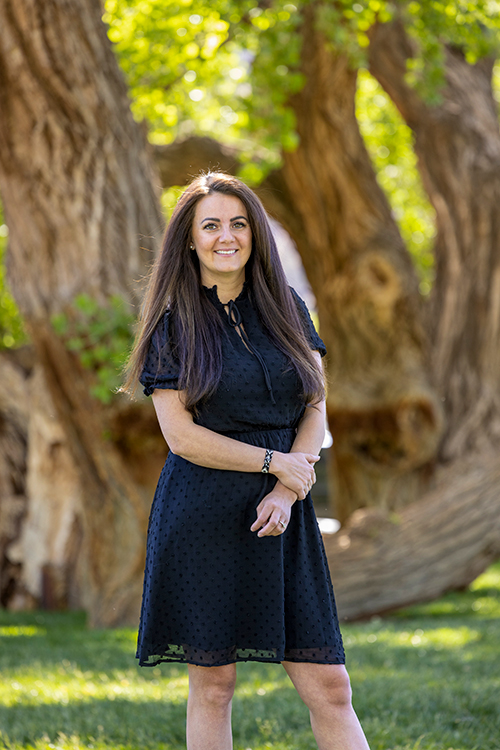 Long before Warren Jeffs became president of the FLDS church, Lisa Schnebly Heidinger visited Colorado City for Arizona Highways. In her story, which ran in August 1994, she wrote, "To describe Colorado City as 'polygamist' would be the same as referring to Abraham Lincoln only as a man who wore a big hat." She wrote, too, that "Colorado City is on the cusp of time, a place that until recently had remained fiercely private and is now wrestling with the challenges of growing up. Adolescence is awkward and threatening; it is the time moral decisions are made. In this case, those include how to welcome tourists without threatening the neighborly infrastructure of the town [and] how to create job opportunities without changing the quality of life."
Now, nearly three decades later, some of those statements stand. That's in part because Jeffs — who once was listed on the FBI's Ten Most Wanted Fugitives list, and who now is serving a life sentence plus 20 years in a federal prison for crimes against children — set the town back. But there are many Colorado City residents, such as brewmaster Hammon, who are determined to propel the town forward. 
One of them is Darlene Barlow Stubbs, who with her siblings was photographed by Fred Griffin for the opening spread of that 1994 story. 
Born in Hildale and raised in Colorado City, Stubbs is the granddaughter of Louis Barlow, who was instrumental in the growth of Short Creek. At 15, though, she grew disenchanted with the church and its leadership. She left. Years later, she earned a degree from Dixie State University. Years after that, she decided to move home. 
"Originally, I made a temporary move back home," Stubbs says. "Then I fell in love with my hometown — the red dirt, the massive mountains, the hiking and ATV trails, the friendly people, the summer evenings, the smell of the Russian olives in the creek bed, petrichor. … I love that Colorado City gets all four seasons. Colorado City has a real sense of community. This is where I want to raise my family."
Today, Stubbs, who works in the mental health field, is one of Colorado City's biggest advocates. She helms the Short Creek Running Club, which hosts a handful of small group races each year, and helps to organize other events and festivals year-round, including Maxwell Park's Rocktoberfest. 
In 2017, community members Dawn and Ken Black and Tom Bennett, the founder of Utah-based Sweet Salt Records, launched another big community event, the Colorado City Music Festival. This year's festival, which took place in May, featured an 11-band lineup, as well as vendors and a beer garden. And the event website makes no bones about the town's past. Or its future. "The community of Short Creek is experiencing a rapid evolution," it reads. "Once home of the FLDS Mormon Fundamentalists, it is now the home of a diverse community. While the FLDS still have a presence in the area, there has been an increase in businesses, including a number of restaurants, a hardware store, a grocery store and a brewery. Come see the wonderful growth and changes in this picturesque piece of heaven on Earth."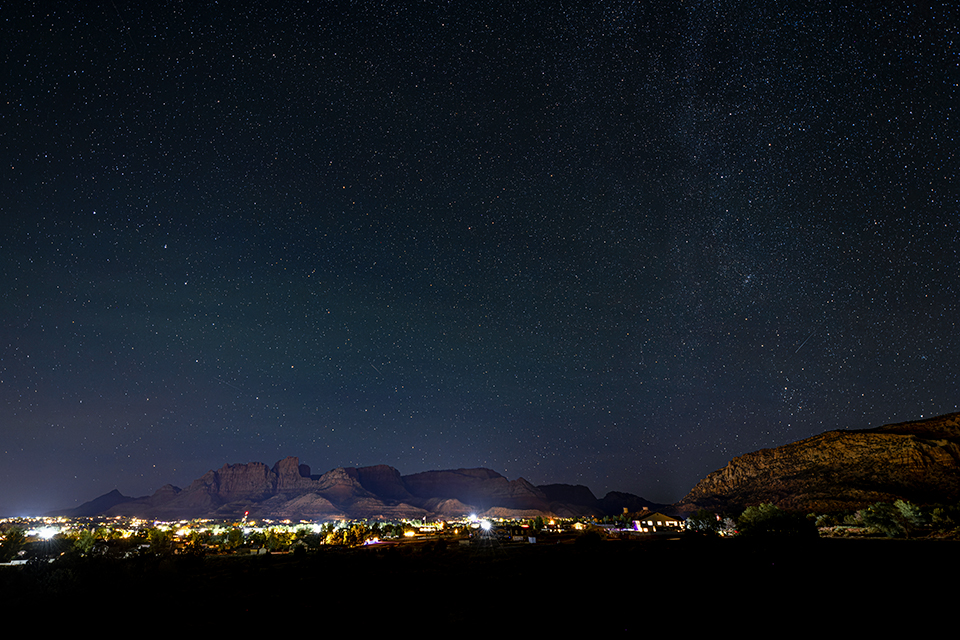 And now, after decades of isolation and struggle, the community is ready to share that little slice of heaven with people it once would have considered outsiders. 
"We're here," Hammon says. "And it's a really great place to visit. You know, despite all of the stuff in the past, the town has changed a lot. We have new businesses going in. We're doing a lot of work to build up the infrastructure for folks to come up and visit, and there's some beautiful country. If you want to see terrain that's a lot like Zion National Park, but you don't want to do the whole 'Disneyland' thing, this is a great place to land." 
Stubbs agrees. "The people are welcoming and kind," she says. "Colorado City's complex history does not control it any longer. It's a great place to visit." 
And should you come during the monsoon, she doesn't think you'll be disappointed. 
"Monsoon season is invigorating," she says. "The community comes alive. People are driving around splashing in the puddles and flooded streets. Children are playing and riding their bikes around town. It's always exciting to see which roads are closed and to watch the water flood them. You'll see people riding their horses and four-wheelers in the rain. It's thrilling to watch the waterfalls fall off of the sheer cliffs."  
---
WHEN YOU GO
Beans & Brews Coffeehouse, 1045 S. Central Street, 928-813-6404, beansandbrews.com
Berry Knoll Pizza, 70 N. Central Street, 928-875-8686, berryknollpizza.com
Edge of the World Brewery, 70 N. Central Street, 928-875-8710, eotwbrewery.com
Essential Coffee Co., 885 W. Arizona Avenue, 928-875-8073
Sweet Sage Coffee Co., 15 N. Central Street, 928-272-4533, sweetsagecoffee.com