Lilian Hill
will never forget the first time she walked into a grocery store. She was 8 years old and had traveled from Second Mesa, on Hopi Tribe land, to visit her grandmother who lived in Albuquerque, just down the street from a modern supermarket. Hill had no idea it was possible to buy endless varieties of cereal, soda and ice cream, along with an abundance of fruits and vegetables that were available regardless of the season. "It was shocking," she recalls. "That was the first time I saw the Western way of living."
Growing up in the 1980s, Hill, along with her parents and two brothers, lived in a remote two-room house outside the Hopi village of Kykotsmovi. They didn't have electricity or running water, and during the summer monsoons, they showered in the rain. Hill's father grew corn and beans as staples for the family, supplementing them with wild game and foraged plants. Sometimes there wasn't enough to eat, but the family managed to stretch what they had. The closest supermarket was hours away and stocked with food that was too expensive for Hill's family and most other Hopis. 
Today, at age 41, Hill is raising her own family in Kykotsmovi. And her home is still in what nutritionists call a "food desert." The Hopi Tribe and the Navajo Nation, which surrounds the tribe's land, together occupy a 30,000-square-mile expanse that's bigger than the state of West Virginia, yet that sprawling territory contains only about a dozen supermarkets. While tribal members can pick up soda, chips and canned foods at gas stations and convenience stores, fresh fruits and vegetables are often out of reach. And that lack of affordable, nutritious food is blamed for all manner of ills among Navajos and Hopis, including diabetes, heart disease and cancer.
But Hill doesn't rely on the Western consumer model of feeding her family. In the middle of one of Arizona's biggest food deserts, Hill and her husband, Jacobo Marcus, have created an oasis of healthy foods with their nonprofit educational operation, Hopi Tutskwa Permaculture.
Hill can look out the window of her living room into a greenhouse nurturing hundreds of seedlings, from chiles to kale to basil. Surrounding the greenhouse are orchards and terraced gardens growing apricots, pears, grapes, artichokes, strawberries and other crops. Most of the plants are watered via cisterns that capture rain runoff from the roof. Her husband and adult son also tend fields of corn, beans and melons that are grown without irrigation. During peak harvest season, a substantial amount of what the family eats comes from food they grow and forage. 
While farming is something the Hopis and their Pueb-loan ancestors have done for a thousand years or more, the practice withered, along with many other cultural traditions, as the result of colonization during the 19th and 20th centuries. Like most American Indian tribes, the Hopi and Navajo people were robbed of their self-sufficient farming lifestyle after they were forced onto tribal lands where food came from government-issued commodities. And the generations of tribal members who spent their youth in boarding schools often lacked the knowledge or desire of their ancestors to grow traditional crops such as corn, beans and squash, perpetuating the tribes' reliance on low-quality, non-perishable foods.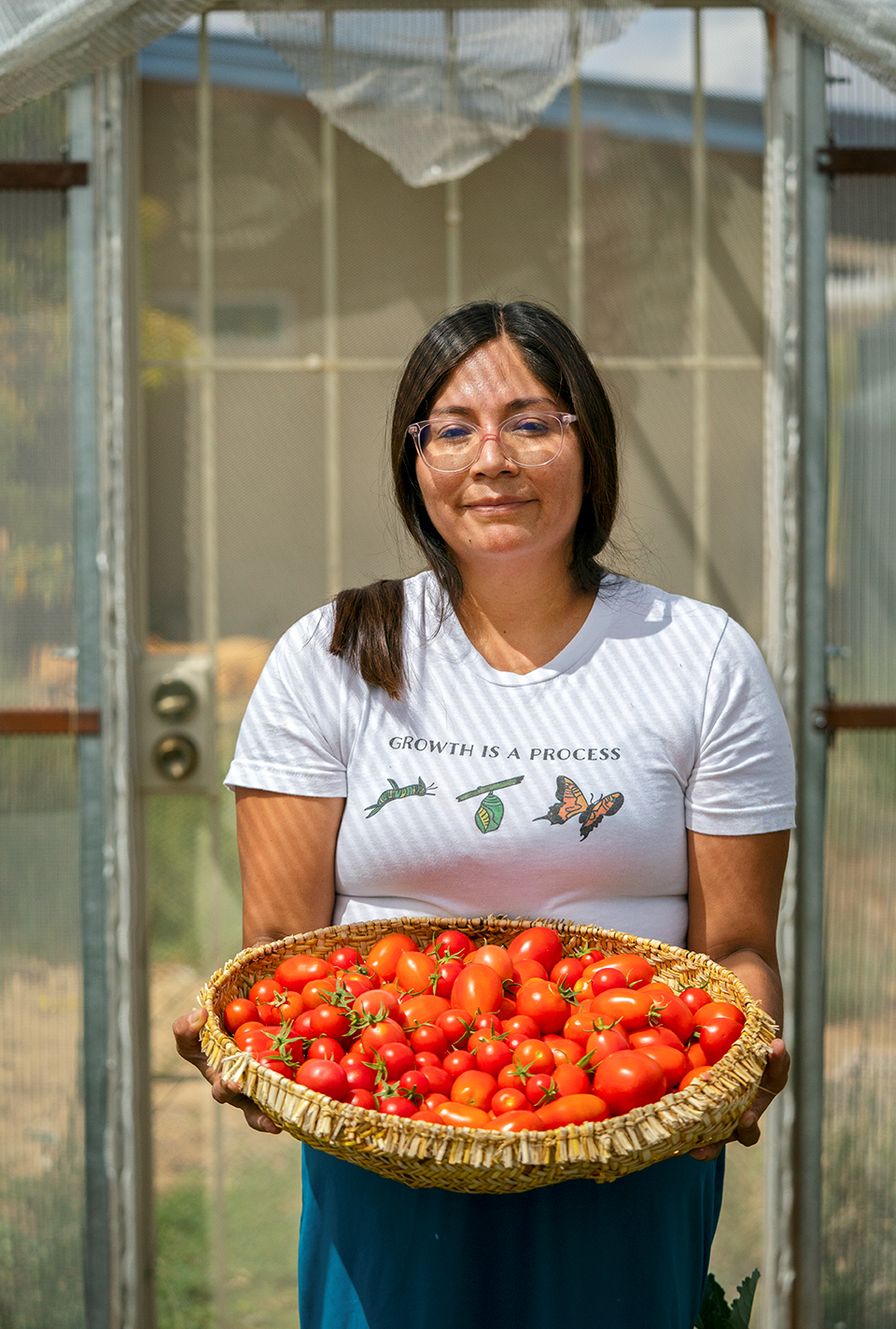 "Colonization has dehumanized our community and weaponized food," Hill says. "It took away our ability to live on the land in the way we were intended. This has impacted not only our physical health, with diseases like diabetes, but also our mental health, contributing to high levels of alcoholism and drug use."
Hill is among a growing number of Indigenous people on Hopi and Navajo lands who are seeking to restore health to their communities and connect to traditional culture through farming. "I am committed to learning the ways of my ancestors and passing that on to my children," Hill says. "This is how we will reclaim our identity as a people."
But farming is hard work. And climate change makes it even more difficult. So, even though Hill and others are relying on ancestral knowledge, they also are innovating 21st century growing techniques of their own to produce food in a reliable way. And after centuries of being pushed to assimilate into Western culture, these food sovereignty pioneers are fighting back with fresh lettuce, juicy peaches and sweet corn that puts supermarket produce to shame.
---
In the 1860s,
Kit Carson launched a campaign to drive the Navajo people off their homeland by destroying their food sources. U.S. Army soldiers burned fields, cut down orchards and slaughtered sheep across Navajo Country. This led some 9,000 starving men, women and children to ultimately comply with Carson's orders and, in 1864, embark on the 250-plus-mile forced march now known as the Long Walk. Those who survived the prison camp at Fort Sumner in New Mexico Territory were allowed to walk back to the newly established Navajo Nation in 1868. 
Nearly 150 years after her ancestors returned from Fort Sumner to their home in Dilkon, in the southwest part of Navajoland, Cherilyn Yazzie decided that she wanted to bring farming back to her family's fields. Her paternal grandfather had grown corn, squash and watermelon when Yazzie was a child, but the land had been dormant for decades. 
Yazzie was a public health professional and had been working for Navajo County's Nutrition Services Program. "I was trying to educate people about the importance of eating vegetables," Yazzie recalls. "And clients living on the Navajo Reservation would just look at me and say, 'We don't have access to those foods.' " The disconnect between what Yazzie was teaching her clients and what they were able to do started to bother her. 
"As I drove across the Navajo Reservation, I wondered why nothing was growing," she says. "I wondered: Why is farming such a big part of our culture's stories, but we don't do it anymore?"
Yazzie, then 41, had no experience farming but was determined to learn. In 2016, she and her husband, Mike, established Coffee Pot Farms, named for a nearby jagged butte that looks like an old camp coffee pot. The farm is completely off the grid, relying on solar power and water trucked in from Dilkon. "We are growing a lot of food in small spaces by using greenhouses," Yazzie says. "Everything is very organized on 50-foot-long beds and irrigated with a drip line to get the right amount of water."  
While Yazzie also grows squash, melons and corn on a small farm plot, just as her ancestors did, she says the greenhouses are far more efficient and shielded from the elements, allowing them to produce food during the shoulder seasons. Even when spring snow is on the ground or the wind is whipping at hurricane speeds, vegetables such as lettuce, spinach, carrots, snap peas and broccoli are thriving in the farm's tunnel-like passive solar greenhouses.
Coffee Pot Farms has sold its produce at farmers markets on Hopi land, as well as in Winslow and Flagstaff. It also founded a community-supported agriculture, or CSA, organization that serves Navajo and Hopi lands and accepts Supplemental Nutrition Assistance Program (SNAP) assistance, formerly known as food stamps, for produce boxes. That makes the food widely available to lower-income customers.
Unlike her ancestors, though, Yazzie and her husband have to survive in a cash economy. "We are trying to run this as a business so it can be our livelihood," she says.
"So far, we are doing OK." She says she enjoys educating her customers about good nutrition and how to use foods they might not normally eat, such as kale and Swiss chard. Now, she not only advises fellow tribal members to eat their vegetables but also can make sure they have plenty in their refrigerators.
---
When Hill was 13,
her family moved into a house in Kykotsmovi that had running water. And then they moved into another house, one that had water and electricity. In order to pay for the modern amenities, Hill's parents took salaried jobs and had no time for farming or cooking. Hill says she ate mostly prepackaged canned foods and became addicted to sugar. The lifestyle change for Hill's family altered not only their diets but also their relationship to the land and Hopi culture. "The only time we ate traditional foods was during ceremonies," Hill says. 
After earning a bachelor's degree in applied Indigenous studies from Northern Arizona University, Hill returned to Kykotsmovi with Marcus. They had a young son and wanted a healthier future for children on tribal land. In 2004, the couple established Hopi Tutskwa Permaculture, which teaches Hopi community members how to build sustainable housing and food systems that combine ancestral knowledge with modern energy and food-growing techniques.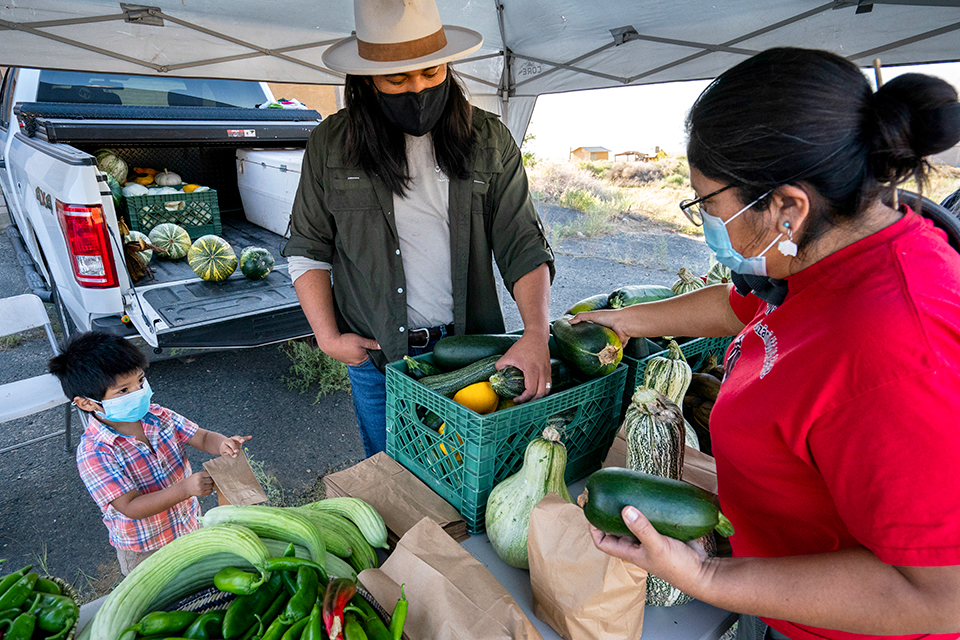 Using their own earthen permaculture home and gardens as a teaching venue, Hill and Marcus became part of a movement to restore food sovereignty to the Hopi Tribe. Over the past 15 years, Hopi Tutskwa has sponsored an apprenticeship program that enables tribal members to learn from experienced Hopi farmers. Those students often go on to establish their own gardens and farms and teach others how to grow food. The community-wide emphasis on agriculture has also evolved to support a weekly summer farmers market where people trade and barter in traditional Hopi fashion.
"A lot of our students are in their late 20s and early 30s," Hill says. "They are looking for authentic experience and meaning in their lives. They want to connect with their ancestors' traditional farming fields and gathering areas."
The techniques students learn include the ancient Hopi dry farming method, where only water that falls from the sky nurtures the crops, as well as permaculture methods that use rain catchments and cisterns to irrigate gardens. In contrast to Western agricultural methods that rely on large-scale irrigation infrastructure, Hill says, the Hopis have a long history of growing food with little water. "Interest in farming has really grown since starting Hopi Tutskwa," she says. "We have alumni who are showing up at the farmers market season after season with more and more produce."
But farming for the Hopi people isn't just about food security. It's also about spiritual sustenance and maintaining a relationship with seeds. Hopi Tutskwa teaches tribal members how to steward seeds as family and community heirlooms. The seeds for traditional crops such as corn, beans and squash are unique to specific families and geographical areas. They've been planted by Hopi farmers for centuries, perhaps even for millennia. Some seeds go back in Hopi culture to time immemorial. Others, such as apricot and peach seeds, are from the 16th century, when Spanish conquistadores first rode into Hopi villages, looking for a city of gold. 
"The seeds we have stewarded over all these years have co-evolved with our people," Hill says. "They are part of our creation stories, and we view them as our relatives. It is a big responsibility to take care of them."
And unlike the mechanized planting process used by Western agriculture, which relies on tractors, putting Hopi seeds in the ground is a spiritual ritual done with a special stick made from greasewood. An individual hole is dug for each seed with the planting stick, then covered with dirt by hand. Fields that are dry-farmed rely on moisture below the topsoil to nurture the seeds until rains come. Hill says a store-bought seed would never survive on the harsh mesas, but a Hopi seed knows what to do. "They have their own intelligence," she says.
---
Susan Sekaquaptewa 
calls farming her "second life." She spent her childhood growing up on Second Mesa, immersed in Hopi culture and watching her father tend family fields and cattle. But at age 13, she left tribal land to attend high school. She went on to earn a bachelor's degree in community planning and a master's degree in museum science, which led her to work on museum projects in Washington, D.C. But after she'd spent decades away from Second Mesa, Sekaquaptewa says, "My culture was beckoning me back."
She returned home in 2002, when she was 33, and moved in with her parents. Sekaquaptewa made a concerted effort to reconnect with family and participate in ceremonies. She decided doing that properly required learning to grow food. "Our community is based on reciprocal offerings and the sharing of traditional foods, especially corn," she says. "I wanted to contribute my own corn meal during ceremonies."
Sekaquaptewa asked her father to teach her how to dry-farm corn and other traditional crops. She also helped her mother care for an orchard at an abandoned village that had been in the family for many generations. And Sekaquaptewa started her own garden, which got bigger with every season. 
"I found that I really enjoyed growing food," she says. "That little backyard garden of mine became a gold mine, not only for producing healthy food but also for my mental health." 
Sekaquaptewa kept learning about farming and was enthusiastic about sharing that knowledge with the community. Eventually, her passion for restoring Hopi food sovereignty led to a career change: She took a job as assistant agent for the Federally Recognized Tribes Extension Program through the University of Arizona. Today, Sekaquaptewa is married to a Hopi rancher, and they have a 12-year-old son.
"Farming has helped me build a better relationship with my husband and son; it has taught me humility, gratitude and connection with the Earth," Sekaquaptewa says. "Our goal as a family is to grow as much food as possible for ourselves and also to share it with the community. We will plant every year, no matter the weather forecast or what the rain gauges tell us. That is our path and our promise as Hopi."
For Hill, seeing so many tribal members, especially youths, involved in farming, as well as participating in the community food co-op and farmers market, gives her great hope for the future. Her four children are active in family farming activities, and her oldest son makes traditional planting sticks for the family to use.
"We still have our seeds and our knowledge of the plants and medicines — colonization did not take that from us," she says. "Food sovereignty gives us a different narrative for ourselves, one where we are no longer victims or dependent. We are resilient, self-reliant and adaptable, just like our ancestors."
---
To learn more about Hopi Tutskwa Permaculture, call 928-734-0309 or visit hopitutskwa.org. To learn more about Coffee Pot Farms, call 928-613-7725 or visit coffeepotfarms.com.