WILDCAT CROSSING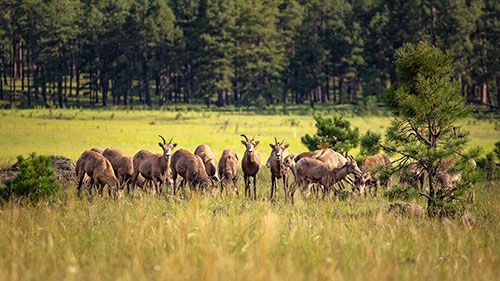 Wildlife-watching trips are great — except when the wildlife doesn't appear as expected. That's why you need a drive that's spectacular even if there aren't any animals around. This forest route west of Hannagan Meadow fits the bill, and when skies are clear, you can tackle it in any vehicle.
From Alpine, head south on U.S. Route 191 and turn right onto Forest Road 26. For this road's first several miles, you'll wind past tall ponderosa pines, campsites and a few houses. You'll then traverse a series of large meadows that come alive with colorful wildflowers in summer. Mule deer, elk and pronghorns are frequent visitors here, and you could spot an Abert's squirrel or a flock of Merriam's turkeys, too.
At the fork at Mile 4.5, go left to stay on FR 26. Then, at Mile 9.7, turn right onto Forest Road 24, which crosses another meadow before diving back into the pines. Three miles later, you'll come to Buffalo Crossing, a bridge over the East Fork of the Black River. This is a good place to stop, dip your toes in the water and enjoy the thick vegetation along the waterway. Then, just past the bridge, turn left onto Forest Road 25, which will take you the rest of the way.
You'll cross the West Fork of the same river at Mile 14.1, then pass through a series of ponderosa-lined meadows and creek crossings before getting a look into the steep-walled canyon that cradles the Black River's main course. The view from the road is lovely, but keep an eye out for Forest Road 416, on the left, around Mile 24.5. This road is too rugged for passenger cars, but you can park and make the 1-mile hike to the canyon's rim for an even better view. Look for bighorn sheep and peregrine falcons, both frequent visitors to the canyon.
Continuing on FR 25, you'll gradually descend to Wildcat Crossing, which spans the Black River at Mile 27.3 of the drive. Depending on the day of the week and the time of day, you might see other travelers camping along the river's banks or splashing in its cool water. And there's greenery everywhere. It's the high point of the drive. But also the low point, if you're being technical.
The remaining climb out of the canyon passes fire-scarred areas and young aspens springing up to replace the burned trees, along with more spectacular panoramas. Keep your binoculars handy until the drive ends back at U.S. 191.

Length: 41.8 miles one way (from U.S. Route 191)
Directions: From Alpine, go south on U.S. Route 191 for 14 miles to Forest Road 26. Turn right (west) onto FR 26 and continue 9.7 miles to Forest Road 24. Turn right onto FR 24 and continue 3.2 miles to Forest Road 25. Turn left onto FR 25 and continue 28.9 miles to U.S. 191 south of the starting point.
Vehicle requirements: None in good weather.
Information: Alpine Ranger District, 928-339-5000 or fs.usda.gov/asnf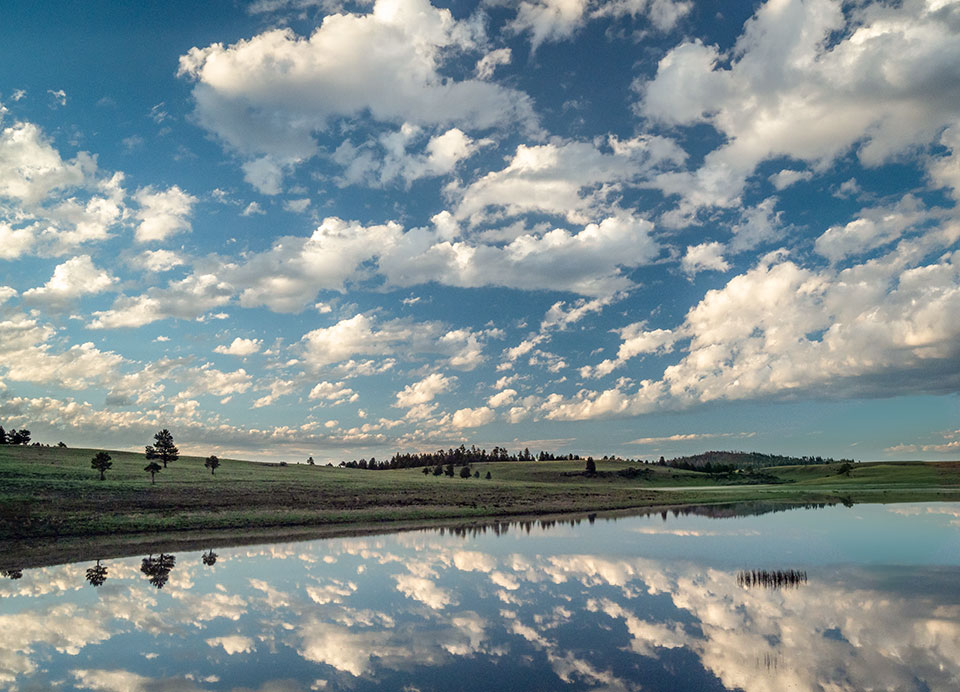 EAGAR TO BIG LAKE
To get to Big Lake — true to its name, one of the largest reservoirs in the White Mountains — travelers from the Springerville-Eagar area usually follow state routes 260, 261 and 273, all of which are paved. This more direct and less traveled route is a bit more rugged, but it's fine for any car if the road is dry.
From Eagar, a small town first settled 150 years ago, head south on Main Street, then turn left onto Water Canyon Road — which, after it enters the Apache-Sitgreaves National Forests, is signed as Forest Road 285. This unpaved road will take you most of the way to Big Lake. It quickly climbs to an elevation of about 9,000 feet, so watch out for pockets of snow and ice, even in late spring. It also narrows in places, so be a considerate motorist and remember that cars traveling uphill have the right of way.
Past the national forest boundary, you'll find yourself surrounded by ponderosa pines, smaller evergreens and spindly aspens that dance in the wind (which blows often here). Elk and mule deer are plentiful in this area, but you might also spot wild turkeys or even a black bear. Ten miles from Eagar, you'll come to the first of several large meadows and get a view of Mount Baldy to the southwest. From there, the road meanders past roadside ponds and areas healing from the 2011 Wallow Fire.
The last few miles of FR 285 plunge back into heavy forest, and on a sunny day, you'll appreciate the shade provided by these tall evergreens. The road ends at Forest Road 249 (Three Forks Road), which was a dirt road until the U.S. Forest Service paved it in 2014. Turning left will take you to U.S. Route 191 just north of Alpine, but for this drive, turn right and head 2 miles west to Big Lake, a roughly 500-acre reservoir that features campgrounds and fine trout fishing.
If you're heading back to town, you can either retrace your steps or head northwest on SR 273, which offers excellent roadside views of Crescent Lake. From there, take SR 261 and SR 260 back to Eagar.

Length: 21 miles one way (from Eagar)
Directions: From the intersection of State Route 260 and Main Street in Eagar, go south on Main Street for 1 mile to Forest Road 285 (Water Canyon Road). Turn left onto FR 285 and continue 18 miles to Forest Road 249. Turn right onto FR 249 and continue 2 miles to Big Lake Recreation Area, where FR 249 becomes State Route 273.
Vehicle requirements: None in good weather.
Information: Springerville Ranger District, 928-333-4301 or fs.usda.gov/asnf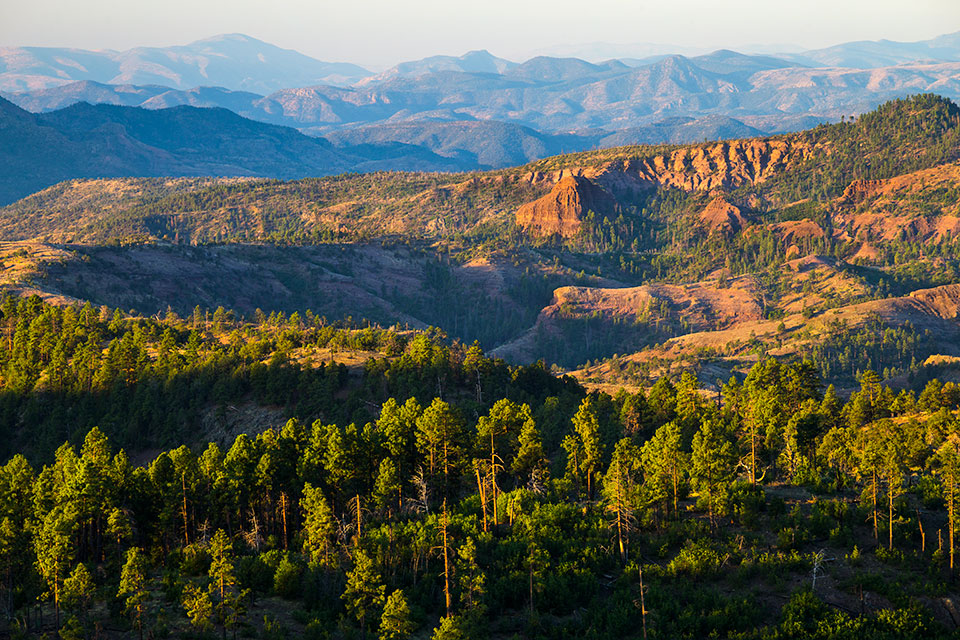 BLUE RANGE LOOP
This loop drive, which starts and ends in the idyllic town of Alpine, is best experienced in a high-clearance, four-wheel-drive SUV or truck. Those with such a vehicle can enjoy pristine forests and riparian areas, along with a view of the Blue Range Primitive Area — one of the most remote and unspoiled places in the American Southwest.
From Alpine, head south on the stretch of U.S. Route 191 also known as the Coronado Trail Scenic Byway — a spectacular drive in its own right. Past a few wildfire scars, turn left onto Red Hill Road (Forest Road 567), which is bumpy in spots but easily handled in good weather. Red Hill Road eventually curves to the southeast as it skirts the edge of the Blue Range, the last designated primitive area in the national forest system. This land of rugged mountains and steep canyons is a haven for backpackers and wilderness enthusiasts, and you'll get an excellent panorama of it about 18 miles into the drive.
Shortly thereafter, Red Hill Road begins to wind downhill, past a group of weathered red-rock hoodoos. You'll get some more dramatic views to the south before the road reaches a crossing for the Blue River, where your high-clearance vehicle will come in handy. In summer, the river usually is only a trickle here, but use the nearby depth gauge to determine whether it's safe to cross. Just past the crossing, turn left onto Blue River Road (Forest Road 281) to continue the loop.
The new road follows the waterway's winding course through this remote part of the White Mountains, and you'll cross the river several times via one-lane bridges. Along the way are unspoiled meadows, vibrant riparian habitats and more red-rock buttes that seem like they'd be more at home in the Sedona area. Except for the school and library for the tiny community of Blue at Mile 27, there aren't many signs of civilization here — other than the road, which briefly crosses into New Mexico before returning to Arizona. Keep an eye out for endangered Mexican wolves — a reintroduced population of these wolves is being managed in this area.
After you climb a few switchbacks and get a nice view of Escudilla Mountain to the north, you'll reach Blue River Road's end at U.S. Route 180. From there, head a few miles west to get back to Alpine, perhaps for a slice of blueberry pie at Bear Wallow Café.

Length: 49-mile loop (from Alpine)
Directions: From the junction of U.S. routes 180 and 191 in Alpine, go south on U.S. 191 for 14 miles to Red Hill Road (Forest Road 567). Turn left (east) onto Red Hill Road and continue 12.2 miles to Blue River Road (Forest Road 281). Turn left onto Blue River Road and continue 19.3 miles to U.S. 180. Turn left onto U.S. 180 and continue 3.5 miles back to Alpine.
Vehicle Requirements: A high-clearance, four-wheel-drive vehicle, such as an SUV or truck, is required.
Information: Alpine Ranger District, 928-339-5000 or fs.usda.gov/asnf