Then and Now: Arizona Highways World Headquarters
March 26, 2017 at 5:50 am
The Arizona Highways offices in 1962. | Arizona Highways Archives
Today (Sunday, March 26) marks a special anniversary at Arizona Highways: 55 years in our current building, at 2039 W. Lewis Avenue in Phoenix.
That's according to this postcard, anyway, which we found recently among news clippings and other memorabilia from the magazine's early years. Whether or not the exact date of the move was March 26 has been lost to history, but it probably happened sometime in 1962.
After we found the postcard, we set out to re-create this scene in the present day. So, how close did we get? See for yourself (click image for larger version):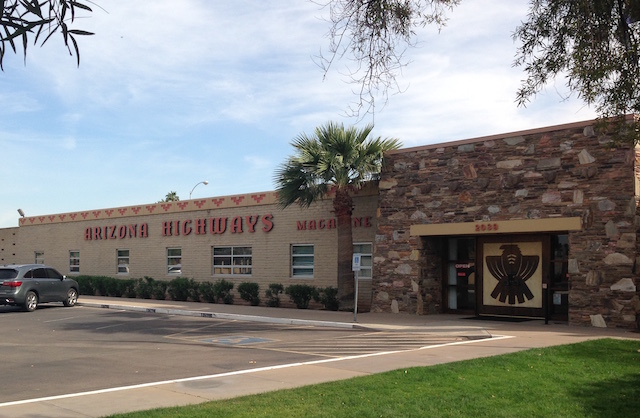 Well, we might not have gotten the angle exactly right, but you get the idea. Not much has changed in 55 years, but we've added a palm tree and a few windows to the front of the building. The panels that once flanked the front door have been replaced by windows as well, but the door is the original from 1962.
Stop by and pay us a visit sometime. At our gift shop, you'll find magazines, books, calendars and other Arizona Highways items. The hours are 9 a.m. to 4 p.m. Mondays through Fridays, excluding major holidays.