You may have questions. Why would we be out on Lake Powell in late winter? Isn't the lake extraordinarily low? Has anything interesting been revealed by the low water? The answers are interlocking: We want to witness this astonishingly low lake level before snowmelt flows in and at least partially resuscitates the shrinking lake.
Lake Powell, dramatically down in elevation and volume in the past three years, now is surrounded by lifeless desolation, beaches recently exposed, slowly evolving from sodden to oozing to damp to mud-cracked. And displaying not a blade of plant life — not in early March, anyway. The shorelines are instead populated by the detritus of human miscalculations during decades of a former occupation by Lake Powell: boat wrecks, motors, anchors, lounge chairs, cameras, phones and fishing poles that once lay in cold storage on the lake's floor. 
Seven of us are traveling by houseboat and speedboat, anxious to see this shocking, utterly new rendition of Glen Canyon National Recreation Area. The lake continues to drop beneath us, at nearly a foot a week, as a 20-year drought refuses to loosen its grip on the great Colorado River system. Lake Powell has dropped a whopping 175 feet below full elevation. It now retains less than 25 percent of full volume. Downstream, Lake Mead is in a similar fix.
What has caused this dramatic reversal of fortune for these two giant reservoirs? There are at least three contributing factors. First, the original allocation of the river's volume was based on a faulty estimate of the river's yearly flow. Second, each of the states entitled to a portion of the Colorado River now wants its full share of the Colorado River. And finally, climate change is shortchanging the region's precipitation. With diminished snowpack in the high Rocky Mountains comes a diminished river rushing through the downstream deserts. 
I've been a Lake Powell boater for 50 years, with hundreds of trips on the water, some of them rowing a dory or paddling a kayak, most of them traveling by speedboat or houseboat. Why so many visits? Because the lake is cradled in a fantastic landscape of natural bridges, alcoves, arches, pinnacles and balanced rocks. Lake Powell, of course, has always been surrounded by geological wonders worthy of a rendezvous.
But this trip is different. Every day, more such lovely or unusual features are poking their heads above the descending lake surface. 
In Last Chance Bay, we pass a smooth-sided cylinder of sandstone rising out of the lake 15 feet, like a darkened lighthouse. It's topped by a huge, angular boulder. When a former National Park Service ranger later studies a photo of the rock, he exclaims that he once saw this same formation on a sonar screen from a remotely operated underwater vehicle.
---
This lake is no stranger to unusual times. It began life in 1963, when the gates of Glen Canyon Dam throttled down the river for the first time. Seventeen years, 1963 to 1980, were required to fill the reservoir to its brim because of upstream and downstream water commitments. Oddly, only three years later, in 1983, the lake and its dam were threatened by the inverse problem: far too much water gushing into a nearly full lake as the winter's exceptionally large snowpack rapidly melted.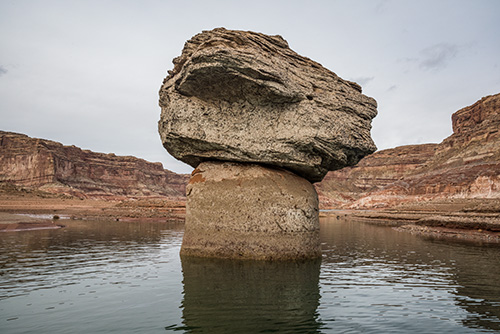 The high inflow would not have been a problem if a design flaw in Glen Canyon Dam's spillway tunnels had been identified and corrected in time. Instead, with the Colorado flooding into the lake, the dam's spillway gates had to be augmented with sheets of 1-inch plywood to restrain the flood. The plywood extensions prevented yet more damage to the malfunctioning spillway tunnels.
By then, the four river outlets had been cranked fully open, the eight generators were running full bore, and both spillways were blasting great plumes of frothing water into the river below the dam. I was there when the dazzlingly white release plumes arced over and then into the river day after day, occasionally faltering and turning red for a few seconds as the raging water ripped out more sections of concrete and sandstone from the dark tunnels. At Carl Hayden Visitor Center, a building cantilevered over the rim above the dam, the rotunda windows vibrated with energy as tons of water crashed through the disintegrating tunnels hidden within bedrock hundreds of feet below.
The dam survived the crisis, and within a year, the spillway tunnels were repaired and modified to prevent a runaway cavitation process from occurring again. High-flow tests in the summer of 1984 proved the redesign effective. After 1984, wet years and dry years nudged Lake Powell to higher and lower levels. But the immense volume of water stored in the lake always allowed the release of enough water to satisfy downstream users, no matter how thick or thin the Rocky Mountain snowpack. This was exactly how the reservoir was designed to work. 
After 1999, however, a long-term drought began. By early 2005, Lake Powell had dropped to 145 feet below full, a record low at the time. Snowy winters later injected 50 feet of increased elevation to the lake level, but dry winters just as often drained an equal amount. Or more. 
During these decades, I conducted dozens of photography workshops on Lake Powell. The photo trips were wonderful experiences: based on houseboats, and long enough and leisurely enough to visit and anchor at sites that allowed us to photograph a great variety of the astonishing terrains that surround the lake. As the lake level fluctuated over the years, we used dozens of campsites, many with stunning views of surrounding buttes and plateaus. Others sequestered us within overhanging alcoves or in deep, sinuous slots. 
Photogenic sites existed at all lake levels. We visited the double bridge in a tributary of Mystery Canyon. We could sometimes walk along the tiny streamlet linking golden reflecting pools in Ribbon Canyon. We often hiked into Pool Canyon, where a single gnarled cottonwood tree was reflected in a spring-fed pool. For a little while, we even were able to scramble up a series of ledges to enter a deep alcove that contained an isolated "forest" of willows, cottonwoods and hackberry trees — an environment almost incomprehensible in an otherwise bony landscape of slick-rock and spartan vegetation. 
Now, with the lake down 30 fathoms, we've lost entry to many of our favorite photo locations and campsites. Some parts of the lake feature only tight side canyons pinched between vertical cliffs, too skinny for houseboats. Other sections of the low lake offer only giant, windblown beaches. 
Because of the low lake level, Dangling Rope Marina has been closed and disassembled — it's diminished so much that there's no room for the marina. Even Rainbow Bridge has lost its Park Service courtesy dock that for many decades connected with a trail to the bridge.
The record-low lake level also threatens power generation at Glen Canyon Dam. If the lake drops another 35 feet, the hydropower spigot will be shut off.
As the lake surface has fallen, however, the surrounding buttes and mesas have appeared to grow loftier and statelier. Cathedral in the Desert, a mighty chamber carved from Navajo Sandstone and once wholly submerged, has been drained and recharged with fresh air. Dramatic shafts of sunlight now penetrate the enchanting hollow, bringing Cathedral in the Desert back from the dead with a view not seen in decades.
And then there's Gregory Natural Bridge, a rock bridge with a span of 127 feet across a small stream. We frequently camped in an alcove nearby and pointed out the place beneath the surface where the bridge once dwelt. Now Gregory Natural Bridge is almost fully revealed, displaying an arch of perfect symmetry. The reappearance may only be temporary, however, as snowmelt inflows may swamp it yet again.  
When Lake Powell first invaded these sandstone canyons, the Colorado's river runners were sickened by the planned flooding, and furious that such a pristine, gorgeous river canyon that civilization had failed to harness for "constructive use" had been transformed into a vulgar lake. For many members of the river community, Glen Canyon became the "lost national park."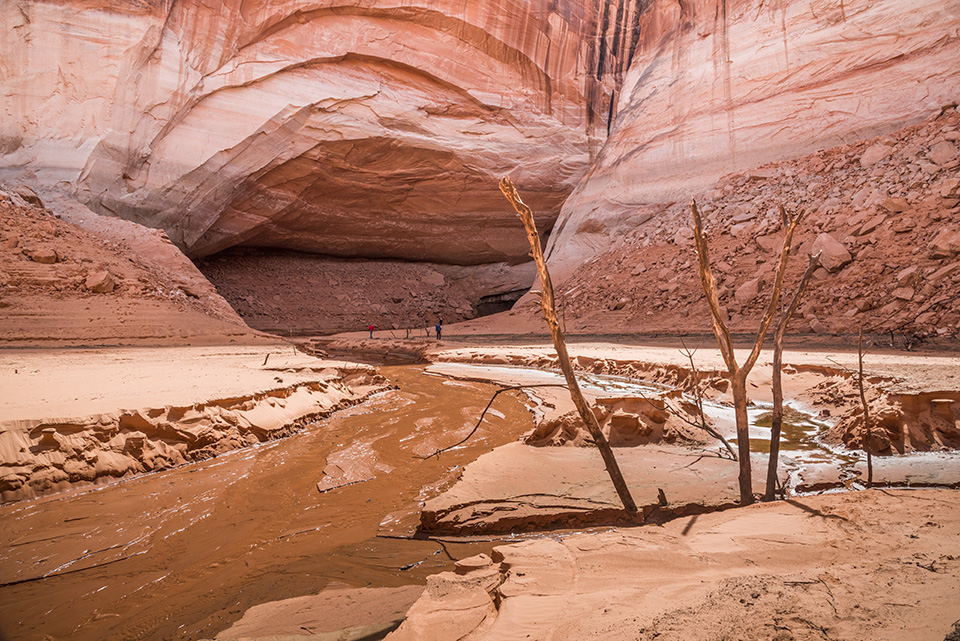 Katie Lee, musician, author, river runner and Glen Canyon champion, perpetually and colorfully condemned Lake Powell every moment the lake existed until her passing in 2017. She made 16 trips through the Eden-like Glen Canyon in the 1950s and '60s and never forgave the dam builders. I have to wonder if Katie, given her new station, arranged for the lake's recent curtailment. 
The creation of Glen Canyon Dam and Lake Powell may have been a mistake when viewed in the light of advancing climate change. Perhaps the dam has outlived its usefulness. Or maybe two huge dams on the Colorado River, Glen Canyon and Hoover, are too many. And yet, Lake Powell was never vulgar. It was inherently spectacular simply because the landscape that contained it was so. I would also argue that the creation of Lake Powell is no different than what we have done to our oceans, our atmosphere, our mountains and, in general, most of our natural resources. We have usurped, harnessed and wounded them all for our benefit and convenience.
---
Thinking back on the decades of wonder and beauty that Lake Powell has given me during so many trips, I have three observations. 
One: Lake Powell boaters are no different than the pre-lake river runners, in that they all mourn the extraordinary locations, once taken for granted, that have been lost to the twin spoilers of bad luck and human miscalculation. It hurts to lose what we love.
Two: Lake Powell, like all lakes natural and human-made, is ephemeral because, on a geologic time scale, all lakes are granted only brief tenures. Lake Powell, in just 60 years, has already burned through a minimum of 8 percent of its useful life because of siltation, the deposition of silt and sand delivered to it by its tributaries. (The rate of siltation of Lake Powell averages the equivalent of a staggering 10,000 dump truck loads per day.)
And finally: You have to wonder about, and perhaps fear for, the future. As we admire the recently resurrected Gregory Natural Bridge from our houseboat, I think, Are we now witnessing a brief, unimportant low-water hiccup in the history of a by-and-large highly functional Lake Powell, or are we glimpsing a persistent shrunken revision? In other words, will Gregory Natural Bridge bask in air and sunlight for decades to come, or will it disappear again after a few glorious months?  
Whatever the answer, Glen Canyon is still magical, even when it contains a lake that is, for now, in deep trouble.