If you were to make a film about pioneering Arizona aviator Ruth Reinhold, the movie would open somewhere high over the Mogollon Rim south of Winslow.
It's March 1949, and Reinhold is behind the controls of a single-engine Aeronca 15AC Sedan, the plane's red-and-white livery standing out sharply against the clear blue winter sky. A high-wing four-seater, the Sedan cost as little as $4,395 back in the day, making it an economical plane with a reputation for easy flying.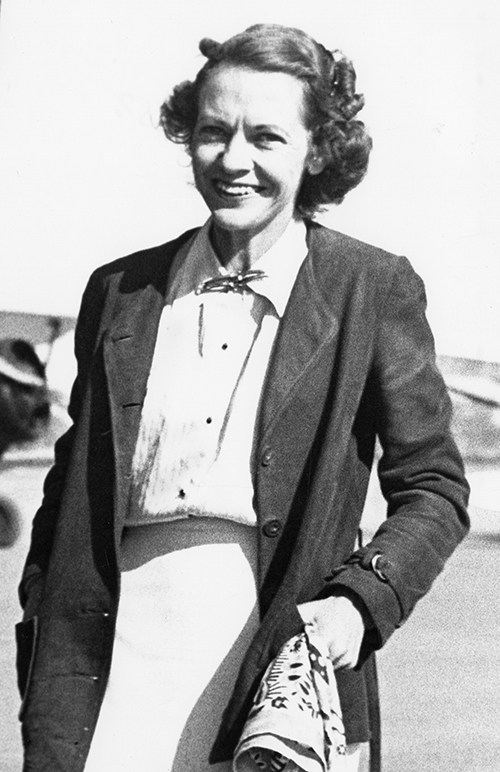 Maybe you could cast an A-lister to play the part of Reinhold, a Boston native whose flying career spanned five decades. Think Reese Witherspoon, considering that Reinhold stood all of 5-foot-nothing and was described in one 1955 Arizona Republic piece as "a fragile-framed aviatrix." When Reinhold came in for landings, control tower personnel sometimes reported the approach of a pilotless plane because they couldn't see anyone in the cockpit. 
But Reinhold sure could fly and especially loved soaring over the mountains. On this day, she's returning to Phoenix, with state big game supervisor O.N. Arrington and his wife, after an elk survey in Northern Arizona. The plane has climbed to about 2,000 feet over the pines when a mechanical failure causes the Sedan's 145-horsepower engine to sputter and die.
Reinhold has no choice except to attempt a dead-stick landing and targets a remote landing strip at Hay Lake, about 40 miles southeast of Flagstaff. She glides the powerless plane toward the strip and touches down, breaking through 6 inches of snow. But the ground underneath has thawed, and the landing gear catches in the mud, flipping the Sedan onto its back.
Reinhold and her passengers are banged up but otherwise uninjured — just scratches and a bruised nose for Reinhold. They are, however, stranded at nearly 7,000 feet with a cold night ahead of them. Yet they're lucky. Ten minutes after the crash, another plane passes over the area and spots the overturned Aeronca, and soon, a Civil Air Patrol aircraft out of Winslow drops bedding and food for the stranded trio, who shelter in a nearby cabin.
It takes more than a day for rescuers on horseback and in an M29 Weasel, a tank-like World War II-vintage tracked vehicle, to navigate through snow, over rugged terrain and across a stream swollen with 6 feet of runoff to reach the group. And even though it's suffered only minor damage, the Sedan will remain there for another three months, and much of the modest $500 in repairs comes not from impact but after a mouse gets inside and chews up the interior.
There's no record of any snappy repartee during the rescue — no Hollywood-style dialogue from Reinhold along the lines of "What took you so long?" Reinhold, by all accounts, was too no-nonsense for that, a humble, soft-spoken pro's pro. The Hay Lake accident was the only one Reinhold experienced during more than 15,000 hours of flying in just about every aircraft imaginable, from biplanes to a Boeing 727.
When Reinhold died at 83 in 1985, the newsletter for The Ninety-Nines, an international association of licensed female pilots, hailed Reinhold as "the foremost woman pilot in Arizona aviation history." But if Reinhold was Arizona's Amelia Earhart, she wasn't out of central casting. She never lost her Boston accent, and her overbite gave her more of an endearing,
rather than commanding, appearance. She preferred to be photographed in sensible dresses that wouldn't be out of place at a country club luncheon, rather than goggles, a helmet and a flight suit.
But Reinhold didn't just make flying history. She literally wrote the book on Arizona aviation.
---
By 1972, Reinhold had retired from commercial flying. In recent years, she'd started visiting remote Arizona airports to catch up with friends and swap stories about the old days — stories on the verge of being lost forever: long-ago crashes, air races and the eccentric characters on this frontier of American aviation.
Reinhold compiled notes, and when Senator Barry Goldwater, to whom Reinhold had given flight instruction before World War II, heard about her efforts, he exclaimed, "Write a book — and don't leave anything out!"
Reinhold's book, Sky Pioneering: Arizona in Aviation History, traces the evolution of Arizona flying from the Territorial era, when performers parachuted from dirigibles and balloons during exhibitions, and into the jet age. As Reinhold describes milestone events in Arizona's aviation history, giants of world aviation make cameos.
She recounts, for example, the 1929 arrival into Yuma of competitors during the first all-women transcontinental race (dubbed a "Powder Puff Derby" by humorist Will Rogers). Among the fliers was Earhart, who struggled to land in the challenging desert conditions, damaging the propeller after rolling her Lockheed Vega off the short runway and into the sand. A replacement prop was flown in, and Earhart went on to finish third when the race concluded in Cleveland.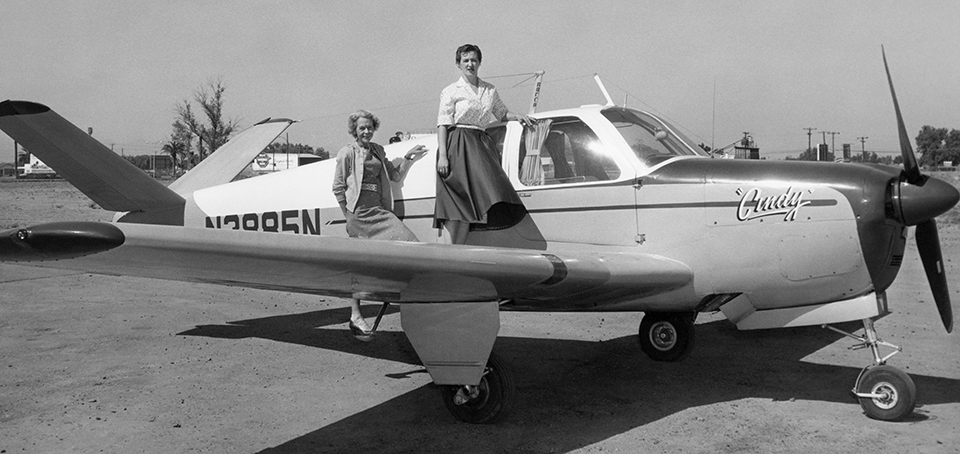 After completing his famed solo crossing of the Atlantic in 1927, Charles Lindbergh flew the Spirit of St. Louis into Tucson for the Davis-Monthan Field dedication ceremonies and to turn on its rotating beacon, dubbed the "Lindy Light." He was greeted by 20,000 spectators and, in Reinhold's description, "a full-size replica of the Spirit of St. Louis made of ocotillos, saguaro and other varieties of cacti, perched in a rakish climb. … Its cylinders were made of barrel cactus and the propeller of prickly pears."
Reinhold also tells how Arizona played an unlikely role in the drama of Lindbergh's pioneering flight. As part of a propaganda campaign, Italian dictator Benito Mussolini dispatched aviator Francesco de Pinedo on a global tour in the Santa Maria, a twin-engine converted seaplane bomber. Many speculated that de Pinedo would attempt the first Atlantic crossing on his return to Europe. 
During the tour, de Pinedo stopped to refuel at Theodore Roosevelt Lake — and, in Reinhold's account, the aviator became worried that the plane had taken on too much gasoline. As the gas was offloaded, de Pinedo dumped a bucketful into the lake. Soon after, a dockhand lit a cigarette and tossed the match into the water. The Santa Maria burst into flames. Mussolini dispatched a replacement plane, but during the ensuing delay, Lindbergh completed his flight to Paris — and de Pinedo lost the opportunity to become the first nonstop solo pilot across the Atlantic.
By the time the book was published in 1982, Reinhold had played a unique role in Arizona aviation for nearly 50 years. She was an unlikely Arizona pioneer: Boston born to a mother originally from England and an electrical engineer father who grew up in Maine. 
A fine painter, Reinhold studied fine arts at Boston University before coming west and attending UCLA after her family moved to California. At 26, she married attorney Louis Chalmers, a native of Phoenix, and the couple eventually relocated to Arizona. In 1933, Reinhold decided she had to fly. Typical of her understated manner, she didn't cite any (literally) lofty aspirations or the romance of flying as motivations. Her only explanation: "Because it was something I thought I ought to do, a way to get around."
When Reinhold first saw the primitive airfield that would grow into today's Phoenix Sky Harbor International Airport, she was far from impressed. Dead cottonwoods lined an unpaved, potholed road leading to the terminal, and the airfield was commonly referred to as "The Farm" or the "Cow Pasture." "The airline terminal was deserted, six small airplanes sat in lonely splendor in the middle of the one hangar, and the only activity was the dodging and darting of several dust devils playing tag on the bare dirt field," she recalled.
Not long after her first solo, probably in a Spartan C3 biplane, Reinhold took a job answering phones, writing correspondence and handling bookkeeping for Copperclad Airways. The pay was just $7.50 a week — only $160 in today's dollars. But Reinhold got the chance to perform basic mechanical work, and the position included a unique benefit: two hours of weekly flying time. 
Reinhold wasn't Arizona's first female pilot. That distinction belongs to Mesa's Marie Graham, who earned her license in 1929, at a time when there were only 70 licensed woman pilots in the entire United States. By 1930, that number had grown to around 200, which still was less than 1 percent of the country's pilots.
The air belonged to men, many of whom hesitated to fly with Reinhold. After her marriage with Chalmers ended, flying also sometimes intruded on her personal life. As Reinhold explained, "I had to break four dates with the same man when I started, because I was out on flights and couldn't get back in time."
The war years proved to be especially busy for Reinhold. By 1942, she'd earned her multi-engine license. During the war, she taught instrument flying to pilots ferrying B-24 bombers overseas, and she also flew courier missions as a captain in the Civil Air Patrol.
In 1944, at age 41, she married Robert Reinhold in a ceremony in Prescott. The couple lived in a 1920 Spanish bungalow on Catalina Drive, a few blocks from the Phoenix Country Club and about 10 minutes from Sky Harbor, the focus of Reinhold's professional life. For all of her accomplishments, she never escaped the novelty of being a female pilot. "Wife Prefers Air to Job in Kitchen" was the headline of one 1955 Arizona Republic profile, and Reinhold apparently detested another account that described her as "whipping off an apron just in time to climb into the cockpit."
---
Now, for a question that might seem totally out of the wild blue yonder: What do Woody Allen, Jane Fonda and Ruth Reinhold have in common? 
Before the answer, here's some background: In its time, What's My Line? was one of the "smart" game shows. It featured an erudite four-person panel asking a series of yes-or-no questions to identify a contestant's surprising occupation or hobby. The male panelists often wore black tie, the women formal gowns. This was no Supermarket Sweep.
If nothing lasts forever, everything lasts forever on the internet. And there, on YouTube, is Reinhold's January 8, 1967, appearance on the show. Allen served as a panelist, and Fonda showed up in the "mystery guest" segment, using a Russian accent to fool the blindfolded panel.
Reinhold opened the show, neatly signing onto the show's chalkboard as a bracelet jangled from her wrist. She wore a white dress with a collar and large front buttons, and her hair was coiffed into a hairdo not unlike that of fellow Arizonan Sandra Day O'Connor. Then, her occupation was revealed to the studio audience and the folks at home: "Personal airplane pilot for Barry Goldwater."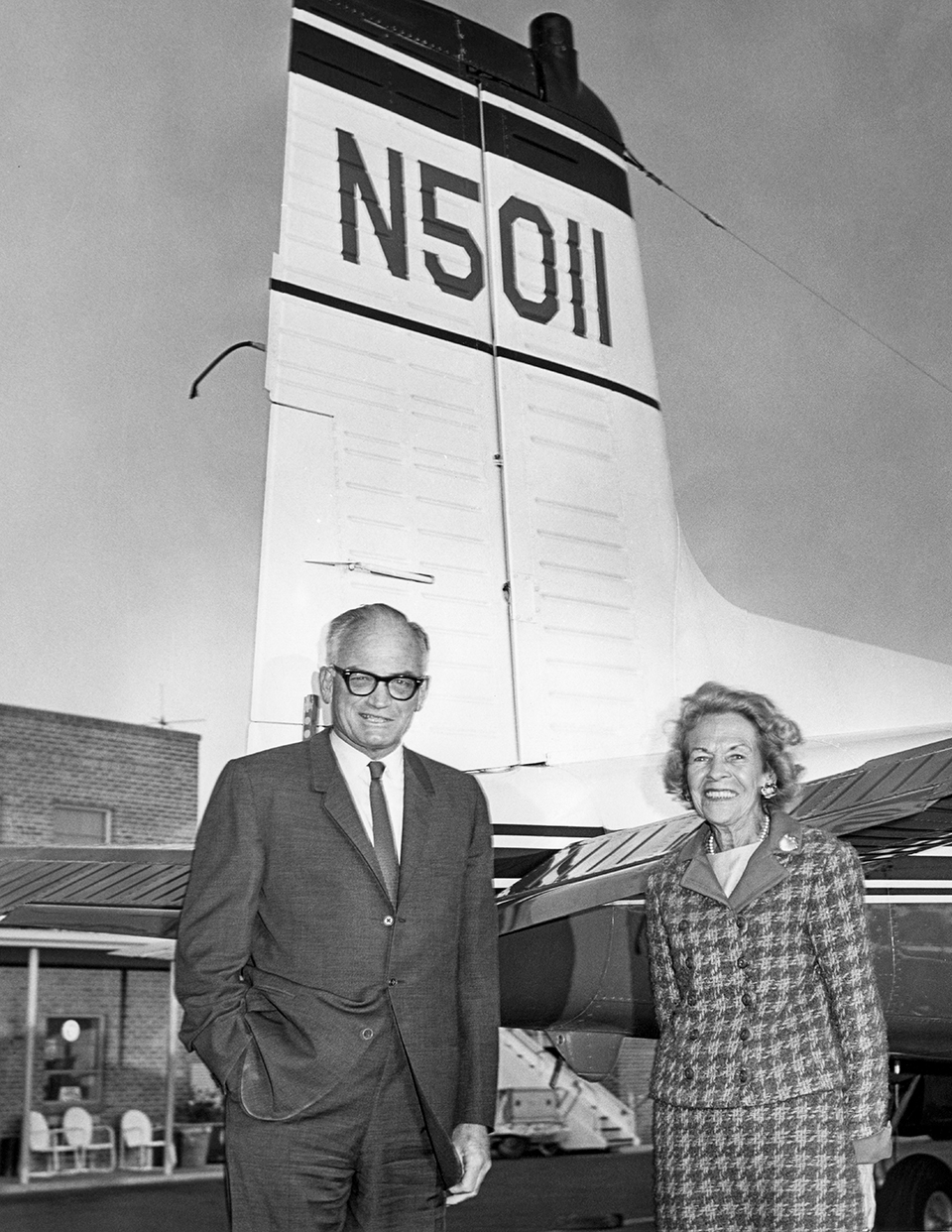 The two had known each other since 1926, after meeting at the Arizona Club in downtown Phoenix, and Reinhold later worked as Goldwater's instructor while he earned his commercial flying license around 1940. Theirs was a friendship based on genuine affection and a deep respect for each other's skills, and it developed over years flying together into just about every Arizona airstrip. 
Reinhold played a role in the formation of the organization Pilots for Goldwater, and she said of the senator's piloting: "He was a rare natural. If anyone was born to fly, it was Barry Goldwater." During elections, Goldwater was preoccupied with his campaigns, often working 18-hour days, and Reinhold flew him to events around the state. "You can't fly yourself and be ready for all those speeches," Goldwater said.
With Reinhold at the controls of a converted Beechcraft Twin Bonanza that maxed out at 250 mph, the senator could focus on his preparation. The partnership included some legs during Goldwater's 1964 presidential run, and over some campaigns, their flight time together reached 200 hours.
Reinhold's association with Goldwater was among the rare occasions when she garnered attention beyond the aviation community. She certainly didn't seek publicity. "I haven't done very much, really," she once said. "I'm not anyone special."
There's ample evidence to the contrary, be it her enshrinement into the Arizona Aviation Hall of Fame and the Arizona Women's Hall of Fame, or her position as the first female member of the Arizona Department of Aeronautics Board. And if Reinhold will forever be identified as a pioneering woman aviator, Goldwater knew what set her apart was not her gender, but her talent. 
In a 1967 letter to Reinhold, he wrote, "As far as I'm concerned, you can fly me any place I want to go at any time. I have flown with many pilots in my life, and I put you right at the top."