I don't have much experience with dead wildlife. But I once had a friend who did quill work and was ecstatic when any of us found road-killed porcupines to take to him. I've also watched tribal members shooting
Yellowstone bison exiting the park. It was part of the park's culling method, rather than a traditional hunt, but it nevertheless filled some of the ceremonial needs of local tribes. 
The ceremonial use of nature's offerings — animal and plant — is shared throughout Indian Country. The specific items used by various tribes can differ, but all are based on what can (or once could) be hunted or gathered. Although most tribes retain the right to obtain ceremonial necessities on tribal lands, it is not always possible to find what is needed. Once-common wildlife becomes rare or disappears entirely from its former range. The range itself, carved up by the boundaries of tribal lands, may be too small to support those needs. Yet traditional ceremonies remain traditional. The need for skins or claws or feathers or shells is no different now than it has ever been.
What is different is the presence of the Arizona Game and Fish Department. While tribes have, historically, traded for needed items, a system recently formalized between Game and Fish and the Native American Fish and Wildlife Society gives new meaning to the idea of hunting and gathering. Department personnel performing field activities across the state may encounter wildlife remains that are valuable to the tribes for ceremonial purposes. While informal requests for those remains have come to Game and Fish employees for some time, until the recent development of the department's Non-Bird Wildlife Repository, there was no way to address broader tribal needs for wildlife items. 
---
While tribes have, historically, traded for needed items, a system recently formalized between Game and Fish and the Native American Fish and Wildlife Society gives new meaning to the idea of hunting and gathering. 
---
Jon Cooley, the department's endangered species coordinator and tribal liaison, had been working with Arizona's tribes for years and understood their ceremonial needs. From that work came discussions about launching a more formal system of collecting and distributing wildlife remains for tribes' cultural and ceremonial uses. The partnership has resulted in a system of storage freezers at Game and Fish offices across the state, allowing department employees to opportunistically collect and store wildlife remains. Cooley, who joined the department in 2004, collaborates with department personnel and tribal contacts to manage repository inventory and coordinate delivery of requested items to the tribes.
After graduating from the University of Arizona with a degree in wildlife ecology, Cooley joined the White Mountain Apache Tribe's Wildlife and Outdoor Recreation Division, ultimately serving a seven-year stint as division director. He also holds a master's degree in business — which, I suspect, is what has engendered his system of spreadsheets that provide a way to keep track of everything. Seeing the wildlife repository as both natural and necessary, he added it to his list of jobs.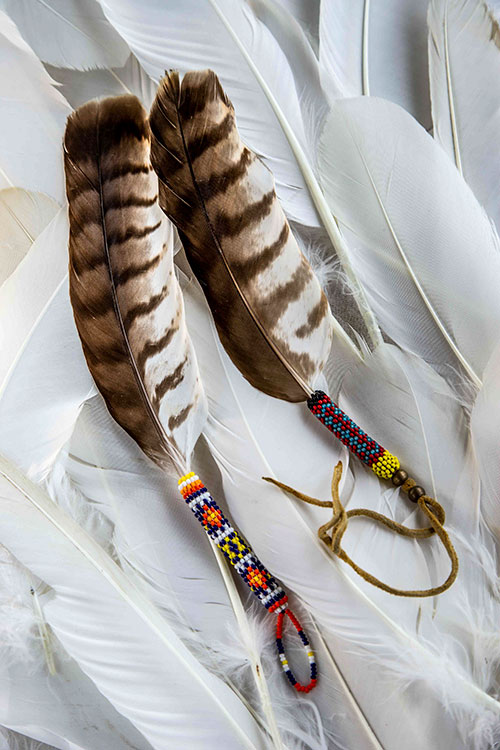 Modest as I sense him to be, Cooley says the concept of the repository was a grassroots idea, but when pressed a little, he says, "I had valuable support and encouragement from higher-ups." (In other words, it was a really good idea.)
Cooley could not be more perfect for this job. He grew up with the White Mountain Apache Tribe, where his father was an enrolled member. Tribal ceremonies are part of his heritage, ceremonial articles intrinsic to his understanding of life, wild lands his love. While the repository is only one part of his job, his background and experience make him ideally suited to it. 
Other than trying to cross a road, there are many ways wildlife dies: poaching, accidents, fights over territory or mates, lightning strikes. Some may be legally hunted but not instantly killed, then not followed when the shooter finds the terrain too difficult. (I'll keep thoughts about that to myself.) Twice, I've found shot but abandoned white-tailed deer on my land — one in the stream, one not far off the road. Game officials picked up the one in the creek, but coyotes, vultures and magpies dealt with the other. And that's a good thing. Left alone, carcasses will eventually provide meals for other mammals, birds and insects, but if Game and Fish personnel come upon them first, they may instead serve the needs of many tribes.
With field personnel from six regional field offices, plus a Phoenix headquarters, and plans to network with the Arizona-Sonora Desert Museum, some tribal agencies and possibly the Phoenix Zoo, Game and Fish has many eyes on the ground. This means the department doesn't need any of us bringing in the shed antlers, tortoiseshells or bison carcasses we happen across. "We try to avoid having the repository be a dump," Cooley tells me. He also dislikes hearing the program referred to as a "roadkill repository." Not that the department wouldn't take roadkill if it were in reasonable shape, but the nickname makes a joke out of a serious endeavor. 
One animal not collected is a drugged bear. Actually, no animal that dies after exposure to immobilization drugs is collected. Because drugs may linger in the animal's remains, the department wants to avoid any risk of exposure. And some tribes, sensitive to how an animal has died, may not accept chemically immobilized remains. 
Most requests on the current list are for complete carcasses. Under "Quantity," the requests ask for "any available." Bison and tortoiseshells, which the Pueblo tribes use for rattles, are usually among the most wanted items. 
Historically, bison roamed a small corner of what now is Arizona. Absent for years, they were informally reintroduced when erstwhile bison hunter Charles "Buffalo" Jones trailed a herd of bison to the Kaibab Plateau in the early 1900s. They settled on the North Rim of present-day Grand Canyon National Park. In 1927, the state of Arizona purchased the bison remaining from Jones' original animals. Their descendants form the core of today's House Rock herd. A newer herd, at Raymond Wildlife Area about 20 miles east of Flagstaff, came from Wind Cave National Park in South Dakota through a partnership between Game and Fish and the federal Department of the Interior.
Mountain lions, mule deer, pronghorns, bears and badgers are also on tribal wish lists, although Game and Fish has never filled a request for the rarely encountered badger. I suspect badgers are too smart, fast and reclusive to go out and die in the field. As many of us learned from The Wind in the Willows, badgers are very private animals, not prone to be done in by other animals, poachers, neglectful trappers or any of the other deadly fates nature affords.
---
Feathers are in their own category. The Non-Bird Wildlife Repository handles feathers from turkey and waterfowl — game birds. Liberty Wildlife, a wildlife rescue agency and conservation organization in Phoenix, provides tribes with feathers from federally regulated migratory birds — essentially, everything but eagles. Eagle feathers are available only from the National Eagle Repository, maintained by the U.S. Fish and Wildlife Service in Denver.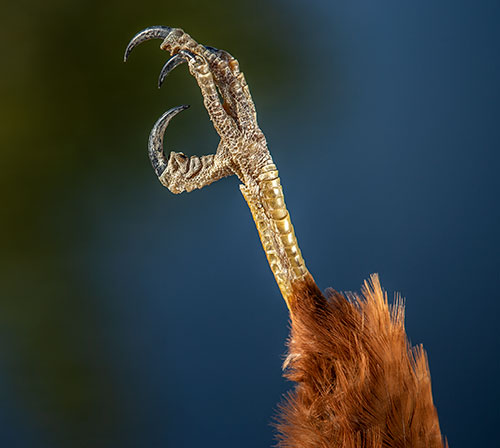 The repository relies heavily on verbal communication, but Cooley's system of spreadsheets keeps track of Game and Fish inventory — what and where it is, tribal requests, final dispositions. As requests are received, Cooley distributes them to various Game and Fish work units, which he calls "the front lines in collecting requested items." Notices of what is available are sent to the tribes; Arizona tribes are given preference in cases of competing requests, but the repository accepts requests from any Southwestern tribe. Complete records of each carcass are kept — date of the carcass removal, name of the animal ("mule deer buck," not "Marvin Mule Deer"). The list includes the name of the person removing the animal, the reason for the removal and the transfer destination. All wildlife remains in the Game and Fish repository may be used for tribal ceremonial events, dress or décor, or for educational purposes. 
Repository collecting by Game and Fish personnel is entirely voluntary. When field employees come across identified wildlife, they can collect the entire animal if it isn't too damaged. But nobody is asking for dead wildlife for meat. I have to wonder how that affects traditionalists, for whom nothing of an animal was wasted. Then again, opening a freezer to find a mountain lion or a bison is not exactly traditional.
But tribal ceremonies are traditional, and ideally, they should not be performed with items that are substitutes. I once helped a Crow friend prepare elk teeth to be sewn onto the traditional dress she had made for her daughter. The teeth were made of plastic. I soaked them in tea, which stains them, making them look real. I doubt plastic interferes with intention, but I have to wonder if the time spent gathering enough real elk teeth isn't, itself, a kind of prayer.
If the gathering is facilitated by the Non-Bird Wildlife Repository, is that any different from the tribes historically trading among themselves? I doubt it. Maybe the real focus here is the idea that, through ceremony, wildlife and the tribes retain the traditions that have always connected them.