Architecture isn't something we practical humans have devised just to enclose space. Architecture carries meaning, and with it the possibility of expressing our culture. And our aspirations.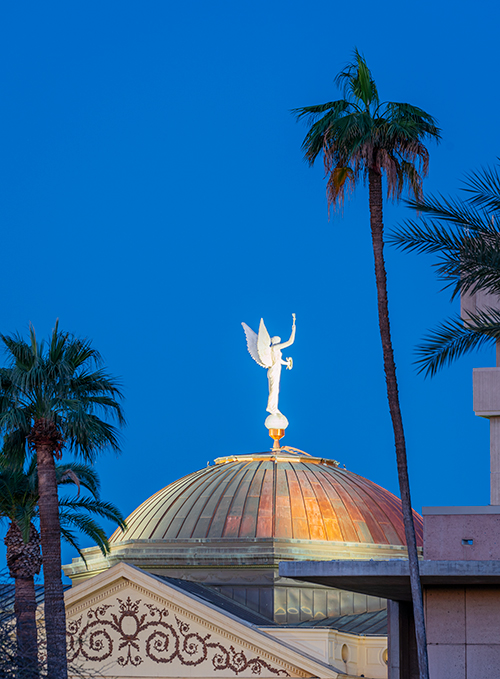 Arizona's original Capitol building, completed in 1900, evoked the spirit of ancient Greek democracy — and its Romanesque dome, a signature of state capitol buildings, announced to the rest of America that the Territory was primed for statehood. Which it won in 1912.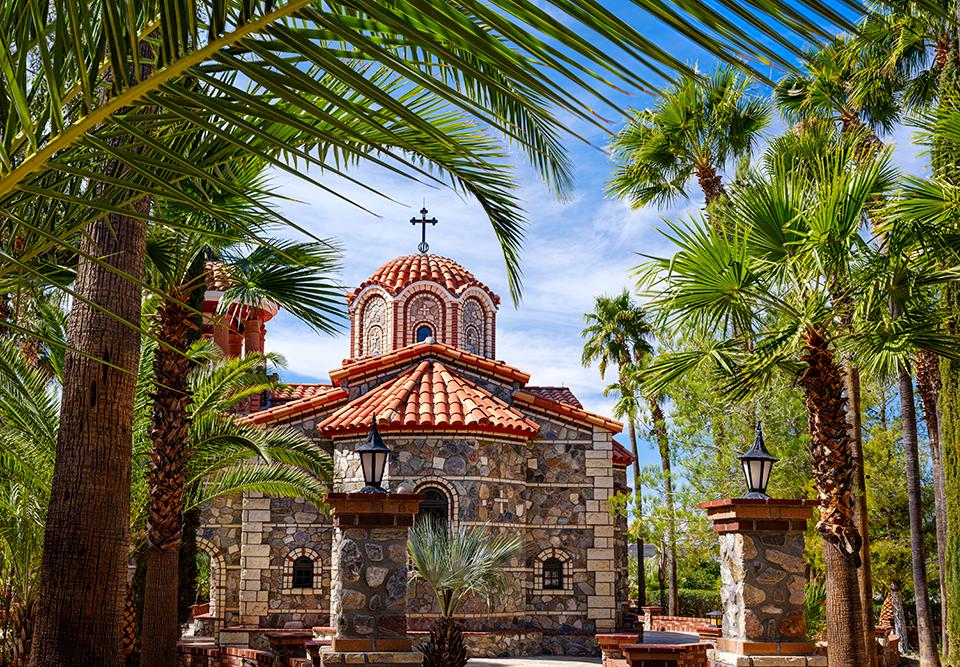 The dome is an entrancing symbol, which the Roman emperor Hadrian must have intuited as he commissioned the Pantheon 1,900 years ago. Nominally dedicated to the Roman gods, this was a titanic engineering spectacle, capped with a concrete dome 142 feet across, more likely to impress the masses with the majesty of the imperial state, and the emperor himself, than with invisible gods.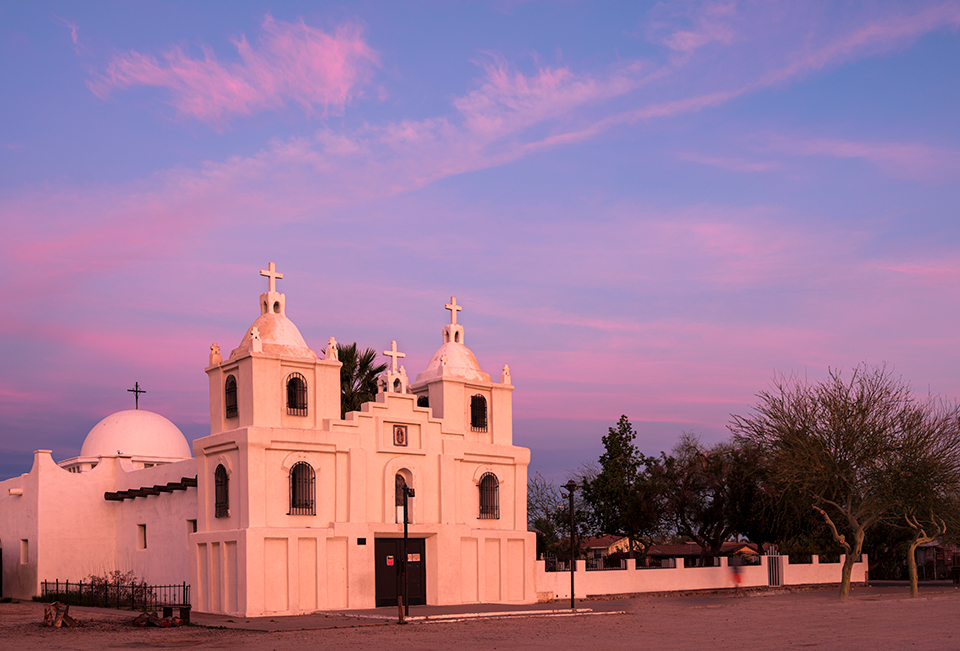 Since the Pantheon, domes have crowned churches, synagogues, mosques, seats of government and even the occasional domicile — Thomas Jefferson channeled the Renaissance architect Palladio's domed Italian villas for his Virginia home. (Persons of less distinction than Jefferson, which means all of us, are advised that dwelling in a Monticello would read as pretentiousness.) Beginning in the mid-19th century, domes became the standard architectural form for astronomical observatories, because they can rotate to track the stars.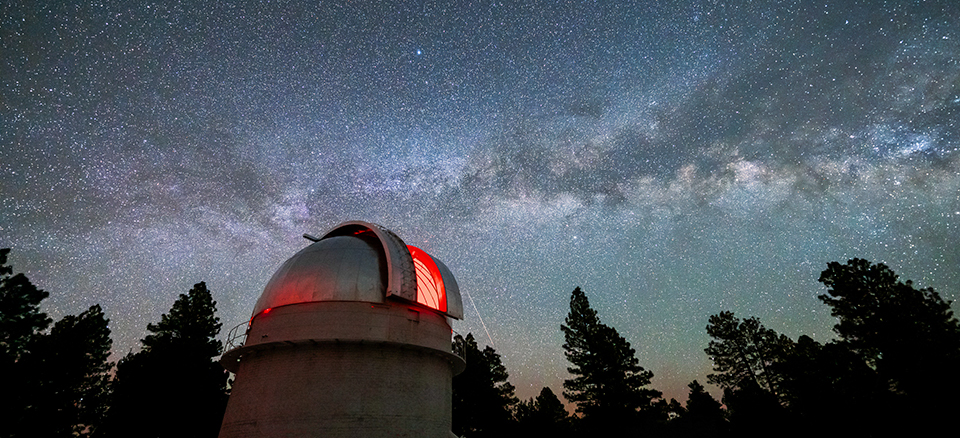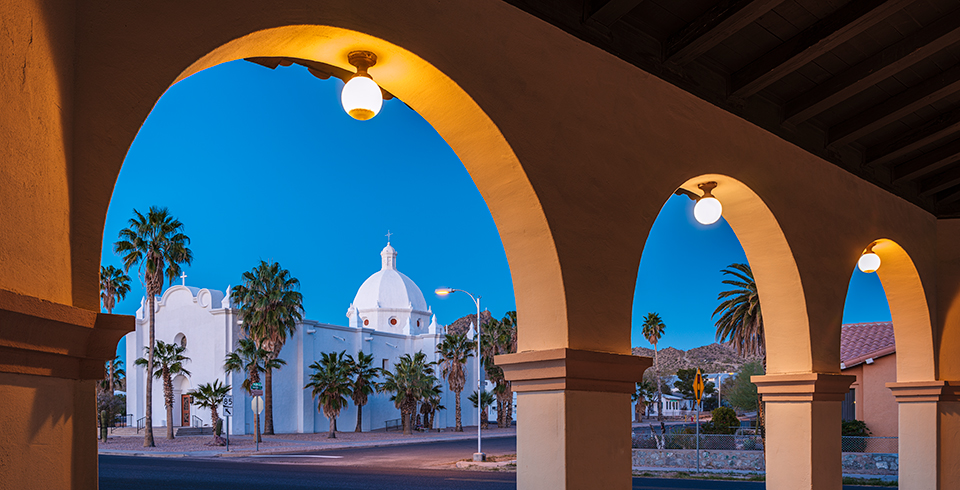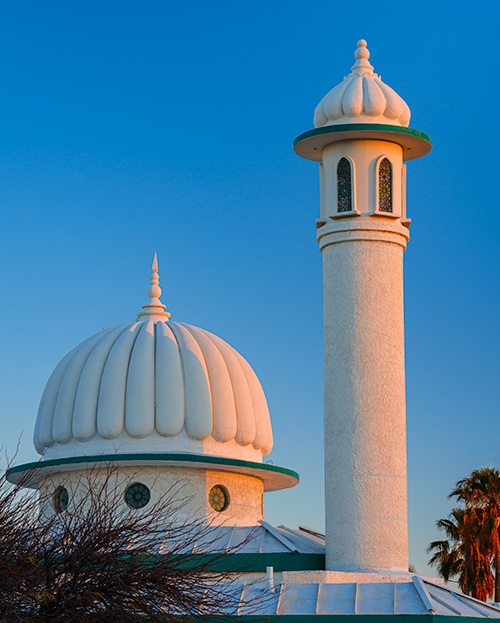 Domes are more difficult to build than gabled roofs, but they carry advantages in efficiency: They enclose a space with the least possible surface area, easily shed water and snow, and theoretically provide equal strength at every point.
But it's the dome's symbolic power, and its mysterious emotional effect on us, that accounts for its persistence across so many human cultures. From the outside, a dome broadcasts an unmistakable message: "Important building." Forty U.S. state capitols have domes, although ours became a museum after the Legislature migrated into a more modern, and blander, building in 1960. 
The domed religious structures in these photos exude an air of serene dignity even if the buildings are small and simple. And the presence of all of these domes propped against the ever-changing color and character of the Arizona sky reads like our hopeful metaphor for the survival of civilization. These domes, we're saying, are an expression of our permanence in an ever-changing environment.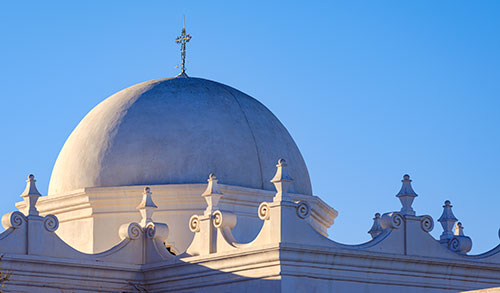 Domes adapt well to whimsical design, surprisingly. They can be dressed in dazzlingly multicolored tiles, as in the Pima County Courthouse, or cartoonishly decorated with what look like stegosaurus spines, as is the Spanish mission of Tumacácori, without losing their inherent nobility. Their bold and bulboid forms somehow seem at home in an Arizona skyline, studded as it is with acutely angular geology and sharp-pointed plants. Architecture can slip into Arizona quietly and respectfully, or it can bloom with its own audacious ideas, not so much competing with the landscape as playing counterpoint to it. In Arizona, the second-worst thing an architect can do is to try to upstage the land. The worst is to be banal and conventional.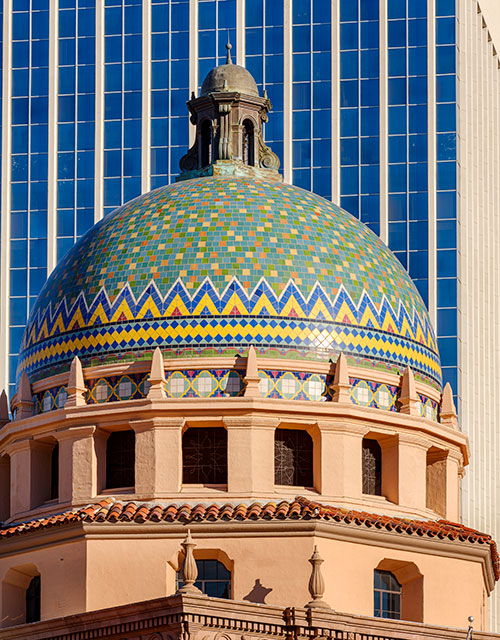 It might be argued that the dome is the purest architectural expression of form and space that humanity has devised. And this pure geometry, when it materializes into something that can be touched and felt, is itself holy, a connection to a universal truth. Classical domes, such as those of the Pantheon and Mission San Xavier del Bac, are perfect half-planets. Onion domes, such as those crowning Saints Peter & Paul Orthodox Church in Phoenix, are relatives of the geometry of a nautilus shell or spiral galaxy. When we contemplate these forms, we don't merely see architecture taking cues from nature; we see human intelligence connecting with underlying orders of the universe.
We read the sky over our heads as a vast dome, and even though it's composed of nothing but refracted light, it looks like something substantial, and it literally defines our sphere of existence. When we're inside a building with a domed rotunda, it's a replica of a sky, brought down to a scale we can almost relate to. But we still aren't intended to feel comfortable there. A domed rotunda is a grand and humbling space. One cannot help but feel small and insignificant under a dome; thus, it reinforces the authority of the state or the majesty of something almighty.