I'VE LOST ROB KRAR.
Well, kind of. It's midafternoon on a Thursday, and we're running a segment of the Arizona Trail near the San Francisco Peaks. Krar detours into the woods. So, I am — if only briefly — outpacing one of the world's elite endurance athletes.
Within seconds, though, I hear him, footfalls so delicate I think he must really be gliding. And as he moves in front of me again, I realize he is.
Because that's what he does.
Although Flagstaff is Krar's home and training ground, it's the 41.2 miles he ran 74 miles away, at the Grand Canyon, for which he's best known.
And maybe his own words best explain his pull to the place. He wrote them shortly after he completed what stood for more than three years as the fastest known time — 6 hours, 21 minutes, 47 seconds — from rim to rim to rim at the Canyon.
It took some time for the many emotions to settle and organize in my mind. Collecting myself, I walked to the rim, just like I had begun, taking a few moments to stand and look over the Canyon and reflect on the enormity of the effort, the power of the Canyon washing over me once again. I thought about the journey my running and life have taken the past few years, from meeting my partner in the mountains of Colorado, to injury, then surgery, and a recovery so long I doubted I'd ever run gentleman's pace with friends again, let alone race and compete. I thanked the Canyon for gifting me with near-flawless conditions, sure
the stars would not align so perfectly for me again.
Since then, Krar has visited the Grand Canyon often, both to advocate for its protection — he's a major proponent of the Greater Grand Canyon Heritage National Monument, which would ban uranium mining on the public lands that surround the national park — and to train.
"It's just one of those iconic places where you go and feel small and set your troubles to rest," says Krar's wife, Christina Bauer. "I think Rob really needs that in his life. Sometimes he just lives too intensely, and the Canyon is always this available place — familiar and unfamiliar — to go and just clean out and connect with the land. I think that's a huge part of what makes him a runner. Of course, there's terrain and elevation and all of the things that are positive about shaping a runner, but I think it's more about mental freedom, of being in this beautiful place and being able to do something that you're meant to do."
---
IF T.S. ELIOT'S J. ALFRED PRUFROCK measured his life in coffee spoons, Krar measures his — in part — in miles run and races won.
As a kid in Hamilton, Ontario, he ran cross-country and track and played a slew of other sports, such as water polo and badminton. He moved south to Indianapolis for college at Butler University and ran middle distances on the track team. Then he became a pharmacist. And he moved to Phoenix. And that running life was over.
"I worked long hours and took kind of a long break from running, too," Krar says. "And then it got to the point where I just wasn't happy in Phoenix anymore."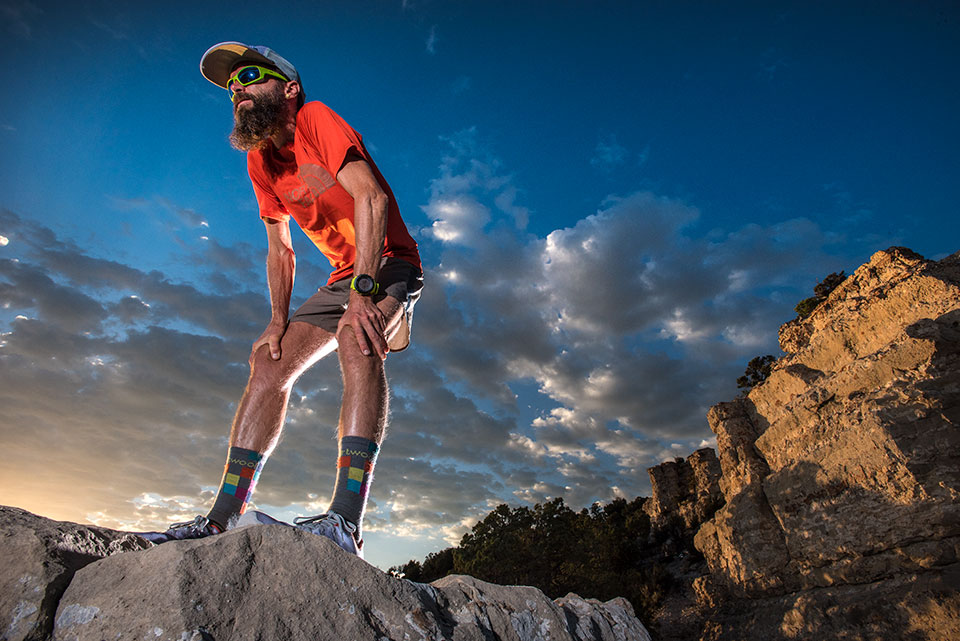 He needed a change of scenery and longed to experience the seasons again. He transferred to Flagstaff. From there, a new running life — he took to the roads around his new home and found running at an elevation of 7,000 feet far easier than you or I or other mortals would. After a few half-marathons, he ran the Boston Marathon in 2007.
In 2009, Krar's friend Mike Smith encouraged him to enter the TransRockies Run, a six-day, 120-mile, 20,000-feet-of-elevation-gain team race in Colorado. He took to Flagstaff's trails to train — running long and hard at even higher elevations. The race itself hurt him. But it also healed him. Bone spurs on Krar's heels required surgery. Rehab. The long, slow process of mending, of trying to avoid what he calls his "dark space," a depression that sometimes frightens him. But he had help.
Krar met Bauer at TransRockies. She, too, was a last-minute entry in the race, filling a spot abandoned by a friend's injured partner.
"I'm kind of shy at big events, but my friend was from Flagstaff, too, so we had our little Flagstaff contingent," Bauer remembers. "I kind of blew Rob off a little bit, but after coming home from the race, I thought: Hmm. That guy was pretty cool. So we started emailing and talking. After a while, we'd do the full drive back and forth between Salt Lake City and Flagstaff, but we'd meet in Moab or on the North Rim, too."
They would camp and talk and connect in the open, sacred spaces of nature. They fell in love. They married. And together, they started ski mountaineering.
"In the winter of 2011 and 2012, I still never thought I'd run again," Krar says. "Christina always wanted to ski mountaineer, where you have skins on the bottom of your skis that let you hike up the mountain. Then you get to the top and rip the skins off and ski down. At [Arizona] Snowbowl, it's 2,200 feet of vertical hiking. So I got really fit without realizing it."
The training prompted him to run the Moab Red Hot 33K in 2012. He won. Other victories, including the overall victory in the La Sportiva Mountain Cup, followed.
Then came sponsorships (including The North Face), an end to his pharmacy career and entries into some of the country's most prestigious "ultras," races that cover 50 miles or more. At the 2013 Western States Endurance Run, his first 100-miler, he came in second after 15 hours of running. Later, in an article in Runner's World, he said: "I have no idea where those 15 hours went. I was just a totally different being."
A running life anew.
---
MEN HAVE SEEN THEIR GREATNESS flicker in the folds of the Grand Canyon. Some have found the eternal footman there. But on May 11, 2013, Rob Krar found himself — and a new record — amid its layers. Across the terrain and the gains and losses and pain that go with being body, heart and brain deep in it.
He started on the South Rim in the dark, shortly before sunrise. For a while, he ran with a friend. And then he was alone, coursing past Phantom Ranch, Bright Angel Creek, the turnoff to Ribbon Falls, Cottonwood Campground. For him, though, the major destinations for the majority of Canyon visitors were simply landmarks, check marks on his mental map of the route.
"I guess that when I'm doing some- thing like that, I'm not consciously absorbing the Canyon itself, not breathing in the scenery," he says. "It's more about just focusing on the technical aspect of the run, putting one foot in front of the other."
 
---
"The Grand Canyon holds a deeply rooted place in my heart — it's seen me at my best and also my darkest."
— ROB KRAR
---

He crested the North Kaibab Trail and hit the North Rim in just over three hours. Then, as he passed Supai Tunnel, the worst possible thing happened: He fell. "I had shoved all this GU [nutrition gel] into my waistband for fuel, and I hit a rock with my toe and just went down," Krar says. "I landed so hard, a few of the packets broke, and I was scraping the gel off my legs because I knew I would need the calories."
Had the GU not been there to break his fall, Krar likely would have injured himself — badly — and that would have ended the run. Footfalls, footfalls, descent, the squeezing of the universe into a ball.
And then, the return to Phantom Ranch. There, he stopped to refill his water bottle, knowing that he'd need the hydration for the nearly 5,000 feet he had to climb back out onto the South Rim. When he crossed the Colorado River, he'd been running for 4 hours, 49 minutes.
On the way up and out, he suffered. He rallied. He hit the rim with a new fastest known time.
---
THE STARS HAVE YET TO ALIGN so perfectly for Krar again, and he doesn't exactly want them to.
For now, anyway. Just a few weeks before this story goes to press, another Flagstaff runner, Jim Walmsley, breaks Krar's record. By 26 minutes.
A few days after that, I ask Krar, via email, whether he'll make another attempt. He's deep into the Rob Krar Ultra Running Camp, a six-day Flagstaff-based program that offers a small group of runners the opportunity to train on some of Krar's favorite trails.
"The Grand Canyon holds a deeply rooted place in my heart — it's seen me at my best and also my darkest," he writes. "My rim-to-rim-to-rim in 2013 was the perfect day when the Canyon was kind to me, while I was constantly cognizant of the respect it deserves. I doubt I'll tackle another [one] but understand the call of the Canyon can be overwhelming at times."
Thirty-eight months after Krar's big Canyon run, he stops me as we make the turn to begin the return trip on our run. We sit in a meadow in the shadow of the San Francisco Peaks. I am grateful for the chance to try to breathe again. Krar, though, is thinking.
After several heartbeats, the words come. He is no prophet, but, still, they matter.
"I've struggled for a long time with this new world we live in," he says. "Social media, even all the games are so realistic. People can live this alter-ego life with these avatars. I think the world is falling apart in some ways. Maybe it's wishful thinking, but I believe that if more people could just be sitting here like us right now, this world could be a bit better of a place. It's just getting out the door — just getting people out the door and introducing themselves to what is possible."