Checking in at Canyon de Chelly during a road trip through the Navajo Nation, I came to the line on the registration form asking for vehicle make and model. 
"Orange Chevy Blazer," I wrote, which, though accurate, only began to hint at the deeper truths of my friend Tom Gamache's truck.
"I think you'll know this truck when you see it," I said to the hotel clerk from Kayenta before offering her a few details about the Blazer, most notably its model year (1972) and mileage (more than 1.5 million).
"Oh, I love old trucks!" she said. "Can you take a picture of me next to it?"
Out in the parking lot, Tom and the Blazer were waiting: a boy and his truck. The grill and its reflective blue Chevrolet emblem, recently scrubbed of 900 miles of smashed bugs at a Chinle gas station, glistened, even on an overcast day, as the clerk posed along the driver's side. 
In cities, the Blazer is more a curiosity than an object of desire. But on this trip and many others in the 20-plus years that Tom and I have traveled together, we'd noticed that the Blazer is treated with reverence in Navajo country.
Here, a truck isn't a fashion statement, and a backup camera is of far less value than the ability to haul wood or plow through deep sand. And unlike our disposable culture, old things, especially functional ones that leave new things quite literally in the dust, command respect. Whatever the Navajo equivalent of "street cred" is, the Blazer's got it.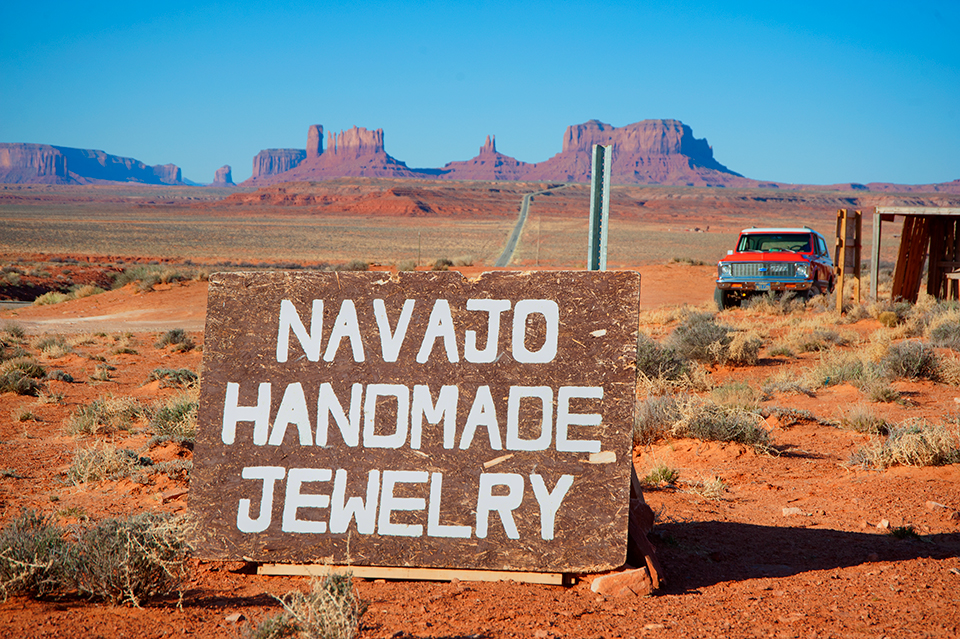 Harry Walters, a retired professor of Navajo studies at Diné College, drives a 1995 Chevy Silverado with nearly 432,000 miles on it. He likens trucks to horses.
"Trucks have been part of Navajo culture for 100 years, but people talk about them the way they used to talk about horses," Walters said. "I even gave my truck a name. It's Molly. And when it's snowing and muddy and I'm sliding going up a hill, I'll talk to her and say, 'C'mon, Molly. C'mon, girl. You can do it.'
"With new cars and trucks, there's no sense of control. But if something goes wrong with Molly, I know exactly what it is. All I need are some pliers and baling wire." 
---
Tom may refuse to fly, but the Blazer has traveled the equivalent of three round-trips to the moon. I've ridden shotgun for probably 50,000 miles of its run. During that time, the air conditioning has never worked. Nor has the AM radio. But while I've been hot, I've never been bored, what with endlessly changing landscapes and wildly elliptical conversations with Tom. 
He has lived a few lives in his 73 years. A New Hampshire native, Tom pioneered free-form FM radio back in Boston during the 1960s while hosting a show called Uncle T's Freedom Machine. After moving West, he worked at Warner-Elektra-Atlantic, designing album packages and producing records for mostly forgotten groups like power-pop duet Vance or Towers. Haven't heard of them? They're the band playing during prom in Carrie (Tom still gets royalties). 
 
Old things, especially functional ones that leave new things quite literally in the dust, command respect. Whatever the Navajo equivalent of "street cred" is, the Blazer's got it.

When the music business and David Geffen's yelling proved too much for the man, Tom turned to landscape photography. So our conversations can veer from early rock 'n' roll to Coconino sandstone in an instant. Tom is extremely well read, with great recall. And what he doesn't know, he makes up. But I only realized that after our first 20,000 miles together.
On the drive from California, we were trying to figure out which Indiana city was headquarters for Studebaker (whose horse-drawn wagons were popular with the Navajos before trucks became common). Still a few hundred miles from Monument Valley, Tom pulled off Interstate 40 in Yucca to photograph an abandoned motel and its neon sign. The soft light and a truck cab surreally perched 30 feet in the air atop a pole, like something out of René Magritte's little-known Peterbilt period, proved irresistible to him.
Across I-40 at the Honolulu Club, the parking lot was full and big rigs roared by as Tom worked the scene. After making a few photos, I noticed Tom was bent over, improbably scooping up cash from a tire half-buried in the sand. This conjured visions of us being pursued across the desert by some sinister cartel that had stashed the money.
Working title: No Country for Old Trucks.
I was relieved to discover that Tom's haul was all of seven bucks in singles, plus a pair of religious leaflets promising eternal salvation. While no longer fearing immediate earthly retribution, my respect for karma did kick in. So I told Tom to just leave the money behind. 
"No, I'm taking it."
"What for?"
"Don't know. Probably just spend it somewhere." He put the bills on the dash.
---
The next morning we dropped from the Flagstaff high country along U.S. Route 89 into the Painted Desert. The ponderosa-pine forest thinned, then quickly transitioned into stands of piñon and juniper, which in turn gave way to expanses of golden grasslands, ruddy mud hills and banded mesas out of Maynard Dixon. You can forget how big the world really is.
We passed abandoned souvenir stands with signs and mural art protesting the proposed Grand Canyon Escalade project near the confluence of the Colorado and Little Colorado rivers, and modest homesteads featuring a tableau common in Navajo country: a low-slung house or trailer with newer trucks parked out front, older trucks in back and a basketball backboard, typically with netless rim, off to the side, sometimes near a hogan.
In Tuba City, we meandered past long-abandoned stone houses and the old Indian school while searching for the weekly flea market.
At a stoplight, a guy wearing a Chicago Bulls cap gave the Blazer
a lingering once-over. His eyes moved slowly from bumper to bumper with a covetous gaze that most men reserve, though inappropriately, for women at the beach and, I suppose, women just about everywhere.
You don't keep a truck running for 42 years without replacing parts (the Blazer is on its third engine), and while the digital age makes it easier to buy spares for his analog truck, Tom wanted to see what he might find at the market. But other than some Tupperware, there wasn't a whole lot. So we drove off as one Tuba City resident, arms raised in salute, yelled, "Nice, nice, nice!" 
At Navajo National Monument, we pulled into the parking lot next to a 1979 Ford F-150 Ranger, which — by virtue of its age, a white-straw cowboy hat on the dash and water barrels anchored in its bed — belonged to a local. We checked out the Betatakin cliff-dwellings overlook, then returned to the visitors center, where Navajo artist John Bahe Smith was painting in the entryway, accompanied by a wiry, cowboy-hat-wearing dude named Chad.
"Yeah, we've been looking at your truck," Chad said. "Trying to figure out who it belonged to. And here you are."
The old Ford belonged to Smith, who kept painting while Chad and I reduced our degrees of separation. I'm from the South Side of Chicago, and it turned out Chad is from South Bend, Indiana. He clarified that South Bend was in fact the home of Studebaker, and before long, we also figured out the restaurant that once served seafood and frog legs outside Chicago (Phil Smidt's, for the record).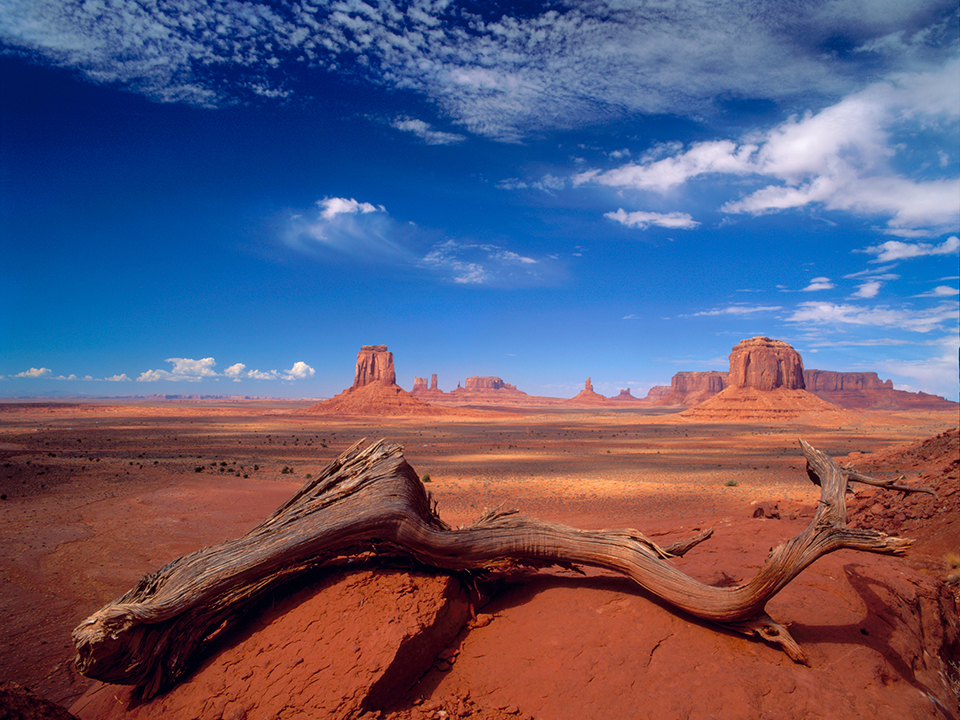 Tom asked him about a good junkyard, but Chad, who has married into a Navajo family, couldn't think of one. "Go down any dirt road, and you'll probably find whatever you need," he said. "People around here keep everything, hoard parts for themselves. Just be careful about knocking on doors."
As we got ready to leave, Tom turned to me and asked, "What do you think? Should I give him the money?" He pointed at Smith's tip jar.
"What money?"
"The money. The tire money!"
It did seem like an opportunity to right a cosmic wrong, and after a run to the Blazer, Tom handed Smith the cash, plus one of the religious leaflets. Smith looked quizzically at the writings, then smiled as he fanned out the seven desiccated singles before putting them into his tip jar. Karma restored, we continued to Monument Valley.
---
It was in Monument Valley, 16 years ago, that I began to appreciate the Blazer's allure and the importance of trucks in Navajo country. Back then, it was an old, not-yet-classic truck, albeit one with more than 900,000 miles. The Blazer boldly went where the valley's tourist vehicles — those improvised contraptions with old school-bus seats bolted down on a flatbed and a cargo of stunned visitors getting banged around and mercilessly baked by the sun — could find no purchase.
Out in Mystery Valley, we came upon one such vehicle listing at a 45-degree angle after getting mired in deep sand, an obstacle that Tom and the Blazer navigated with barely a pause. Our Navajo guide's conclusion? "I want this truck."
On that trip, we also inadvertently found ourselves caught in the largest manhunt in the history of the American West. A few days earlier, a police officer had been killed in Cortez, Colorado, by three presumed anti-government survivalists. Other law-enforcement members had been injured in separate incidents as the shooters fled into the Four Corners.
The region was under siege. Rumors ran wild, including that the trio planned to blow up Glen Canyon Dam. We were with Gene Foushee, a geologist and founder of Bluff, Utah's, Recapture Lodge, at Eye of the Sun, a 75-foot-tall sandstone alcove with a circular opening. A Navajo friend came over and said, "Gene, another cop just got shot. This time in Bluff. They evacuated the town."
With the Four Corners on lockdown, Foushee hung out with us until he could return home. Tom and I drove north the next morning and reached a roadblock at a bridge over the San Juan River. There were police from all over the region, and a grim-faced sheriff's deputy, wielding some serious weaponry (I know less about guns than trucks), stood watch as the Blazer was inspected.
"Sir, we're going to have to confiscate this vehicle," he said, staring straight at us, eyes obscured behind mirror sunglasses. Tom, rarely at a loss for words, sat silently. "I said we're going to have confiscate this vehicle!" Then the corners of the deputy's mouth turned up, almost imperceptibly. "You boys go on ahead. She's a beauty. What's the year?"
---
This trip proved to be considerably less eventful. In the museum at Goulding's Lodge, we tried to piece together the evolution of Monument Valley's tourist vehicles over the decades. There was a 1957 shot of a Dodge Power Wagon with a stubby school-bus body dropped onto its rear bed, and a picture of Harry Goulding posing next to a Plymouth "woody" from the early 1940s. What most intrigued us was a fleet of GMC Suburbans from probably the early 1960s that featured the Blazer's identical color scheme: orange (although Tom always refers to it as red-orange) body and white roof.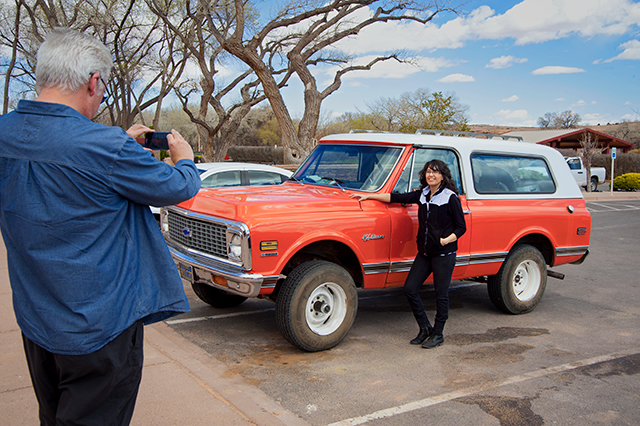 After exploring a few back roads, we drove into Monument Valley, where the Blazer became an improbable attraction. Truckloads of tourists turned their cameras away from some of the world's most iconic rock formations to make pictures of us. And when we pulled into Artist's Point, a French tourist approached. "I like the engine. The sound. Vroom, vroom, vroom," a pallid, Gallic approximation of the 350-horsepower V-8's imported-from-Detroit growl, a primal hum somewhere between a rumbling freight train and a purring lion.
Heading back, we spotted an old truck, a two-toned 1979 Ford Ranger XLT, at the Mittens overlook. A woman making jewelry in the passenger seat stepped out to greet us. Her name was Eschan, and she grew up in Monument Valley. She showed us a recent pictorial book of the valley that used photos made of her in the 1960s as a little girl wearing traditional garb. Of more interest to Tom were postcards of Eschan by Josef Muench, the famed photographer whose photos Harry Goulding used to lure film director John Ford to shoot his classic Westerns in Monument Valley.
Eschan still lives in the valley, at a spot about 15 minutes away by rugged road near the Mittens. When I asked whether she ever gets stuck, she smiled and said, "Well, when you know how to drive in sand, you don't get stuck."
 
Truckloads of tourists turned their cameras away from some of the world's most iconic rock formations to make pictures of us.

She bought the truck from a family member about seven years ago, after her late-model Mercury Mountaineer kept breaking down. The Ranger's radio doesn't work, but the heater does. The driver's-side mirror has been missing since one of Eschan's granddaughters sheared it off.
Two of her grandchildren were sitting in a late-model black Chevy Silverado parked next to the Ranger. They don't really appreciate her truck, although Eschan said older people always do. Much as I tried to get to some deeper understanding of the appeal of old trucks, Eschan didn't offer any sentimental explanations or on-the-fly sociology. She likes the Ranger because she can haul water in it and do her own repairs.
Late that afternoon, I hiked while Tom edited pictures. When I came back to our room, he was on the balcony as night came to Monument Valley. "I've been watching her," he said. "Watching her pack up the jewelry and take down the tables and load everything into the truck. Then she drove down the road before turning off. You can still see her."
The stars were coming out, and in the distance I saw a faint light moving across the immensity of Monument Valley before the truck disappeared behind a low rise. 
"It's a good work truck," Eschan had concluded, which, in the end, is what the Blazer has always been for Tom. And out here, that's all you really need.