For the past four years, I've been following the footsteps of a ghost around the canyons of Northern Arizona and Southern Utah. Let me explain.
In 1919, Charles L. Bernheimer, a cotton-goods manufacturer in Manhattan, began taking annual monthlong pack train expeditions to the desert Southwest. His dreams of Wild West adventures had begun in his native Germany, where he'd grown up reading James Fenimore Cooper's Leatherstocking Tales and Zane Grey's novels. After high school, he'd moved to New York to work for his uncle's textile manufacturing company, eventually becoming its president. And his success and relative proximity to the Southwest allowed him to bring his youthful fantasies to life. 
Bernheimer funded his expeditions on behalf of the American Museum of Natural History, contributing to the museum's archaeological research and archives. His stated ambition: "to turn my vacations into something more substantial, to do in a small way what our big explorers and discoverers were permitted to do on a heroic scale." He hired a supergroup of guides: John Wetherill and Ezekiel "Zeke" Johnson, archaeologist Earl Morris, and a rotating cast of Navajo and Anglo cowboys. The band of explorers stayed together for more than a decade, from 1919 to 1930.
Bernheimer made transformational pilgrimages to the fabled Rainbow Bridge, Navajo Mountain and the surrounding canyons. In 1922, he popularized a trail from the south side of Navajo Mountain that would spur the development of Rainbow Lodge two years later. In 1923, his explorations expanded to Canyon del Muerto, now part of Canyon de Chelly National Monument, in Northern Arizona. 
After his trips, Bernheimer inspired other tourists to head southwest by penning articles about his adventures for National Geographic. In 1924, he published Rainbow Bridge: Circling Navajo Mountain and Explorations in the "Badlands" of Southern Utah and Northern Arizona. 
Bernheimer's book kept me company while I lived alone in my Jeep during the winter of 2019, one of the snowiest on the Colorado Plateau. His adventures resonated, and not because I, a nomadic freelance writer, had anything in common with a wealthy businessman from New York. Exactly 100 years earlier, Bernheimer's first expedition had passed right by my campsite in Utah's Bears Ears National Monument. His whimsical tone directed me not only to turn the page but also to follow in his path.
Another of Bernheimer's stated goals, at least early on, was "to instill a love for nature even in its bleakest and sternest mood where the conventional exhibits of beauty are not found, but where beauty, if the traveler wishes to see, exists in fullest measure, and to urge upon others to do as I have done." By 1924, though, his objectives had changed, and he cautioned his readers, "I do not recommend that others follow in our footsteps, excepting for scientific purposes."
I haven't listened. Instead, I've spent the past four years attempting to retrace many of his routes.
---
Bernheimer has led me around Navajo Mountain, to Rainbow Bridge, on climbs up seldom-scaled mesas, through Canyon del Muerto, and on a 300-plus-mile backpacking trip through Bears Ears and into the Glen Canyon backcountry. Despite my quixotic obsession with following his long-erased footprints, swaths of his travels remain unvisited by my own feet. In 10 years, Bernheimer covered a lot of ground. 
At first, I was grateful to have even one friend join me on these unusual hikes. My family and friends accepted the way I talked about Bernheimer as if he were a dear old friend. What those off-piste, map-free outings lacked in certainty, they guaranteed in exquisite solitude, sensual Navajo Sandstone walls and glimpses into the past. 
In time, these quirky outings guided me toward an expedition team of my own. It turns out there are other folks as obsessed about Bernheimer as I am. Harvey Leake (Wetherill's great-grandson), historians Fred Blackburn and Jim Knipmeyer, and archaeologist Bill Lipe all passed along their research and hard-earned clues to help me along.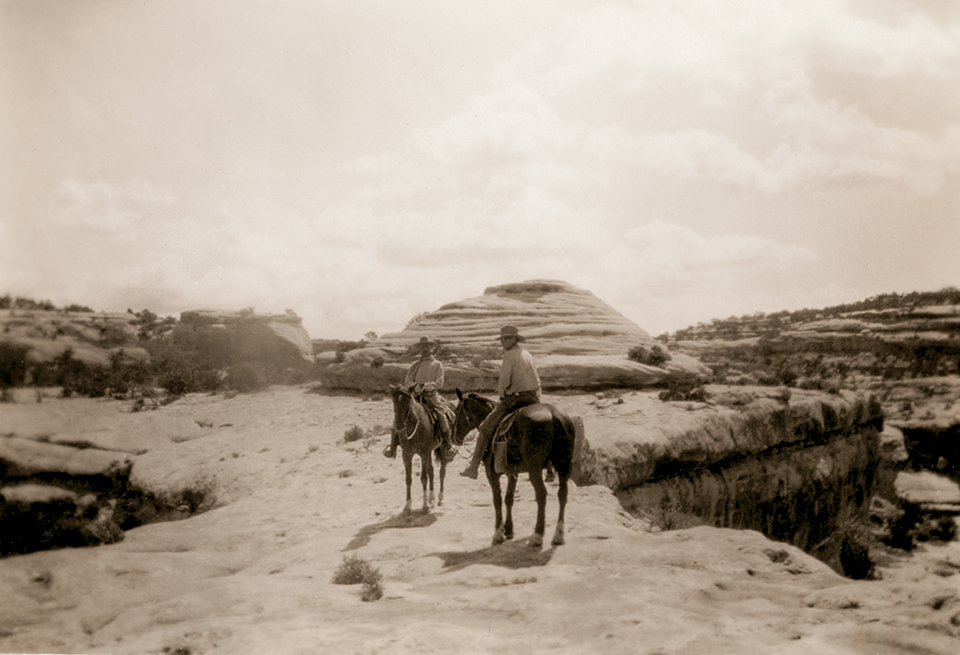 Historian, guidebook author and prolific desert hiker Steve Allen has covered nearly all of the terrain that overlaps with Bernheimer's travels. A few years ago, he began sharing his maps with me in the hope they might help fill in pieces of the puzzle. Then, in the fall of 2021 and spring of 2022, he organized two backpacking trips in the canyons of Northern Arizona, within the Navajo Nation backcountry, to further help me travel back in time.
Bernheimer endearingly referred to his squad as "the rough and ready soul corral," and our present-day team — environmental lawyer Joro Walker, pioneering technical canyoneer Jenny West, conservationist and artist Giles Wallace, corporate event planner and philanthropist Julie Marple, and metalsmith and history buff Joel Arnold — lived up to that level of passion. Where Bernheimer's team used upward of 40 horses and mules to haul gear, we relied on backpacks. Thankfully, outdoor equipment has evolved in the past century. No tents were used on Bernheimer's trips, just tarpaulins. We wore bright technical shirts, down jackets and Gore-Tex hiking boots — another contrast with Bernheimer, who dressed like a dandy in the desert, wearing a starched white shirt and tie. The rest of his team dressed like cowboys, in work pants and flannels. My felt-brimmed hat was our only nod to the 1920s expeditions' style.
Like Bernheimer's primary cast of explorers, almost everyone on our team was between the ages of 55 and 70. Like Morris, I was the outlier, still in my 30s. Not that age matters much: Carrying 11 days' worth of food, and occasionally several gallons of water, is not for fair-weather backpackers, and these were some of the strongest athletes I've ever met. It's impossible to explore every nook of canyon country in one lifetime, but the collective wisdom of this team, and of Bernheimer's, reminds me that it might be possible to scratch the surface if you keep putting one foot in front of the other, year after year, for decades.
Our objective on these backpacking trips was to piece together the most puzzling portions of Bernheimer's 1921, 1924 and 1927 expeditions. Navigating complex canyon networks and traversing dry, exposed uplands blanketed with black brush is challenging, even with modern maps. In the 1920s, U.S. Geological Survey maps were not complete, so Wetherill, Johnson and Diné guides such as Natsisan ushered Bernheimer based on their encyclopedic memory of terrain. Bernheimer's expeditions carried the existing maps and plotted new details. After the trips, Morris used Bernheimer's field notes to sketch maps in pencil. Often, the destinations were mislabeled, outdated or marked by Navajo place names. Bernheimer also made up names, such as Octagon Butte, that still are used on modern USGS maps. 
Allen's extensive knowledge provided immeasurable assistance. He has expertly collected and documented desert stories and history in Utah's Canyon Country Place Names (which spills over into Northern Arizona). Still,
Bernheimer scrambled the information to a degree that every turn we took was a chess move. Each time we confidently decided, "This is it!" about a canyon or spring, we'd walk a few miles farther the next day, look around collectively befuddled and ask each other, "Wait … maybe this is it?"
Just getting to the start of our spring trip, an old and now seldom-used stock trail, would have been impossible without the help of Navajo Mountain local Frederick Burns. We piled into his pickup truck with our backpacks at the start of the trip, and he warned us that the road might be rough. Driving through a maze of unmarked dirt roads through the piñon-juniper forest, he announced, "I kind of know a lot of roads." But there was no clear road to be seen. When the wheels rolled over a series of fallen logs, he clarified, "It's like I always say: 'Who needs roads?' I make the roads."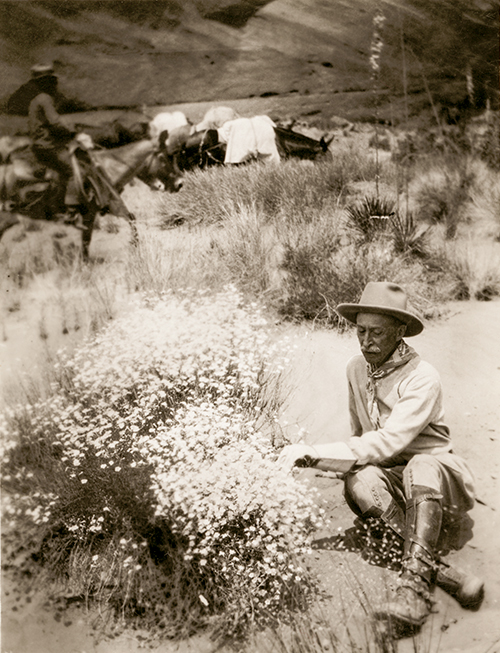 Now in his 60s, Burns grew up in these canyons, herding sheep and cattle with his family. A week into our trip, we hiked past the stacked-log hogan Burns' parents built as a seasonal line camp. Burns said his father — the late Morris Burns, a dear friend of Allen's — built it when Burns was a baby and named it after him. As we admired the dwelling and the tools that were still there, Allen lamented, "I miss Morris." 
Children's chairs and a green army man are strewn about the camp. In the 1980s, Burns said, he took his nieces and nephews there, and they played while the adults tended to the animals in these remote, spring-fed canyons, which flow into the Colorado River. Nearby, another hogan was used by earlier generations of Burns' family. It and dozens of others we encountered reminded us that these are Diné homelands. We were not backpacking in so-called wilderness; we were grateful visitors granted passage by the Navajo Nation and Burns' family through their neighborhood. 
---
How we write about experiences in these landscapes also marks the changing perspectives of generations. Bernheimer wrote about his encounters with Diné families, Burns' grandparents possibly among them, living in the same canyons we hiked through. But he also described the canyons as unknown and unexplored — to him. And his attempts at including land acknowledgments in his adventure stories were clumsy and confusing. 
Although we didn't encounter any human footprints on that trip, the land holds the stories of habitation, past and present. These are the homelands of the Diné, but also the San Juan Southern Paiutes, Hopis and Ancestral Puebloans. We scrambled up to a ledge above the canyon floor to admire a Puebloan dwelling at least a thousand years old. Peering inside the window, I noticed another human mark, written in charcoal on the back wall: "Charles L. Bernheimer Expedition, 1924." Today, such vandalism is illegal; back then, it was one way researchers kept track of their explorations. That doesn't justify altering someone else's home, but such inscriptions have helped modern archaeologists understand past scientists' often poorly documented work.
We ventured downstream with the affirmation that we were on the same page of the desert's history book as Bernheimer was 98 years before us. A series of dinosaur tracks in purple-hued sandstone pointed the way. There are photographs of these same tracks in Bernheimer's book; his guides explained that Diné people called these Yetso Beta, meaning "God's tracks." They're a testament to the life that roamed these canyons millions of years ago, as a large inland sea began its unfathomable transformation into a desert.
Unlike his photos and inscriptions, Bernheimer's written route descriptions didn't always align with what we witnessed. His journals are terrible for use as a guidebook, but they are a terrific form of time travel. Keeping track of this in my notes was equally confusing, and it's one of the reasons I'm withholding directional details from my own story. The other is to retain the mystery of these locations and emphasize our own experiences. 
---
One morning at breakfast, confident that we were camped at what Bernheimer called Alamo Grande Camp, we reread his journal entry. Looking around, we realized the scene did not match his description — there were no giant cottonwoods nearby. Had Bernheimer led us astray, or to a realization? It's possible that the cottonwoods died off and were unable to regenerate due to a diminished water table and overgrazing in these areas; indeed, scarcely a patch of soil or puddle of water here is not tracked by hoofprints and lined with cow patties. Burns explained that these canyons have changed a lot since his youth, and now, there are hardly any grasses and much less water. While herding sheep and cattle is central to the Diné culture and lifestyle, grazing permanently affects dry landscapes. These effects are not confined to the Navajo Nation but represent an environmental issue throughout the American West.
Looking through Bernheimer's eyes helps us understand how much the landscape has changed in the past century, and these experiences allow us to interface directly with human impacts on the environment. They prompt us to ask: What will these areas look like in the next hundred years? And what can we collectively do to protect them — or, better yet, revive their natural states?
Bernheimer's team wrestled with an exceptionally wet period of precipitation in the Southwest that spanned much of the early 20th century. Many of the canyons he explored feed into the Colorado, and the 1922 Colorado River Compact, which divided the river's water among seven Western states, was created based on the copious water flows during this era — and led to the systems of dams and reservoirs that 40 million people in the West now rely upon. However, the compact ignored emerging tree-ring data, retrieved from the beams of Puebloan dwellings, that warned of consistent "megadrought" cycles in the Southwest. Some of that data was collected on Bernheimer's expeditions and is cited by present-day scientists to lend context to the current drought, the region's worst in 1,200 years.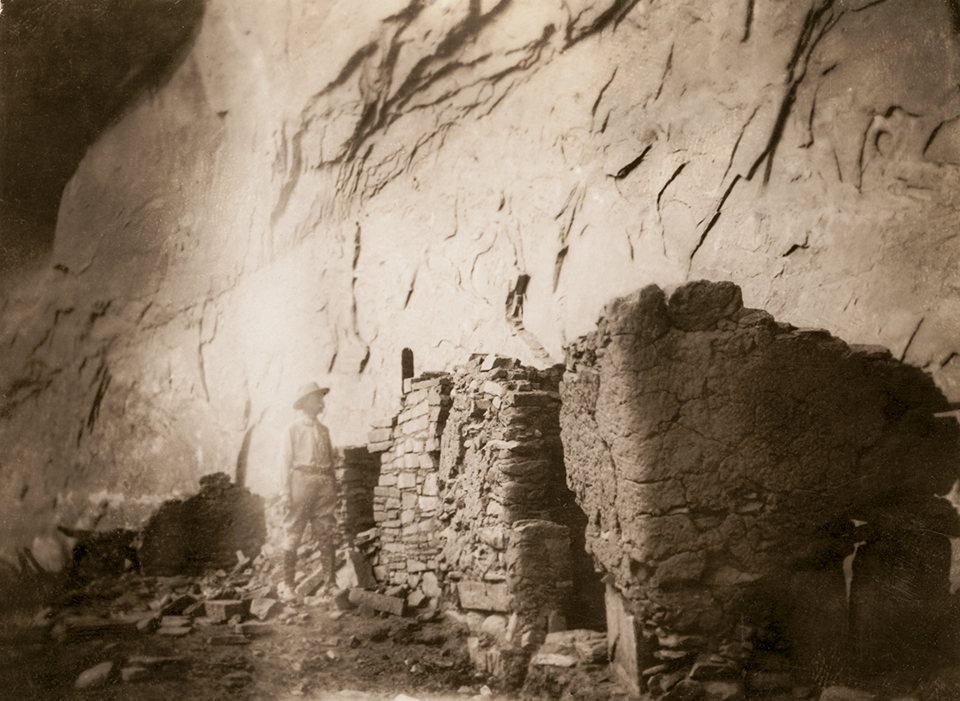 During his decade of expeditions, Bernheimer fell in love with the Glen Canyon region, which inspired his belief that this landscape needed to be protected. He grew especially concerned about dam construction that might affect Rainbow Bridge. In 1929, Bernheimer and his team drafted a proposal to have the sacred bridge, already a national monument, upgraded to a national park to protect it from dam projects. But the idea flopped, and the dam Bernheimer feared was completed in 1963. 
The Colorado behind the dam is now Lake Powell — and, as of this spring, the reservoir is at a record low, inching toward levels that will inhibit power generation and water storage. The situation is symbolic of the uncertain future of water in the American West.
Following Bernheimer around forces us to reckon with the damage humans have inflicted on the landscape. But it also allows us to witness the re-emergence of Glen Canyon: Tributary canyons are springing back to life, with green willows and grasses framing sandstone formations, bleached white by the lake's water, basking in the sunlight. Riparian areas are resilient and able to restore themselves. As these canyons breathe once more, they whisper through the reeds, urging us not to let history repeat itself.
Unfortunately, so much was lost to the inundation of water and silt, from Indigenous cultural sites to old mining cabins. The homes and grazing lands of Diné and San Juan Southern Paiute families were erased and displaced. Along the lake's bleached shoreline, growing wider each day, remnants of old trails and passageways spur us on in directions impossible only a few years ago. Bernheimer's journals help us blur the lines between past and present to imagine picking up the pieces and putting Glen Canyon back together.
History has the power to haunt us or propel us. At this point, it feels like Bernheimer might be following me around. Despite his warning not to do what he did, maybe he wants me to create a time capsule that helps explorers in the next century better understand this landscape — and gives them a reason to defend it.
---
HOW YOU CAN HELP
After many conversations on the trail, Morgan Sjogren's modern Bernheimer Expedition team concluded that the best way to let Charles L. Bernheimer influence our actions and make a difference is by joining and donating to conservation groups actively protecting the environment and cultural landscapes in Glen Canyon and Northern Arizona, and on the Navajo Nation. Among them are: 
DigDeep, digdeep.org 
Glen Canyon Institute, glencanyon.org
Grand Canyon Trust, grandcanyontrust.org
Navajo Santa, navajosanta.org
Tó Nizhóní Ání, tonizhoni.org 
Western Resource Advocates, westernresourceadvocates.org
---
To read more about Charles L. Bernheimer's expeditions and Morgan Sjogren's efforts to retrace them, preorder her book Path of Light: A Walk Through Colliding Legacies of Glen Canyon, to be published by Torrey House Press in spring 2023. For more information, visit torreyhouse.org/path-of-light.