Tubac has lived as many lives as the proverbial cat: Historians count nine times the community has seemed to die, only to be resurrected. And the small Southern Arizona town was beginning its most recent revival — as an arts community — around the time Tubac Presidio State Historic Park was dedicated.
Arizona's oldest state park protects the site of the state's oldest European settlement, where many notable events involving familiar names in Arizona history took place. Juan Bautista
de Anza's expedition to establish San Francisco departed from Tubac Presidio, which was built in the wake of the 1751 O'odham revolt to protect Spanish colonists. 
In its days as the headquarters of Charles Poston's mining company, Tubac housed Arizona's first newspaper, The Weekly Arizonian, whose editor was involved in a famous duel. The highest peak in the nearby Santa Rita Mountains is named for William Wrightson, who delivered the printing press to Tubac. He was killed by Apaches while surveying the Baca Float No. 3, land that centered on another sad chapter in the area's history.
Today, all but a very small part of the original presidio lies underground. But the 11-acre park interprets its long history and includes the original press. Over the years, it has expanded to include the second-oldest schoolhouse in Arizona, a 1914 community center and a mid-20th century adobe row house, along with a museum, a gift shop and access to the Juan Bautista de Anza National Historic Trail.
And the park has proved as resilient as the community that surrounds it, surviving the threat of closure three times. It's now owned by Arizona State Parks and Trails but is managed by a nonprofit group. And under this arrangement, it's experiencing a renaissance of its own.
---
Celebrated as Arizona's first state park, Tubac Presidio is technically its second. The first was Papago Park, part of which was transferred to the Arizona State Land Department when Congress abolished it as a national monument in the 1930s. At the time, Arizona didn't have a state parks board. (It wouldn't until 1957, becoming the last of the 48 states in the union at that time to authorize one.) But that wasn't for lack of trying. 
In 1925, the Flagstaff Jaycees torpedoed a proposed state park at Mormon Lake, claiming it would paralyze the timber industry. Beginning in the late 1930s, several bills were introduced to create a state parks board; all failed. With a small, rural population and an abundance of federal land, few people saw the need. Cattlemen, well represented in the state Legislature, were particularly set against the idea. 
Public opinion began to change after World War II. But despite the governor's support of a report recommending state parks, bills introduced in the 1950s met the same fate. It took the creation of an advocacy organization, a coordinated campaign and inviting members of the Arizona Cattle Growers' Association to help draft the legislation to turn the tide. 
With restrictions ranchers favored, state parks legislation finally passed in 1957. And when Papago Park was transferred to the newly created board, it became Arizona's first state park. But the board's first order of business was to dispose of it, selling the state-owned land to Phoenix, which had wanted it for years.
Its next task was to acquire land for new state parks, and advocates from around the state lobbied the board with proposals. None were more persuasive than Frank Griffin and his wife, Olga, who went by Gay. A retired engineer from Indiana, Frank had come to Arizona in 1956 for his health and settled in Tucson.
"They loved everything out here," says Gwen Griffin, who was 15 when her parents decided to move their family. "My dad was a history buff. And so, we were always going to museums or historic spots." 
Frank wasn't in Arizona long before he discovered Tubac, then a nascent arts community, and its rich history. The art school Dale Nichols had opened there in 1948 had lasted only a year, but a small group of artists remained. In 1958, Arizona Highways described Tubac as "a very small village of about 75 people, a church, some crumbling adobe walls and a few houses." Its streets were still "desert sand."
Tubac seemed custom made for Frank, a history lover whose family included many artists. His first job had been at a newspaper, and when he learned about The Weekly Arizonian, he got the idea to revive it.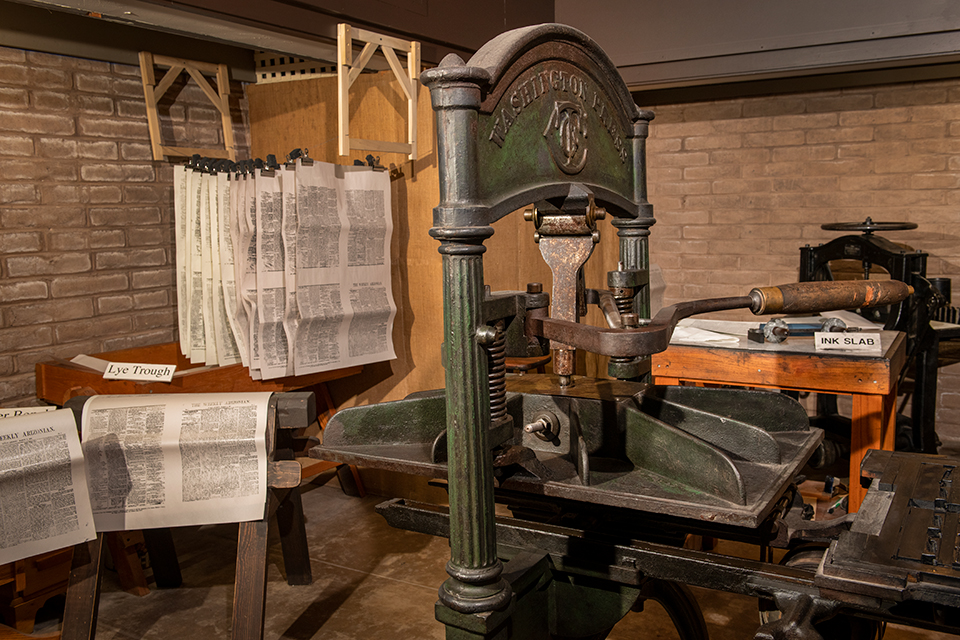 In 1956, the Griffins built El Presidito as their base of operations, designing the building to look like a presidio. Gay researched articles and did the typing, becoming an early member of Arizona Press Women (now Arizona Professional Writers). And the Griffins felt passionately that Tubac Presidio should become Arizona's first genuine state park.
"My dad was a born salesman," Gwen says. "They had letters from [novelist] John Dos Passos and Barry Goldwater. They contacted anyone they thought could help — anyone — telling them why this should be Arizona's first state park."
The Griffins made their pitch to the new State Parks Board in November 1957, and on December 21, they offered it an early Christmas gift: the deed to three parcels that included the presidio site. Not long afterward, the board accepted. Local developer William Morrow, the owner of the Morrow's Nut House chain, donated an adjacent property with an old adobe building that would serve as a temporary museum, and the two donations became the core of the state park. Other parcels and buildings were added later.
Fort Huachuca's U.S. Army band played for a crowd of 2,000 at the park's dedication on September 28, 1958. Governor Ernest McFarland called the park "hallowed ground" and predicted millions would come to know it as "the most historic spot in the Southwest." Early plans to reconstruct the presidio quickly got shelved, however, and the park contained no facilities for tourists in its first months. Open only on Sundays, it didn't become fully operational until 1961. Architect and former opera singer Paul Deno served as the park's first curator.
"His job title was curator, not park manager, because there was almost no park to manage," says Kathleen Vandervoet, who is compiling the park's administrative history. Nor was there much of a museum until a new visitors center was commissioned in 1961. Designed to look like historical drawings of the Tubac presidio, it was dedicated in February 1964. 
In 1970, the museum hosted its first Anza Days event to commemorate that expedition. Traditionally held in October to coincide with the week Anza left Tubac, the celebration is now held on a single day in March, when the park receives its highest visitation. It includes the Anza color guard — with riders in period clothing — along with games, new exhibits and demonstrations.
Archaeologists excavated portions of the presidio in 1974, then filled in the site to preserve it, but a small portion of the foundation is still visible in an underground exhibit where some of the site's artifacts are displayed. 
---
Despite the ambitious predictions, the park has struggled over the years, facing closure in 1991, in 2002 and again in 2010, during the state budget crisis stemming from the Great Recession. To keep the park open, the Tubac Historical Society took over operations of the park until 2013, when the nonprofit Friends of the Tubac Presidio and Museum was organized. 
Under the group's stewardship, the park has thrived, hosting 80 to 100 events each year, including a popular lecture series, festivals and demonstrations of the original Washington printing press. The park's art exhibits include Cavalcade of History, a series of paintings Bill Ahrendt created for Arizona Highways in the 1980s. A painting of the presidio was the first in the series.
"I don't think the park has ever looked better," says Shannon Stone, the park's director and only full-time employee. Stone oversees one part-time employee and about 60 volunteers, many of them involved in the park's eight gardens. Those include an ethnobotanical garden with heirloom crops such as Chapalote corn, which arrived in the area about 4,200 years ago, and white Sonora wheat, which Spanish missionaries introduced. A heritage orchard features peach trees cultivated from those the Spanish brought.
Museum exhibits have been expanded and new ones added, including I Am Tubac, highlighting the town's notable people, and a display about the Baca Float case, in which settlers were illegally and brutally evicted from their lands. "It's been really interesting to hear people come through and talk about how great the museum is," Gwen says. "It really is a gem."
After living in California and Tucson for many years, Gwen moved to Tubac 10 years ago after visiting to attend a festival, and she now lives in an old adobe her mother owned. She still owns El Presidito, now home to an art school, and began volunteering at the park after the most recent threatened closure.
"I really believed if I didn't volunteer to help in some way, that I was going to get struck by lightning on a cloudless day," she says. "I'm still volunteering at the park, and I will do that until
I can no longer do it. There was a time I thought the state should be running [the park] completely, but I've changed my mind. [My parents] would feel really pleased at what is there today."
---
For more information about Tubac Presidio State Historic Park, call 520-398-2252 or visit azstateparks.com/tubac.