Jonathan Buford grew up in Ohio, but after he moved to Arizona in the early 2000s, he fell in love with the concept of wilderness — and with landscape photography. Those two passions merged in his years-long effort to visit and photograph all 90 of Arizona's federally designated wilderness areas, a small portion of which are...
Stars were so dense, there was hardly space for sky.  I was late coming up the Bright Angel Trail. It wasn't on purpose until I realized that by not rushing, I'd walk...
Local Favorite: Patisserie Jacqui
Local Favorite: Amadio Ranch
Local Favorite: Verde Valley Bicycle Company
Local Favorite: Cider Corps
Don't look down," I mutter to myself as I look down. My stomach plummets at the dizzying view, and a chill shoots to my feet. I'm standing on a sloped, gravelly trail, inches from a 400-plus-foot plunge. Below, more sheer strata and screes descend like a wedding cake. My 40-pound backpack scrapes the rust-hued cliff, on my left, that rises 2,000 feet toward a dark-turquoise sky. In the distance, the "V"-shaped canyon below me opens to an immense, butte-studded landscape hiding the Colorado River in its depths. An obsidian raven floats past on a gentle updraft, its wings reflecting iridescent blue in the November Arizona sun.
I'm hiking Grand Canyon National Park's Nankoweap Trail, an unmaintained 11-mile route that winds like a rattlesnake from the North Rim to the Colorado River. It drops nearly a vertical mile from the trailhead (7,640 feet) to the Colorado (2,760 feet). Just to reach that trailhead, at the national park boundary, requires an additional hike of 3 or 3.5 miles, depending on your route, through the rugged Saddle Mountain Wilderness. I've reached the...
Continue Reading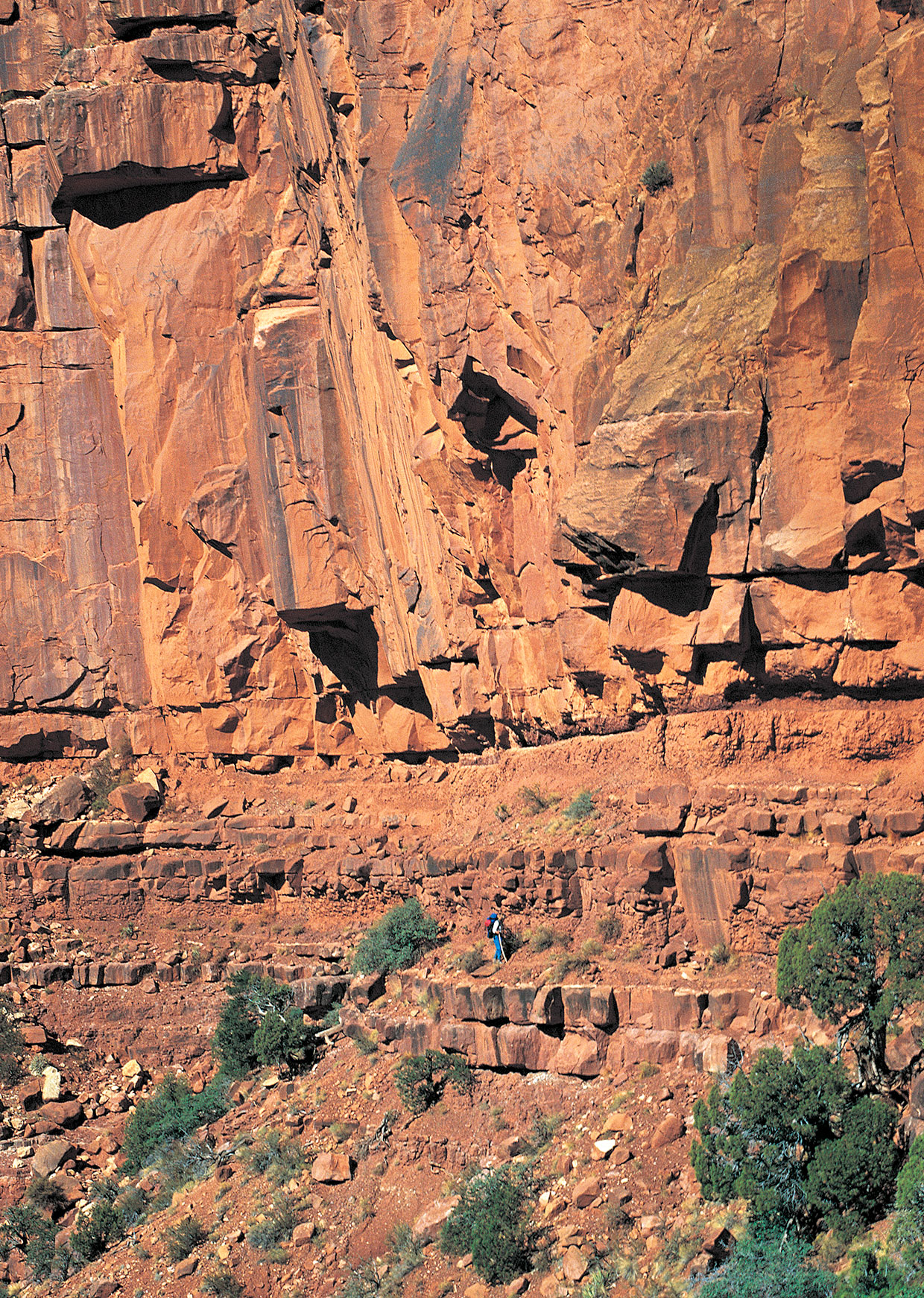 History, Nature & Culture